l.Automatic loading feeder one set
2.SJ120/33 single screw extruder one set
3.Automatic Hydraulic Quick Screen Changer one set
4.Melt pump one set
5.T-die mould one set
6.Three roller Calender one set
7.Bracket and Haul-off machine one set
8.Saw cutter one set
9.Stacker one set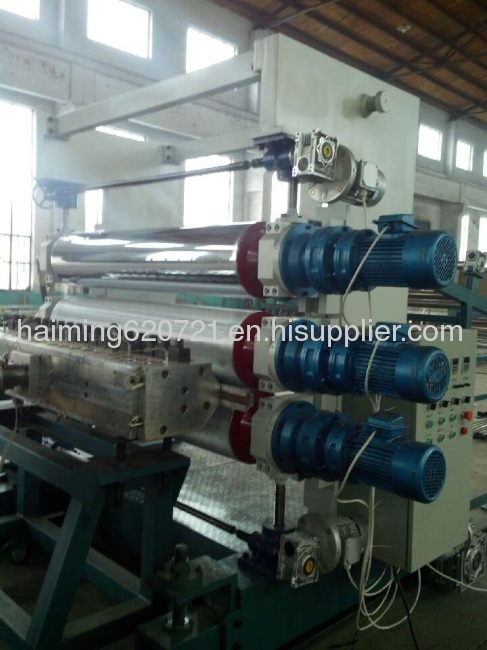 New Shunlida Machinery is specialized in the business of plastic extrusion shaping,with rich experience in practical marker,skilled engineers,and a numberof successful production lines. Such as Sheet/board extrusion line.
SJ series plank/board/sheet production line is made up of extruder,T-die,three roller calender,cooling bracket hauling machine,winder machine and piling bin etc. At the same time,there are quick speed hydraulic screen exchanging system,melt pump system,feeding machine,crusher,and water/oil circulation temperature controlled cabinet for you.
extruder's screw and barrel is adopted 38CrMoALA,surface of screw is dealt with nitrification,corrosion resistance,abrasion resistance. Optimized design of screw and barrel will offer many forms for you to choose and make the whole machine provide with good plastification and steady extruding,high output and long life ect. Cooling of material barrel adopts air-cooling and quick speed net exchanging system,no stopping and make the production proceed continuously. Exact equipment of calender will send the sheet and plank finalize the design by well function of adjust. The gear case of gearing chooses high intensity alloy steel machining by cementite quenching,which offers low noise,durableness,high effciency and long service life. Timing has three modes;frequency control,direct current and servo control. Three-roll calender has three forms:straight,diagonal type's feeding machine can improve the height of fusible material and the auxiliary equipments are easy to dispose. The horizontal type account for big area ,and the height of feeding material if high and the joined object can bend to a right angle.