The demonstration of products:

Ferrite magnet is a kind of permanent magnet that made from iron oxide and barium or strontium carbonate by ceramic processing technology. So it's also called as ceramic magnet.
Special maching process needed for Ferrite magnet because it is brittle. Ferrite magnet can be made to different shapes and sizes by dry pressing then sintered, that is sintered ferrite magnet. Beside sintered ferrite magnet, bonded ferrite magnet(injection ferrite magnet) is existed. But sintered ferrite magnet are popular and widely used.
Ferrite magnet are the most commonly used permanent magnet material just because of its low cost, excellent corrosion and demagnetization resistance properties. Ferrite magnet can be made as isotropic and anisotropic. Isotropic if of the same magnetic properties in all direction, such as Grade-1. Anisotropic ferrite magnet must be magnetized in the direction of pressing.
By strength, ferrite magnet is stronger than AlNiCo magnet but weaker than neodymium magnet and SmCo (Samarium Cobalt ) magnet . Its working termperature is between from 40 degree to 250 degree. Because of these, ferrite magnet can be found in the application of separator and speaker and motor.


Specification:
1.Low cost,High working temperature with Good corrosion resistance
2.Grades:Y10T,Y20,Y25,Y30,Y30BH,Y35(China standard);C1,C5,C8,C11(U.S.A. Standard) HF8/22- HF24/3(Europe standard)
3.Coating: No
4.Sample lead time:5-10days;
5.Delivery time: 10-20days after confirm order;
6.Payment terms: T/T, or Western Union
7.Service:we will do our best to serve you if we have the opportunity to cooperate with you
8.Application: Speaker magnets,DC brushless motors,Separators (separate ferrous material from non-ferrous)medical equipment, toys, decorative magnets
Performance: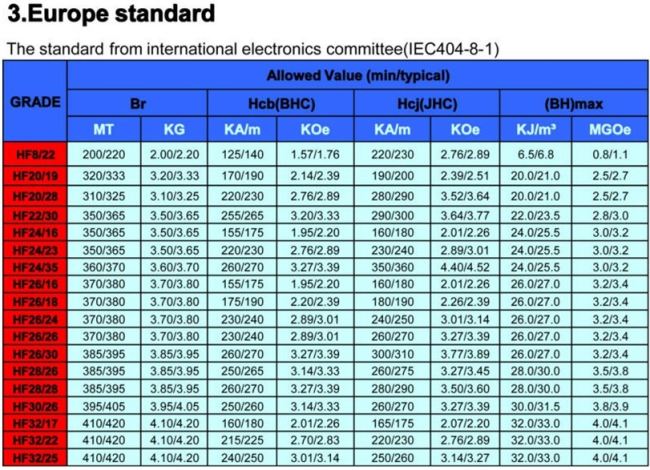 MAGNETIZED DIRECTION: