Ceramic Fiber Cloth with high quality
Refractory heat insulation ceramic fiber cloth Typical Application
High temperature static seal (door joint or gaskets for flanges)
Fire protection (fires proof curtain against welding spark)
For manufacturing of safety product (safety gloves or apron)
Expansion joint
Pipe or round duct insulation lagging
Fireproof cable covering and fuel pipe materials
Insulation for furnace door, valve, flange sealing
Insulation for rolling shutters of furnace door
Soft seal of furnace pipe in petrochemical industry
Our ceramic fiber cloth, ceramic fiber tape, and ceramic fiber sleeving are very flexible fabrics. Insert materials of metal wire and fiberglass filament are incorporated into the yarn to increase tensile strength of the fabrics both before and after exposure to heat. Typical applications for cloth, tapes, and sleeving include gaskets, seals, furnace and welding curtains or pipe wrapping.
Technical Data:
Item

Technical Data

Classification Temperature (℃)

1260℃

Working Temperature(℃)

1000℃

Colour

White

Working Temperature of

Reinforced Materials

Stainless steel fiber reinforced :1000℃

Glass Fiber reinforced :650℃

Thermal Shrinkage Rate

3% on 1000℃(24 hours)

Electric Conductivity

Stainless Steel Fiber reinforced:Conductive

Glass fiber reinforced:non-conducting

Thermal Conductivity (W/m.k)

500℃:0.101

650℃:0.108

1000℃:0.176

Loss After Firing %

18%±2

Bulk Density:kg/m3

550±10%

Usual Size

30m x 1m x 2mm

Other size can also produce after consulting with each other .

Packaging Details

Inside plastic bag ,outside woven bag

Other packing type can also be provided according to the client specific requirements
We are your best choice.
company views: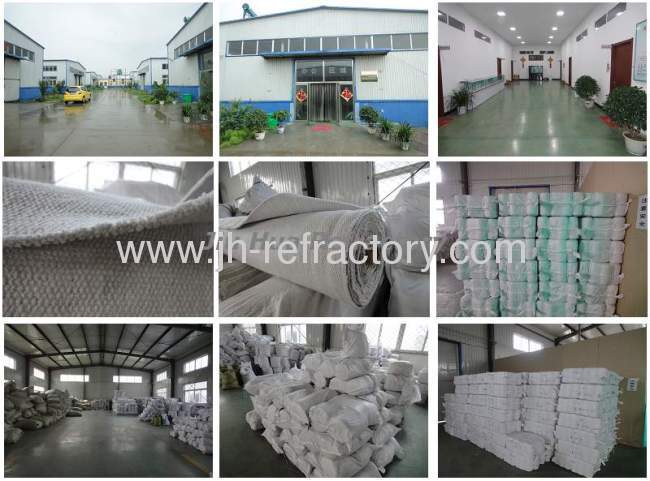 more product details: