Features
The Hand Dryer is manufactured from sturdy aluminium with a sleek design to complement any environment.
Control:
The hand dryer will automatically switch off after 50 seconds.
Speedy drying:
The hand dryer has a recommended drying time of between 8 – 12 seconds
Heat Switch:
Choose between hot and cold air at the flick of a switch
Ion generator:
The ion generator provides fresh and clean air during use.
Perfume holder:
(When included) Put a perfume piece on the holder, you will enjoy the sweet air around as soon as starting the machine.
Comparing with other hand dryers, the most advantage is that it combined 3 functions: dry hand (warm or cold air for choosing); disinfect air; dispensing perfume. So when you buy one hand dryer, actually you get three: hand dryer, air disinfector, and perfume dispenser.
Specification
1.Power Supply: 220V~ 50Hz
2.Sensing Distance: 12±3cm
3. Warm air temp: 30ºC-50ºC(at normal temp 20ºC)
4. Air speed: 30m/s
5. Motor speed: 25000 r.p.m
6.Motor power: 550W
7.Heating power: 700W
8. Overall unit power: 1250W
9. Overall dimention: 210mm* 182mm* 270mm (L*W*H)
10. Noise: 90~95dB
11.Waterproof level: IPX1
12. Finish: *chrome * powder coating (white)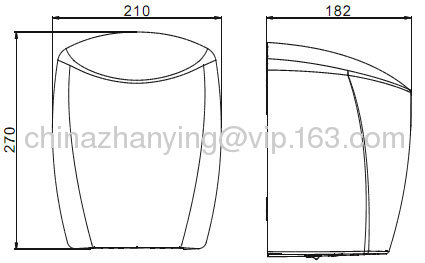 Installation instructions:
Please note: There must be a minimum of 1.1 meters allowance from the floor to the base of the hand dryer.
Use template to mark the required position on the wall. Do not mount the unit over a shiny surface as it will activate the sensor.
Do not place anything in the area where the sensor is located.
Drill 4 holes as per the template. Place the raw plugs in the holes.
Loosen the screws from the unit and remove the cover
Position the unit upon the template and secure with the 4 screws
Replace the cover and secure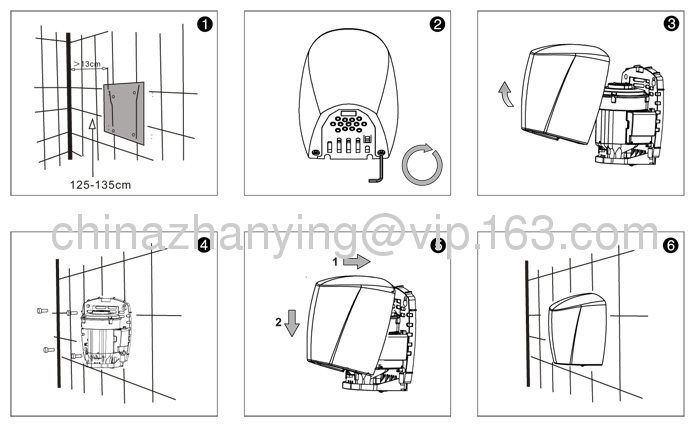 Usage instruction:
Place hands under dyer. The unit will start automatically and shut off after 50 seconds. This can be re-activated immediately if required.
Remove text from images – just show images of the hands under the dryer.
Adjustment of sensor distance:
Remove the cover and adjust the small dial on the sensor board to provide you with the desired sensitivity. Turn clockwise to increase the distance and counter clockwise to reduce the distance.
Temperature control:
The heat switch is located underneath the unit. Turn on for heated air and off for cool air.
Packing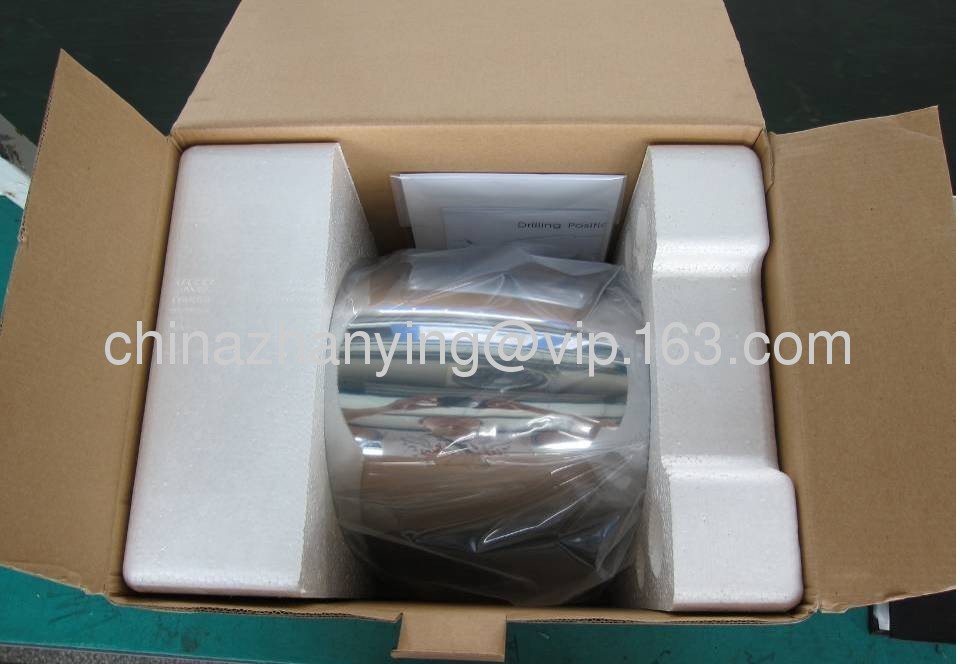 4pcs/Ctn Ctn size: 52.6*34*50.5