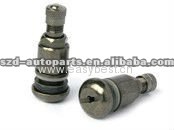 Specifications
Specification:
1. consists of brass and natural rubber EPDM
2.CE:ISO/TS16949, TUV, ISO9001
3. Item No.: TR525MS TR43E, TR48E,
We supply all kinds of TR525 Tubeless Valves(Metal Tube Valve)
1.with high quality
2. competitive price
3.specialized manufacturing in motorcycle parts, spring and hardware
If you need to know details about the productions, please contact with us at once.
Feature of tire valve:
1. Our products are 100% leak tested and are made of only the highest quality materials
2. Material:brass, natureal rubber, EPDM, 9002 core, cap
3. CE: ISO/TS16949:2002 & TUV & ISO9001:2000 quality system certification
4.Mould NO.
1.TR412, TR413, TR414, TR415, TR418, TR425, TR438
2. TR412C, TR413C, TR414C, TR415C, TR418C
3. TR412AC, TR413AC, TR418AC(color chrome sleeve)
4. TR43E, TR48E, TR525MS, TR570, TR571, TR572