The product has high strength, acid, alkali, salt and so on characteristics, wide temperature range, good stickiness, can add baffles, ascending Angle is
big, easy to clean, easy maintenance. Can be applied to various conditions of transport. Such as pharmaceutical industry, food industry, packaging
industry, daily chemical industry, automobile industry, the logistics industry, entertainment facilities, transmission belt and conveyor equipment.
The M2540modular conveyor belt increases performance in the following industries/applications:
- Bakery applications including dough handling, general conveyance and packaging lines
- Meat applications including tray pack lines and metal detectors
- Seafood applications including grading lines and weighing lines
- Beverage applications including depalletizers, accumulation tables and acceleration lines
- Can manufacturing applications including palletizers, mass handling and accumulation tables
- Corrugated applications including downstacker, corrugator take off, transfer car and WIP storage
Product features and operational benefits:
- Less vibration in high speed and nosebar applications
- Wear resistance in high speed applications with tight transfers
- Strong bi-directional belt for longer conveyors
- Unique locking system (lockpin) for easy maintenance
- Unique sprocket engagement reduces pulsation
- Unique Rubber Top eliminates wear and increases friction in incline or acceleration application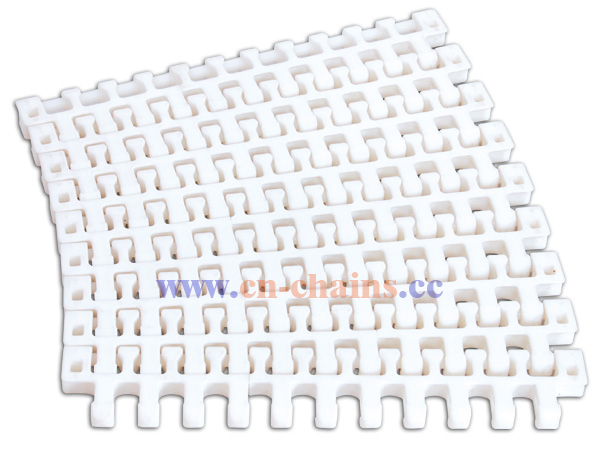 Radius Flush Grid M2540 for transmission line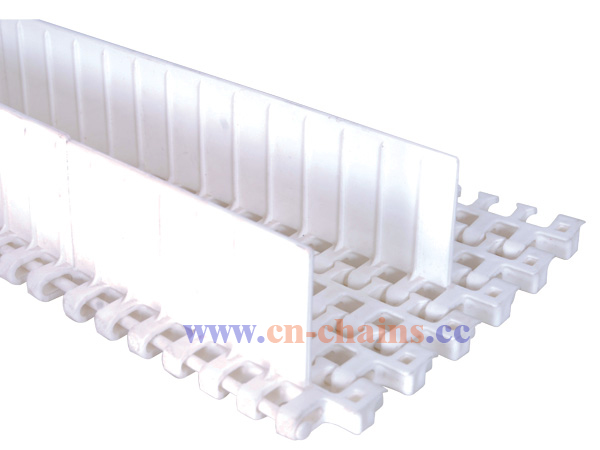 Flush Grid Base Flights M2540 Plastic modular spiral conveyor belt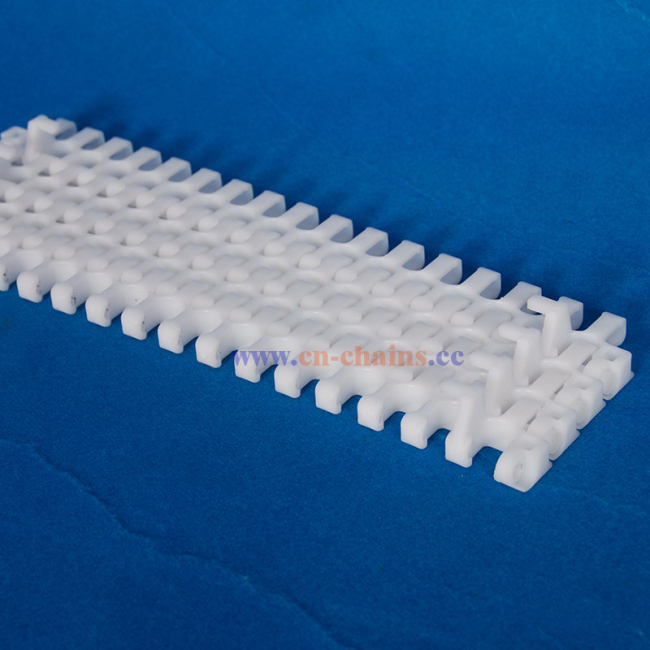 Sideflex PVC modular conveyor belt industry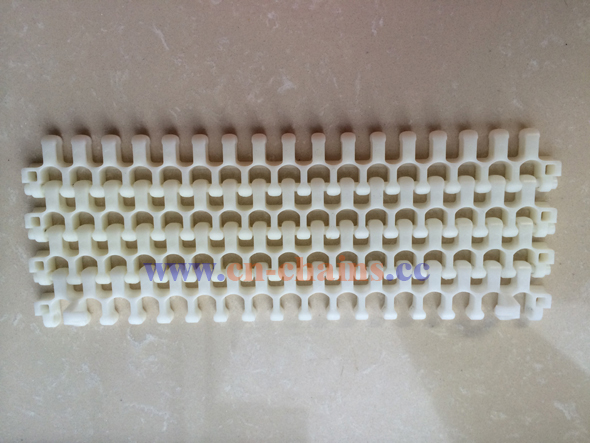 Radius belting modular conveyor belt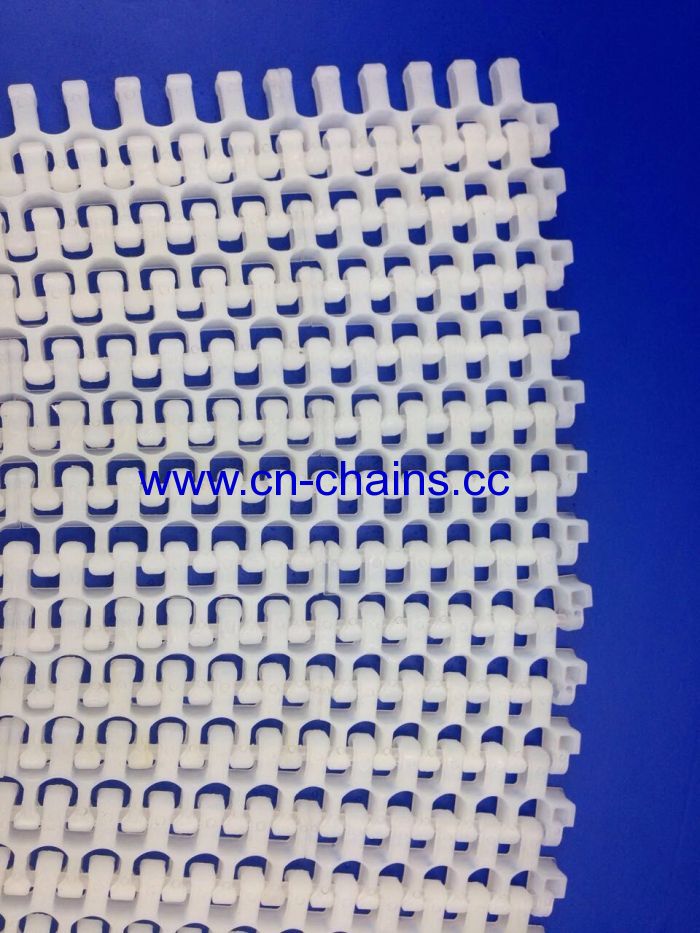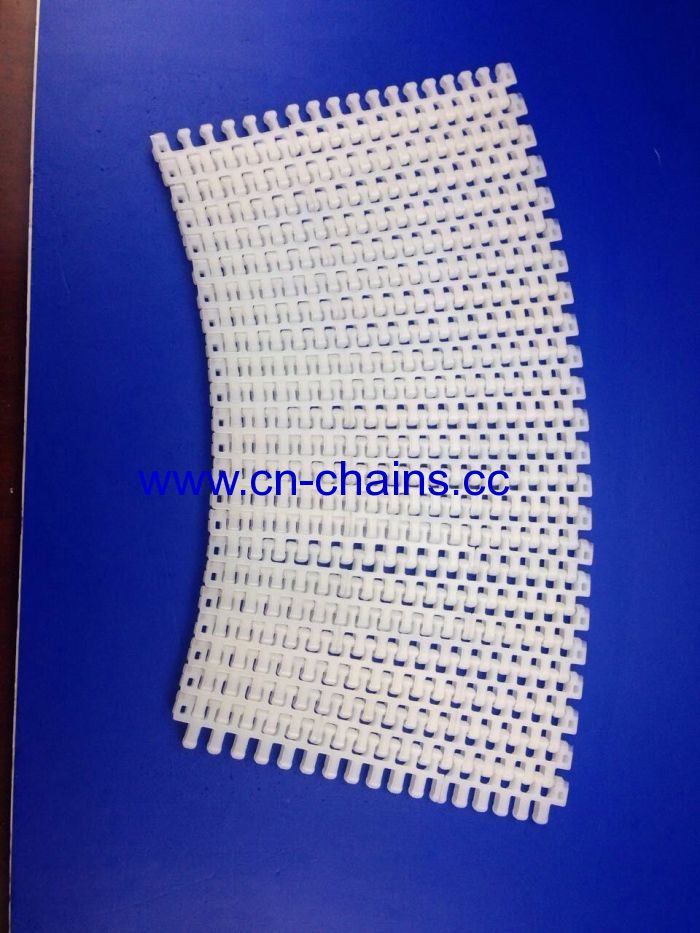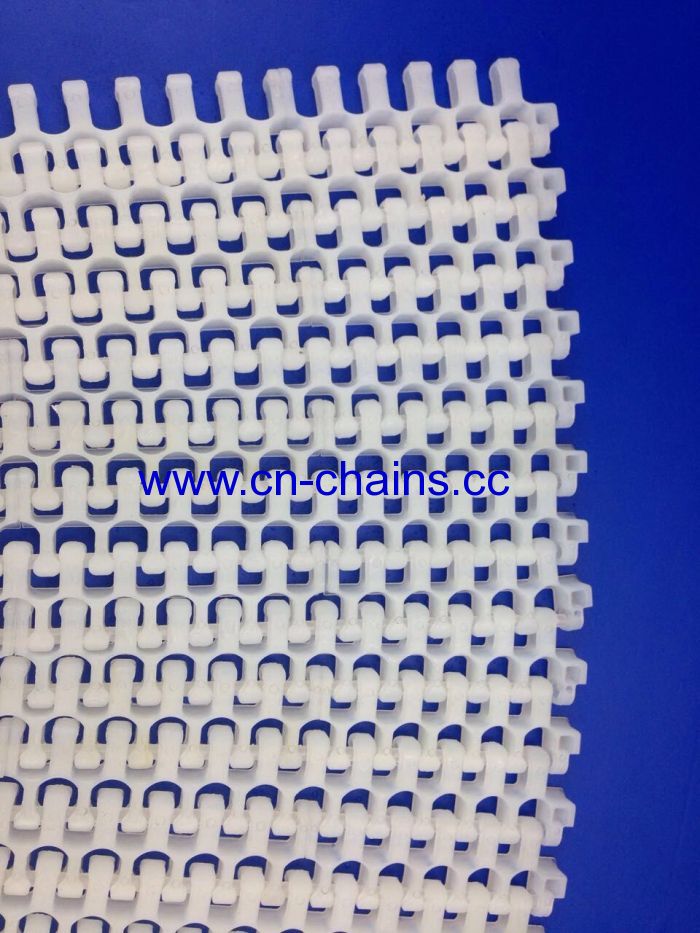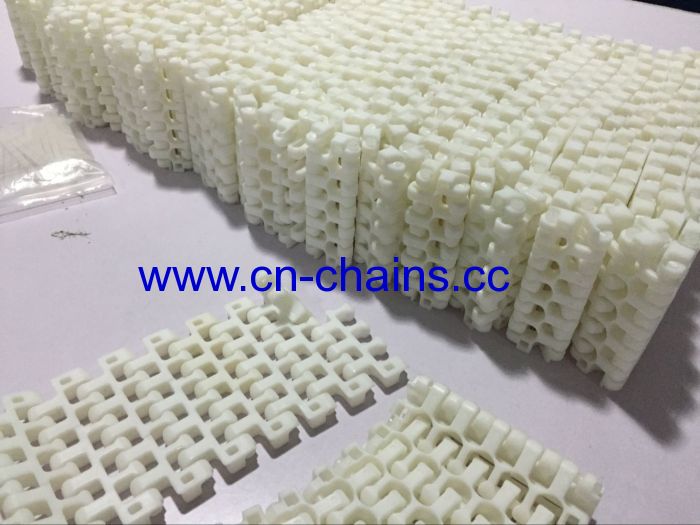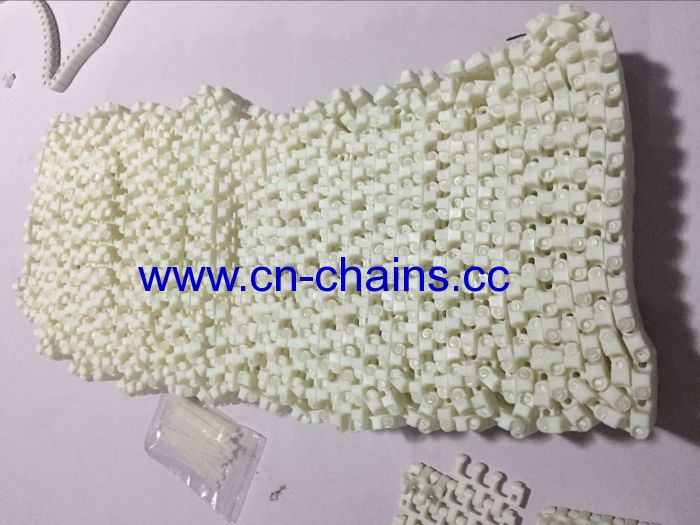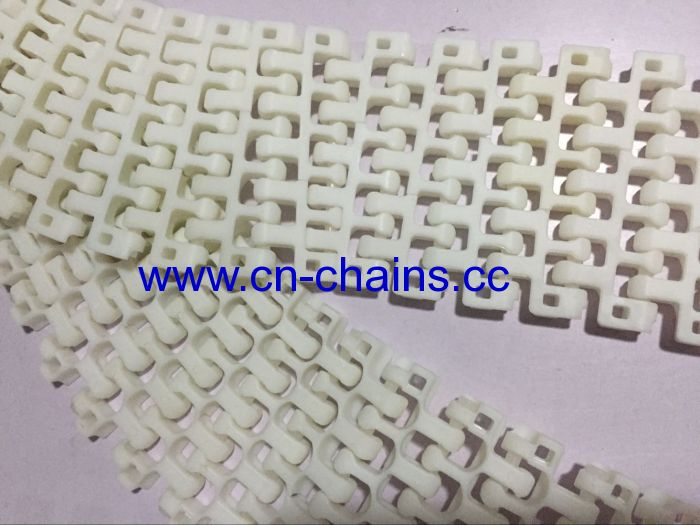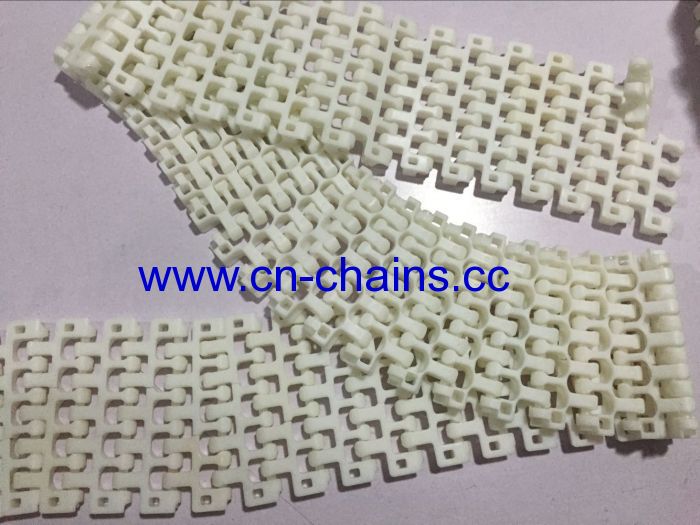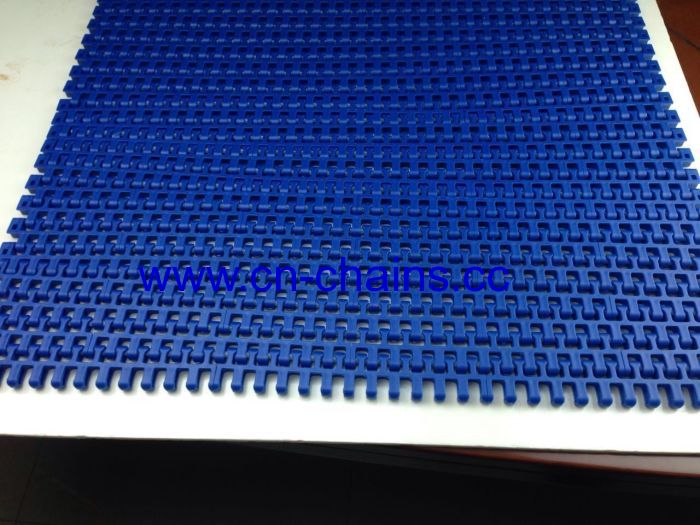 Belt Type

Belt Material

Working load(max)

Belt Weight

Temperature range

Backflex radius

N/M(21℃)

IB/FT(21℃)

kg/m

Dry

Wet

mm

M2540

POM

27000

1500

7

-4 ÷80

-4 ~ ÷65

50

PP

1900

1000

4.7

+5 ~ +104

+5 ~ ÷104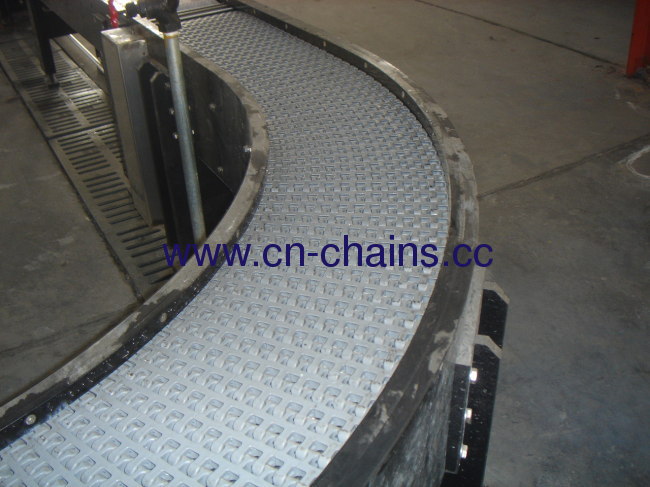 Advantage
1.With ISO9001
2.Factory quantity
3.Design as your required
4.Have our technical team
5.Have 20 years production experience
Transportation and daily maintenance of plastic chain plate and belt
1.During storage, the product must be placed into a roll not folded, turning once during placement should be on a quarterly basis
2.Type conveyor belt, structure, size, number of layers should be a reasonable choice according to the conditions
3.Feed direction along the direction of the tape should be, in order to reduce the impact on the whereabouts of the tape should be taken when the material chute,
reducing materials falling distance
Conveyor belts in use should note the following
1.Avoid roller is covered with material, resulting in ineffective rotation to prevent leakage of material between the roller and the tape card, pay attention to the lubrication of moving parts,
2.Avoid starting with a over load
Product Description
This kind of modular belt can be used in following industries:
Beverage industry such as acceleration, depalletizes and accunlation.
Food industry such as cool off lines and pack lines.
Meat industry such as tray pack line and metal detectors.
Belt Material: POM/PP
Belt Pitch: 25.4mm
Open Area: 35%
Assembling Method: Connected with rods
Flights height: 50mm
Backflex Radius: 50mm
Rmin=2.2*W
After the industrialization of land work, processes that were manual in the past have been automated gradually and modular belts have greatly contributed
to it.Present even in the product harvest, placed in mobile trailers to make the first selection, they convey the vegetable products during all the production
process: washing, selecting, blanching, boiling, cooling, bagging, etc.Since these products bring with them abrasive elements, like mud, stones, and sand,
Rellwin, in collaboration with its plastic raw material suppliers, is devoted to the continuous search of materials more resistant to abrasion in order to
achieve a longer life for its belts
Our services


1. Warranty time: 1 year. The conveyor belt / chains / sprockets which supplied by our company could be exchanged when it have quality problems,such as it was broken in installing , the pin run out from chains or the chains parted . But if the user use it in a wrong way, we can not provide any goods for free .
2. Payment: T/T , L/C , Western Union or Paypal .
3. Lead time: 5~15 working days, subject to the order quantity.
4. Shipment: by sea, by air,door to door service for samples transportation.
5. OEM service : we have our own R.D team . If you want to purchase the belt which we have not or you have your own design , we would like to make mold for you for free , only have the condition of requiring continuous orders ,and first order must be more than 60 square meters .

Company and Productsinformationrelated:
Ningbo Rellwin IndustryCo.,ltd.