Single extruder screw barrel
Diameter of single screw : D15mm~D300mm
L/D: 12~45
Max. Length: less than 10000mm
Scope of application: pipe, film, profile, sheet, pvc pe/pew pc pelleting etc.
For good plasticizing effect, we have different design of screw & barrel to meet your requirements
Screw Type:
Gradient-type, mutant, wave type, barrier type, dual type, shunt type, separate type, exhaust type, pin type, mixed type, double-headed type, three-type, long type, grain type.
Material
Commonly used material is 38crMoAIA(nitrogen treatment),it can be changed as per your requirements. According to different usage, the choose for alloy is different, some require for abrasion-resistant while some require for corrosion-resistant. For standard, we have Fe-based, Ni-based, W2C alloy, Tungsten alloy etc for choice
Materials & Processes
SKD61(H13)

38CrMoAIA 41CrAMo7

Gr12MoV

High Quality Duplex Stainless Steel

42CrMo

High Quality Powder Metallurgy Materials

40Cr

Hard Metal Cold/Thermal Spraying Technology

Zinc 3# Steel

Advanced Nitriding Technology

Anti-corrosion and Wear-resisting Duplex Metal Spraying Technology
Screw structure and compression ratio can be designed according to different products and mixtures
Technical Parameter
| | |
| --- | --- |
| Nitrided Case Depth | 0.5mm-0.8mm |
| Nitrided Hardness | HV950-1020HV |
| Nitride Brittleness | ≤Grade One |
| Surface Roughness | Ra0.4um |
| Screw Straightness | 0.015mm |
| Alloy Hardness | HRC58-62 |
| Alloy Depth | 0.5mm-0.8mm |
| Chromium Coating Thicknss | 0.15~0.20mm |


Single extruder screw barrel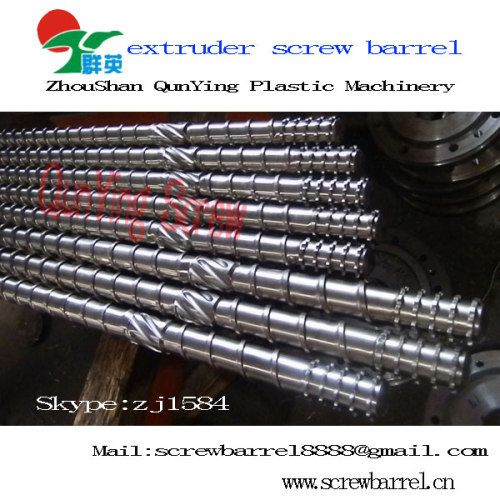 Bimetallic Alloy Materials
1)Fe-based alloy 2)Ni-based alloy/Deloro alloy
3)Co-based alloy 4)NiCo-based alloy
5)Tungsten carbide/Wolfram carbide
Double-alloy level
Level A - containing Tungsten of 40%
Level B - containing tungsten of 25%
Level C - containing tungsten of 15%
Bimetallic screw: Base material 38CrMoAlA, sprayed alloy powder on the screw flight, prolong life of screw.
Bimetallic barrel: Base material 40Cr, casted a 2-5mm wear resistant and corrosion resistant bimetallic layer
on the barrel inner wall, so it has much longer using life than nitrided barrel.

We could design for you for any Genneral plastic materials(such as PP PE ABS AS PS PC PET PA PVC PMMA TPU PU etc.)and Enginneering plastic materials(such as ABS+PC BMC LCP PPS PAR PA-6 PA-66 PA9T PA4T CPVC PVDF POM Glass fiber etc.)

We can make any specification of extruder screw barrel and injection screw barrel for Haitian, Demag, Engle, Nigro bossi, arburg, NPM, BOY, Husky, Fanuc, billion, Sumitomo, Nippon Steel, Toshiba, Nissei, Mitsubishi and etc. We also can supply all types of screw and barrel according to your different requirements.

About Ours: