2013 top selling 100% natural bamboo barbecue skewer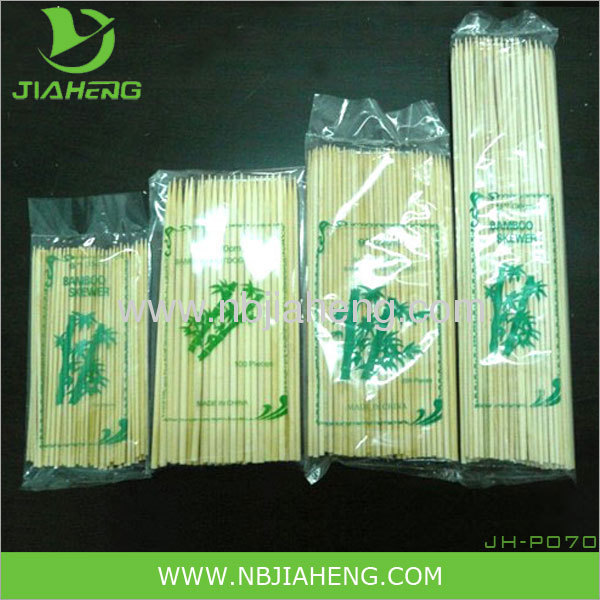 Specifications

1Different sizes for option
2.Ralated certificate are available
3 On time delivery
4.Customizes packing are workable
Product Information
Commodity Name
Bamboo Skewers
Length
15cm,20cm,25cm,30cm,,Customized sizes are workable
Diameter
2.5mm, 3.0mm, 4.0mm,5.0mm Customized sizes are workable
Packing Details
100pcs x100bags/ctn , Customized packing is also workable
Production Lead Time
25-30days
Storage condition
Store in dry and airy place
Feature
Polishing, smooth , nature, convenient and insect-resistant, healthy


Certification
Related certificates are available
Price and Quality
competitive factory price , and professional quality control

2013 top selling 100% natural bamboo barbecue skewer
Product Packing detail Information
| | | | | | |
| --- | --- | --- | --- | --- | --- |
| Type | Diameter(mm) | Length(mm) | Packing | Carton Measure | Gross Weight |
| Bamboo Stick | 2.5 | 200 | 100pcs/bag,100bags/carton | 32*22*28cm | 9kg |
| Bamboo Stick | 2.5 | 250 | 100pcs/bag,100bags/carton | 32*27*28cm | 11kg |
| Bamboo Stick | 3.0 | 200 | 100pcs/bag,100bags/carton | 35*22*35cm | 15kg |
| Bamboo Stick | 3.0 | 250 | 100pcs/bag,100bags/carton | 35*27*35cm | 17kg |
| Bamboo Stick | 3.0 | 300 | 100pcs/bag,100bags/carton | 35*32*35cm | 19kg |
| Bamboo Stick | 4.0 | 250 | 100pcs/bag,100bags/carton | 45*27*41cm | 25kg |
| Bamboo Stick | 4.0 | 300 | 100pcs/bag,100bags/carton | 45*32*41cm | 27kg |

BBQ SKEWER

1. All are made of bamboo,100% bamboo to ensure natural finish
2. All raw material selects from the most hard part of bamboo to ensure that the skewers is very hard and not easy to break.
3. Process by boiling, degreasing, antisepsis, anti-mildew, steam dried,cutting, polishing, sharpening, strictly select to ensure excellent bbq skewers.
4.Diameter: 2.5,3.0,4.0,5.0,6.0mm available.length:15-60cm,customer can have a rich selection of size and pattern.
5.competitive price and multi-function
6.Packing according to your requirements

Unionchance
*65 peoples working together with 15 years' experience.
*30 million dollars per year cover over 120 countries.
*4000 square meters showroom
*50000pcs item exhibition
*7000 square meters warehouse
*3000 good cooperation manfactures
2013 top selling 100% natural bamboo barbecue skewer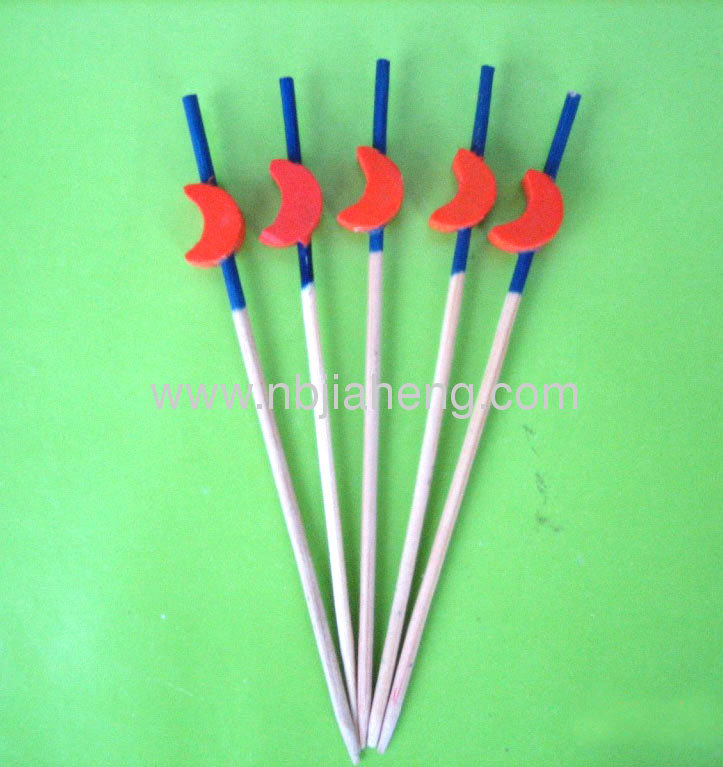 Bamboo Skewers and Bamboo Chopsticks are used for Foodstuff Processing, Barbecue, Kitchen Furniture or Parties outside…

Have you ever stopped to consider why bamboo skewers might be the perfect addition to almost any outdoor catered event? This is something that definitely deserves your attention if you just volunteered to host an upcoming social gathering but you also are rather stressed out about all of the supplies you know you are going to have to purchase for this affair. At least if you know you are going to include skewers, this will steer your shopping efforts in the right direction.

2013 top selling 100% natural bamboo barbecue skewer
The other thing to note about these bamboo skewers is that they are often a popular choice at any outdoor event simply because they go so well with barbecue items or kabobs. Both of these are likely candidates to be served at a luau or a party with a tropical theme. If you know that this is going to be the case, then stocking up on spare skewers is definitely a smart move to make.


Beyond that, if you are able to get your hands on some skewers, you will know that they are going to make it quite easy for your guests to stroll around the party area while munching on their food items. This is great for outdoor settings since they are usually less formal and more social than other events you might attend. This is also important since using a skewer is a good choice for eating messy food.