500-Watt Food Dehydrator,China supplier of Food Defydrator

1/100V-127V/220V-240V; 500W
2/5 interchangeable dry-layer for putting more food inside
3/With fan inside for shorting drying time
4/Wtih adjustable thermostat to choose the most suit temperature(30-70degree C) for different food
5/With on/off switch and thermo-link
6/Transperent layer for checking food all the time
7/ABS base,AS tray
8/Skid-resistant feet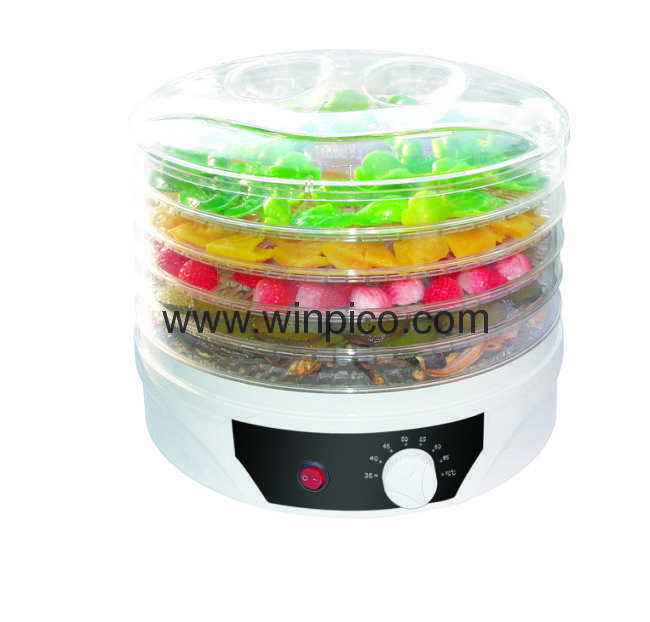 Now you can save money by making your own jerky, dried fruits, vegetable, trail mix and more with our WFD-A02 professional dehydrator.
500-Watter powerful dehydrators are called the "Green" machines. We builds the World's Fastest, Most Even Drying Dehydrators. Our
5 tray Food Dehydrator
is 500 Watts of drying power to
dry foods
quickly and evenly for quality
dehydrated fruits, vegetables and jerky
. The temperature is preset at 70 degree C to dry everything from herbs and spices to jerky meats. Make your own snacks that are natural, healthier, better tasting, better for you and it costs less than similar type store bought snacks.
Fan Flow Radial Air dries all trays evenly without the need to rotate the trays.
Features a clear top to monitor the drying process and includes plastic side clips to secure the dehydrator trays for easy transporting and storage.
Dries in hours, not days with no flavor mixing and no need to rotate trays. The WFD-A02 FOOD DEHYDRATOR is packed with 5trays and base and all components are dishwasher safe except the powerhead.
1PC/Gift Box
Gift Box:
2PCS/CTN
Export Carton:
G.W.:
N.W.:
20"FCL: 672PCS
40"GP: 1344PCS
40"HQ: 1632PCS