Equipment components:
1. Bearing 2. Discharge port 3. Stainless steel housing 4. Feed inlet 5. Coupling 6. Excitation speed motor 7. Reducer 8. V-belt 9. Motor reducer stent 10.Outlet 11. Frame 12. Bearing


Squeezing machine Performance and characteristics
1.Adopt No.40 steel main shaft, Q345 manganese steel spiral vane to improve wear resistance. This machine is designed according to the different material properties to reach the best effect of dehydration and degreasing.
2. Use excitation to adjust main shaft speed, according to different size and quantity of the material.
3. Screen mesh and cover are made of stainless steel to improve corrosion resistance and extend service life.
4. Fully closed structure can ensure production process without liquid and air leakage, to keep the working environment tidy.

Application: fish, blood, feathers, animal skins, offal after cooked or hydrolyzed, to dehydration and degreasing .


Structure and Working principle:
Squeezing machine is the key equipment in the fish meal production process. The cooked material enters into the machine from the feed inlet and rotates in the opposite direction. It can prevent the raw material turning with the shaft, and it can strengthen the squeezing function to the raw material. It is good for dehydration and degreasing. With squeezing continuously, liquid flows out from the mesh of stainless steel filter to the tank. Then the processed material will drop down from the outlet and enter in to the drier.

Device parameters:
| | | | |
| --- | --- | --- | --- |
| Model | YT200-2 | YT280-2 | YT300-2 |
| Production | 3t/h | 6t/h | 10t/h |
| Total power | 18.5kw | 22kw | 30kw |
| Inner diameter | Φ200 | Φ280 | Φ300 |
| Reducer power | ZQ500 | ZQ650 | ZQ650 |
| Unit size (mm) | 4800*600*1200 | 5800*800*1400 | 6800*1000*1600 |
| Weight | 3500kg | 4800kg | 6500kg |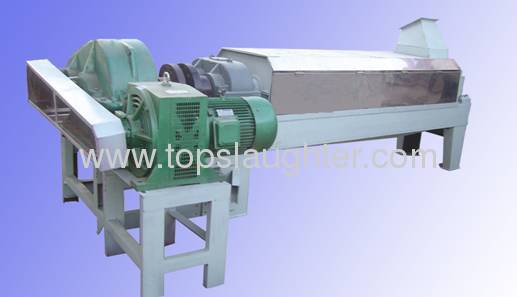 Double-shaft squeezing machine


Double-shaft squeezer