Weber bimetallic twin parallel screw barrel,twin parallel screw barrel / parallel twin barrel screw

Specification:
Φ45/2, Φ60/2, Φ65/2, Φ70/2, Φ72/2, Φ75/2, Φ80/2, Φ85/2, Φ90/2, Φ93/2, Φ100/2, Φ105/2, Φ110/2, Φ115/2, Φ120/2, Φ125/2, Φ130/2, Φ140/2, Φ150/2, Φ160/2, Φ170/2, Φ180/2, Φ190/2, Φ200/2, Φ250/2

Above are our standard specification, we also can customize for you.
Screw structure and compression ratio can be designed according to different products and raw material.

Base Materials:

1)38CrMoAlA(SACM 645)

2)42CrMo(AISI 4140)

3)Cr12MoV(SKD11)

4)4Cr5MoSiV1(SKD61)

5)9Cr18MoV

6)40Cr

Bimetallic Alloy Materials:

1)Fe-based alloy

2)Ni-based alloy

3)Co-based alloy

4)Tungsten carbide

Processing Technology:

Heat treatment

High-frequency quenching

Nitriding treatment

Hard-chrome electroplating

Bimetallic alloy welding

Bimetallic alloy centrifugal casting

Technical Parameter:





Nitrided layer depth:0.50-0.80mm

Nitrided hardness: 900-1100HV

Nitrided brittleness: Less than 2 level

Surface roughness: Ra 0.4

Linearity of screw: 0.015mm

Hard-chrome plating hardness after nitriding: ≥950HV

Chrome-plating layer depth: 0.025~0.10mm

Bimetallic layer depth: 2 mm

Bimetallic hardness: HRC50-65

Our products advantages

1)High productivity 2)Good plasticizing effect

3)Low energy consumption 4)Wear resistant&Corrosion resistant

5)Long using life 6)Fast production&On time delivery

7)Best customer service

Twin screw and barrel made: CINCINNATI, BATTENFELD, KRUSSMAFFEI, WEBER,BAUSANO, AMUT model spares.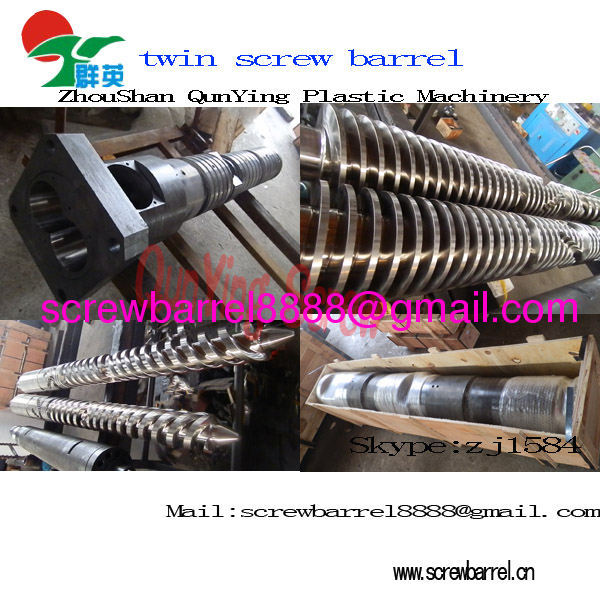 We could manufacture various kinds of screws and barrels according to the customer's requirement.

Our screw and barrel can ensure high performance and low energy consumption for extruder machine.

What's more, we can supply the most optimum designs of screw barrel with your requirements.