Single screw barrel for PVC PP LDPE HDPE extrusion

Detailed Technical Information
Base Material

1)38CrMoAlA(JIS SACM645)

2)Cr12MOV(JIS SKD-11)
3)4Cr5MoSiV1(JIS SKD-61) 4)42CrMo(AISI 4140)

5)9Cr18MoV

Bimetallic Alloy Materials

1)Fe-based alloy

2)Ni-based alloy/Deloro alloy
3)Co-based alloy

4)NiCo-based alloy
5)Tungsten carbide/Wolfram carbide

Bimetallic Alloy level

Level A - containing Tungsten of 40%

Level B - containing tungsten of 25%

Level C - containing tungsten of 9.5%

Designing

Screw structure and compression

ratio can be designed according

to different products & different

clamping force requirement.

Treatment Technology

1)Longer time Gas Nitriding treatment

2)special anti-wear & abrasion alloy (bimetallic)

3)tungsten carbide

4)cobalt base alloy

5)stainless steel

6)Gh113 nickel based alloy

Treatment

Nitriding treatment(>100 Hours)

Depth of Nitrided Layer: 0.5-0.8 mm

Hardness of Nitrided Layer: >950Hv

Hard Chrome Plating treatment:

Thickness of Hard Chrome Plating Layer: 0.03-0.08mm

Hardness of Hard Chrome Plating Layer: ≥950HV

Nickel alloy plating.treatment:

Bimetallic Barrel Centrifugal Casting (Inlay Alloy)

Bimetallic Screw: Plasma Alloy Coating Spraying

Depth of Bimetallic Layer: >2mm

Hardness of Bimetallic Layer: HRC55°-65°

Material Application

1)General Plastics

2)ABS,PA,PC,PE,PET,PP,PS,EVA,PU,PVC,U-PVC,etc

3)PA + GF(Glass Fiber)

4)Flame-resistant Reinforced Plastics

5)Modified Engineering Plastics

6)All kinds of Mixed Recycled Material(in Scrap or Granule),etc

Basic Infomation

Surface Roughness :Ra0.4um

Linearity of the screw: ≤0.015mm

Linear axis limit: ≤0.02mm

Hardness after Hardening & Tempering: HB260-300

Fragility of Nitration:≤Two grade

General Terms

Means of transport: Ocean,Air,Express

Production time: About 30days after we receive the deposit and lead time will different according to the order quantity.

Warranty period

1-3years(Depends on the plastic raw materials)

Bimetallic: much longer lifetime.

Competitive Edge

1.Long lifetime,low energy consumption.

2.Wonderful plasticizing

3. Top-quality bimetallic screw and barrel

4. High wear resistance, resistance to corrosion

5. Fast and On time delivery

6. Best customer after-sale service!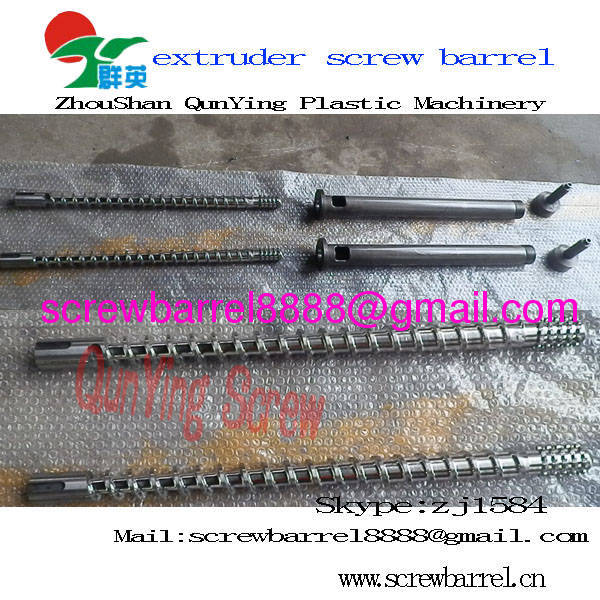 We specialized in manufacturing many types of screws, the barrels can be applied on all types of injection moulding machine,rubber hot-feeding extruder, rubber cold-feeding extruder, pin barrel cold feed extruder, plastic extruder with different specifications for Haitian,Demag,Toshiba, Husky, Nissei etc.We can provide the models of screw including variable pitch and variable depth, variable pitch and equal depth, variable depth and equal pitch, and equal depth and pitch.Groove multi-die type, composite type, mixing type and separating type.