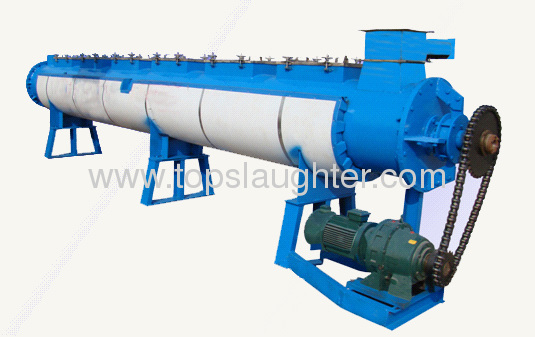 cooker
fish meal cooker
Specifications
fishmeal plants cooker
1,main machine for fishmeal plants
2,with different capacity
3,The raw material is cooked by the rotor
Working principle :
It uses normal temperature hydrolysis, high temperature sterilization to rapid drying efficiency.

Equipment components:
Safety valve, Float type trap, Rotary Joints, Stainless steel hose, Graphite ring, Cut-off valve, Pressure gauge, Bearing, Chain.
Performance and characteristics:
1. Main shaft and steam jacket make the heat efficiency over 95%, to ensure that the material is quickly and well cooked. The long shaft with blades stuns quickly when cooking.

2. Use excitation governor to adjust the main shaft speed according to different kinds of materials; and temperature control system can control steam input.
3.Use automatic drainage system to recycle condensation water from boiler steam. It will increase the utilization rate of waste water and decrease energy consumption,environmentally friendly.
4.External insulation board and upper cover made of stainless steel, to increase corrosion resistance and extend service life.
.

Device parameters:
| | | | | |
| --- | --- | --- | --- | --- |
| Model | YZ400 | YT500 | YT600 | YT800 |
| Production | 3t/h | 4t/h | 5t/h | 8t/h |
| Total power | 2.2kw | 3kw | 5.5kw | 7.5kw |
| Inner diameter | Φ400 | Φ500 | Φ600 | Φ800 |
| Unit size (mm) | 5800*500*600 | 6800*600*800 | 7800*800*900 | 8800*1000*1100 |
| Weight | 2500kg | 3800kg | 4200kg | 4800kg |