Twin barrel and screw for twin screw barrel extruder machine for pvc&CaCo3

The Specification of Conical twin screw and barrel
Specification

(d/D)

Work Length

(mm)

Extruding Ability

KG/H)

Screw Speed

(rmp)

Φ25/Φ53

540

25-40

5-50

Φ35/Ø77

810

40-70

5-50

Φ45/Φ90

990

50-80

5-45

Φ50/105

1070

100-150

4-45

Φ51/105

1220

100-150

4-40

Φ55/Φ110

1220

120-180

4-40

Φ60/Φ125

1320

150-200

4-40

Φ65/Φ120

1440

200-250

4-40

Φ65/Φ132

1440

200-250

4-40

Φ70/Φ140

1460

250-320

4-35

Φ75/Φ150

1480

300-360

4-35

Φ80/Φ143

1800

300-360

4-35

Φ80/Φ156

1660

300-360

4-35

Φ90/Φ184

2000

400-500

3-35

Technical Date ( Description)

| | |
| --- | --- |
| Material | 38 38CrMoALA,SKD61,D2 etc. |
| Hardness After Hardening&Tempering | HB260-290 |
| Depth of Nitrided | 0.5-0.8mm |
| Hardness of The Surface | Hv950-1100 |
| Surface Roughness | Ra0.4um |
| Linearity of Screw | 0.015mm/m |
Our Conical twin screw and barrel could serive high addtive of CaCo3 and wood.
The compression ratio of the screw canbe designed according to different products and mixtures.
If you have any inquiry, do not hesitate to inform us.
Conical twin screw barrel has been presented above, want more similar products, please click Conical twin screw barrel.

Application for: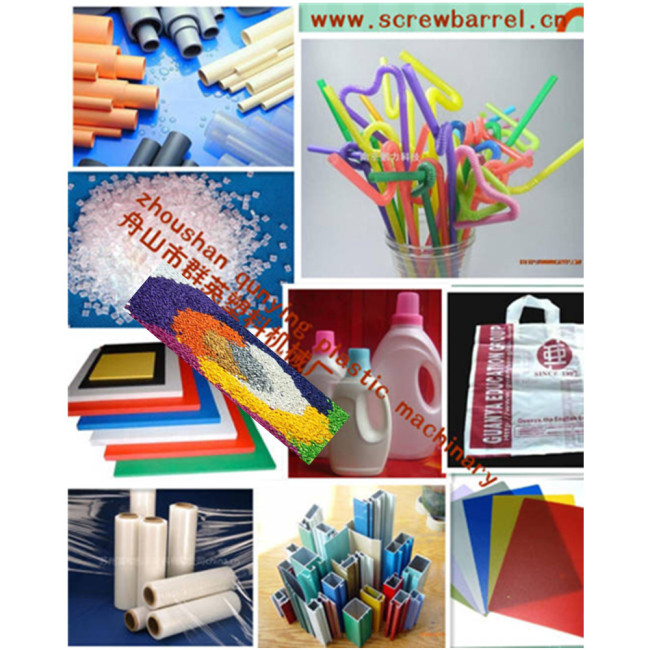 Technical Date ( In detail)

Technical Parameter

Base Material

1)38CrMoAlA(JIS SACM645);2)Cr12MOV(JIS SKD-11) ;
3)4Cr5MoSiV1(JIS SKD-61) ;4)42CrMo(AISI 4140)

Bimetallic Alloy Materials

1)Fe-based alloy 2)Ni-based alloy/Deloro alloy
3)Co-based alloy 4)NiCo-based alloy
5)Tungsten carbide/Wolfram carbide

Double-alloy level

Level A - containing Tungsten of 40%
Level B - containing tungsten of 25%
Level C - containing tungsten of 15%

Surface Treatment

Heat Treatment
High Frequency Treatment
Nitriding treatment(120 Hours):
Depth of Nitrided Layer: 0.5-0.8 mm


Hardness of Nitrided Layer: 900-1020Hv (HRC56°-65°)


Hard Chrome Plating treatment:


Thickness of Hard Chrome Plating Layer: 0.05-0.10mm




Hardness of Hard Chrome Plating Layer:

≥

950HV


Nickel alloy plating.treatment:


Bimetallic Barrel/Cylinder: Centrifugal Casting (Inlay Alloy)




Bimetallic Screw: Plasma Alloy Coating Spraying




Depth of Bimetallic Layer: >2mm




Hardness of Bimetallic Layer: HRC55°-72°




Spraying corrosion wear-resisting dual metal layers

Basic information

Roughness of the surface:Ra0.4um
Linearity of the screw: ≤0.015mm
Linear axis limit: ≤0.02mm
Hardness after Hardening & Tempering: HB240-280
Fragility of Nitration:≤

Two class

Material Application

1)General Plastics
2)ABS,PA,PC,PE,PET,PP,PS,EVA,PU,PVC,U-PVC,etc
3)PA + GF(Glass Fiber)
4)Flame-resistant Reinforced Plastics
5)Modified Engineering Plastics
6)All kinds of Mixed Recycled Material(in Scrap or Granule), PVC + 30% CaCo3, etc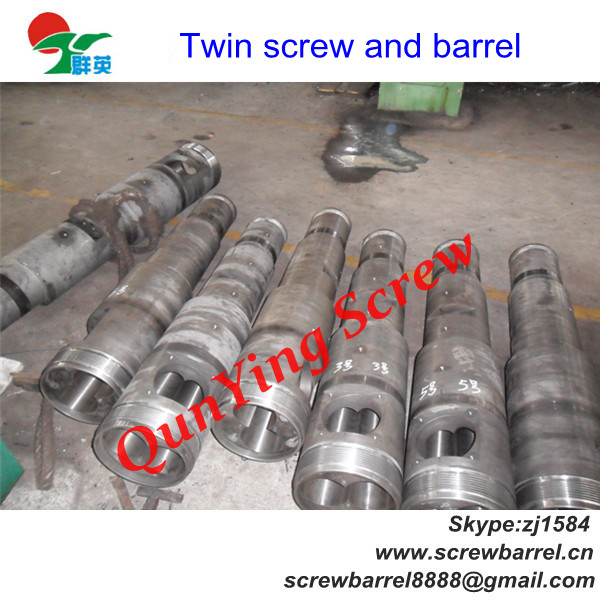 Conical twin screws with bimetallic:



Twin conical barrels:
Bimetallic Barrel:


Our Conical twin screw and barrel is good in quality and competitive in price. We manufacture Rubber screw barrel and supply OEM, ODM service according to your requirement.

Our factory processing pictures: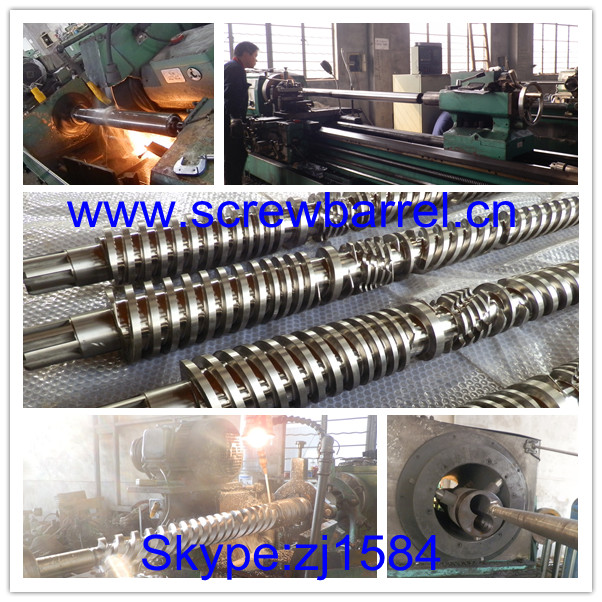 Certificates: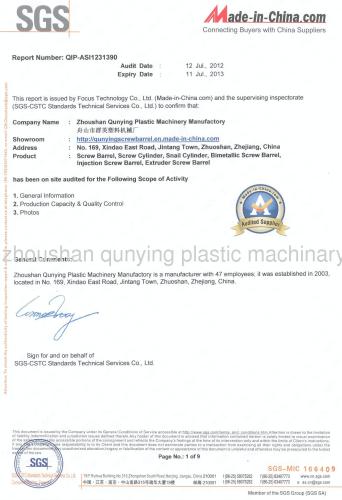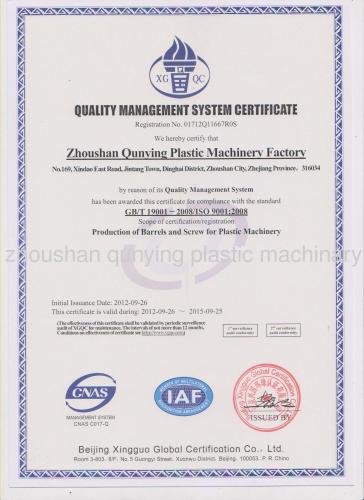 Factory Corners: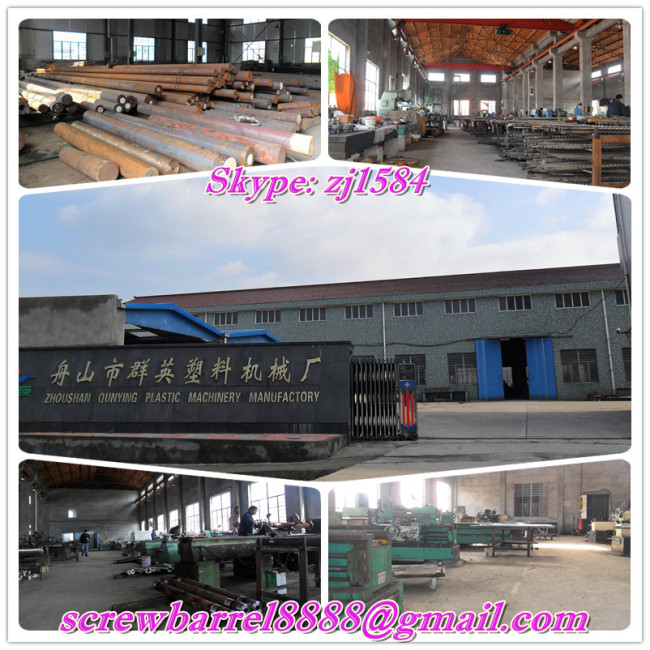 About QunYing

Zhoushan QunYing Plastic Machinery Co.,Ltd is a leading supplier of SCREW and BARREL in

China,including designing,manufacturing and sales for the products,we can make any specification of

extruder screw barrel and injection molding screw barrel for

Haitian,Demag,Engle,Nigrobossi,KMD,NPM,BOY,HUSKY, Nippon Steel, Toshiba, Nissei, Mitsubishi and etc.
We also can supply SCREW&BARREL for blow mould machine,rubber machine and double screw barrel

machine and ect. Besides,we could design all types of screw and barrel according to your different

requirements.

What is our SCREW and BARRELadvantage:
First:Creative in design,our designing team is very strong,since we have unique culture to motivate them,in order to meet requirement,we work closely to our customer and market!
Second:We have 15 years' experience of manufacturing varied screws, barrels and spares.We are keeping improving our production system day by day on the delivery, quality control,all the efforts have improved the customers satisfaction!
Third:We are located in China's screw Town-Jintang,Town in zhoushan city,near to Ningbo Port and Shanghai Port!
Finally,We assure the customer benefits,we supply best quality and competitive price,also best customer service!
At last,any enquiries,please contact us, also you could add my QQ:570621965.skype:lillianyao0421
My name is lillian.