Product name:Wooden handle and cotton yarn mop head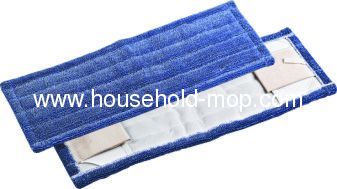 Features:
General dust mop refill
1. 65% polyester 35% cotton high quality blended yarn in natural white;
2. cut-end launderable & durable dust mop refill, canvas backing for faster drying.
3. Inserted pocket design with two pads on both sides for strengthening; convenient for fixing and replacement;
4. Customized sizes are also available.

================================
Why our microfiber products good choice for you?
·Microfibre is 100 times finer than hair, unique construction of the fibre creates acapillary action, absorbing and holding the dirt like a powerful magnet.
·Hydrophilic with super absorbency,it can absorb seven times as its own weight in liquid.
·Cleans dirt, dust, grease and grime from any hard surface without cleaners or chemicals.
·Effective cleaning tool, save your time, effort & water.
·Anti-bacterial treatment available
·Microfiber products are popular in Euope & USA.
·Sunshinehas 5 years experience supplying OEM service for brands of differenct countries.
·Any color and size available
·ISO9001, AZO free, REACH certificate