professional bimetallic twin screw manufacturer( CMT80/156 bimetallic twin screw)

Specifications
1.professional bimetallic twin screw manufacturer(CMT80/156 bimetallic twin screw)
2,High quality,longer lifepan
3,Bimetallic
Specifications of standard twin conical screw and barrel:
45/90, 51/105, 55/110, 65/132, 80/156, 80/172, 92/188.
Advantages of machine reciprocating conical screw barrel with conical type:
1.Advanced Nitriding Technology
2.Anti-corrosion and Wear-resisting Duplex Metal Spraying Technoloy
Technical Parameter

Quenching and Tempering Hardness HB280-320

Screw Straightness 0.015mm

Nitriding Hardness HV850-1000

Nitrided Chromium Coating Surface Hardness≥900HV

Nitriding Depth 0.45~0.7mm

Chromium Coating Thickness 0.025~0.10mm

Nitridng Brittleness 2 Level

Duplex Alloy Hardness HRC50-65

Surface Roughness ≤Ra0.4

Duplex Alloy Depth 0.8~2.0mm

Materials and Technologies

Quality 38CrMoAIA (41CrAIMo7)

SKD61(H13)

Quality Duplex Stainless Steel

Gr12MoV

42CrMo

Quality Powder Metallurgy Materials

40Cr

Hard Metal Cold/Thermal Spraying Technology

Zinc 3# Steel

Advanced Nitriding Technology

Anti-corrosion and Wear-resisting Duplex Metal Spraying Technology

Base material 38CrMoAIA, welded inlay on the flight, prolong life of screw. Easy wearing parts of barrel feed inlet made from imported anti-wear alloy can be improvde abrasion performance.
SCOPE OF APPLICATION:
WPC(PVC&PE), Super high molecular sheet, 1/2 high calcium buckle, 50-400 high calcium pipe, 50-300 high calcium profile, soft PVC sheet, XPS-PVC etc.
PP.PE.ABS.PVC. raw material, pelletzing, pipe, profile, sheet etc.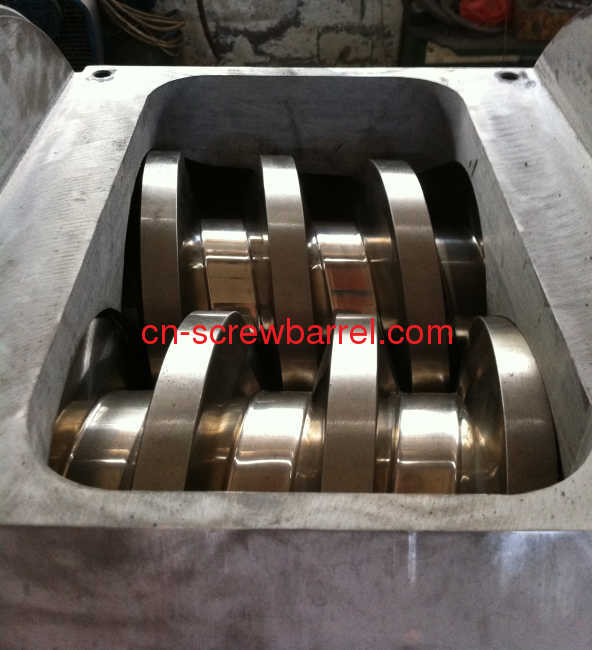 CM 80/156 conical screw barrel