Carbon Steel Non-stick Brownie Pan With Rack as seen on tv decription
Create perfect brownies every time with this 4-piece baking set from Slice Solutions
Set contains 11-by-7-inch baking pan, removable bottom, divider, and rack
To use, pour batter into pan and place divider in before baking;
rack aids in cooling and brownie removal
Pan can be used without the divider, as a regular baking pan
Great for brownies, snack cake, cornbread, cereal treats, and more~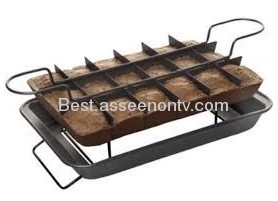 Carbon Steel Non-stick Brownie Pan With Rack as seen on tv introudce:
-The non-stick way to bake, slice and serve your favorite treat!
-It's not just for brownies...make fluffly cakes, awesome bar cookies or Grandma's apple pie squares and so much more!
-Bonus- Recipe guide
-Bonus- 10 x Decorative stencils
-Measurements - 12" x 8"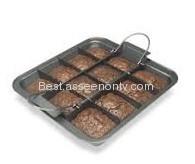 Carbon Steel Non-stick Brownie Pan With Rack as seen on tv packing:
1. Diameter: 23x23x5.5CM
2. Material: Carbon steel
3. Inner: non-stick coating
4. Outer: heat resistant coating
5. Packing: color box + Carton