Product name:Washable Microfiber floor mops
HOW TO USE IT: ThisScrubbydoo mop set comes complete with four pads. For this reason, it can be used wet or dry for various cleaning tasks depending upon your needs. Each pad is meant to be machine washed and reused after you are done cleaning. You will get hundreds of uses before replacement is necessary and don't worry we have refills for sale.
2 MULTIPURPOSE/COMBO PADS - (The light blue one) Use wet or dry. Use it dry for dusting and polishing or damp for mopping and cleaning. This pad features an all purpose microfiber that is blue in color and soft and fluffy to the touch. Split end fibers increase surface area to maximize cleaning power. To clean your floor, simply wet the removable mop pad, wring out excess water, and then apply it to the head. Once applied, just glide the mop across your floor for a streak-free shine. You can even spray water directly onto the floor and apply the pad dry. This is the pad that is most frequently used, so we included two in each of these microfiber mop sets.
FLOOR PADS
Floor pads come in a variety of colors and sizes and are made from materials that are designed to do specific jobs. The following general tips about floor pad care can extend the life of a floor pad.
1. Carefully install the pad onto the machine so it is centered. A floor pad that is not centered will wear unevenly and will create a safety hazard since the machine is more difficult to control.
2. When using the floor machine do not bump into objects. If a pad rotating on a floor machine hits furniture or some other object, the pad can tear or snag.
Since floor pads are made of different materials, using the correct cleaning method for each type of pad is important.
1. For natural fiber pads like ETC's Gorilla, clean by using the center die cut piece from the pad or a medium bristle brush and brush away the accumulation from the pad.
2. For a polyester or nylon pad use one of these three methods:
a. Soak the pad in stripping solution until dirt is softened or loosened, then rinse using a water hose.
b. Wash under high pressure water.
c. Launder in luke warm water.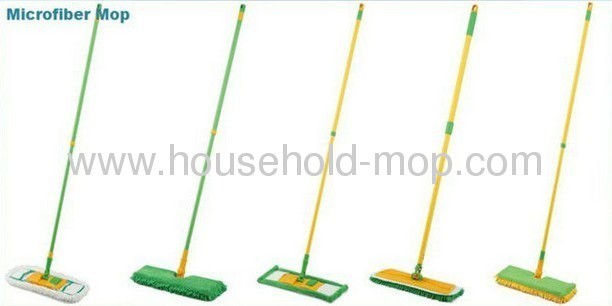 Hang the pads in a storage area to dry after cleaning them.
---
MOPS
Most synthetic mopheads contain a fiber coating which makes the mop head less absorbent. Also, new cotton mopheads do not absorb as well as they do after some use since their fibers are still coated with natural oils. Therefore, before using a new mop, wash it in soap and tepid water and rinse well.
Mopheads are made of cotton, rayon, or blends of materials. Cotton mopheads are satisfactory for most floor care procedures except finishing/waxing. Rayon mopheads leave little lint, so a rayon mophead is better to use when finishing/waxing a floor than cotton. Since cotton holds water better, it is better for drying floors.
Cotton is best for - Floor Drying
Rayon is best for - Leaving Less Lint, No Breaking-in Time, Wetting
Blended is best for - Laundering
Always use a clean mophead when scrubbing, sealing, or applying a finish. Use old mopheads for applying stripping solutions.
Do's and Don'ts for Mopheads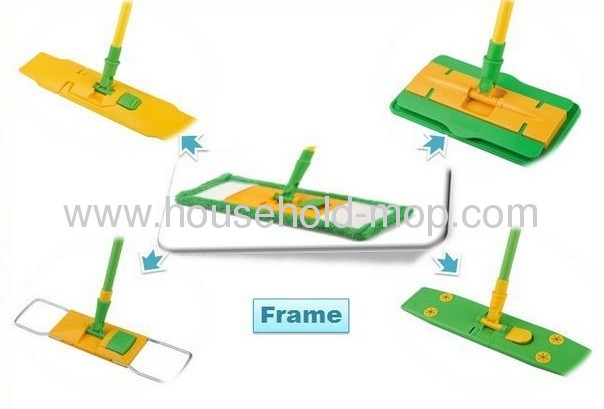 1. clean (rinse well or launder) mophead after each use.
2. hang mophead to air-dry after each use.
3. launder mopheads in a synthetic mesh laundry bag.
4. have a mophead for each procedure (scrubbing, etc.)
Do not...
1. leave mophead in chemicals or cleaning solutions even for short periods of time.
2. twist the mophead in the wringer since it weakens the fibers when the pressure is applied.
3. bleach mophead or use it with a solution with bleach.
4. wash in water over 160 ° F or dry in temperature above 150 ° F.
Item
Color
Name
item
AJ035C
Grey
Washable Microfiber floor mops
Product Detail
Mop Pole
Pole Material
Telescopic steel pole with plastic coating
Pole handle Material
PP
Pole Length(Max,Min)
130cm;70cm
Mop Head
Mop head base material
ABS
Mop head base size
40cm*10cm
Mop Head Cloth
ClothMaterial
Cotton
Cloth Size
45cm*15cm
Joint(Pole with head)
Joint Style
Inner retracting button
Rotating
360°
Joint Material
PP
MOQ
3000
Packing Detail
Packing Method
1 PC product include
1 mop pole+1mop head+1 mop cloth
Export Brown Ctn
75*43*23
PCS/CTN
20
Loading Weight
N.W/CTN
14.48kg
G.W/CTN
16.68kg
Loading Quantity
20'FT
7010
40'FT
15099
40'HQ
17796