Product name:19mm Wooden mop handle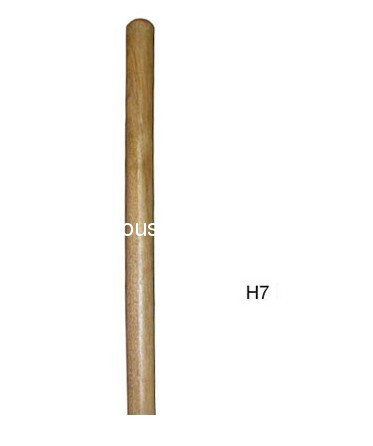 1. Package
19mm Wooden mop handle
2. Europe universal standard
3. Length, color and packing can be customized
1)Material: Eucalyptus/Pine/Weedtree wood
(2)Selectable size: Length: 90cm/100cm/110cm/120cm/130cm/140cm/150cm
Diameter: 19mm/20mm/22mm/25mm/28mm/30mm/32mm/35mm/36mm/38mm
(3)Features:
Fumigated in High Temperature by steam machine
Straight: Bend rate is 5-6mm less
Smooth: polish 2 or 3 times
Dry: moisture 12%-15%
Solid, light and good toughness can be stored for a long time and will not easy be moldy inside or bent.
2. Style of products for your choice:
(1) Italian screw at top, dome at bottom
(2) American screw at top, dome at bottom
(3)Straight cut at top, dome at bottom
(4) Straight cut at top, straight cut at bottom
(5) Italian screw at top, plastic cap at bottom
(6) Taperedat top, dome at bottom
(7) one end dome , one end metal tip(thread)
(8)one end dome ,one end plastic thread(italian,American ,Greek)

Product Series: Natural wood series, Varnish wood series, or Colorful lacquer series, or PVC coated
Thread types: Italian screw, American screw, Greek screw and other plastic thread
Caps: There are many kinds of plastic caps for your choice. Such as 4.5cm black cap, 4.5cm colorful cap, 7cm black cap, 7cm colorful cap, etc.
3. OEM Service: Welcome Customized sizes, PVC colors and patterns, plastic caps, etc. Please advise the details of your requirement or specification.
4. Packing: 50pcs/bundle packed in woven bag or depends on customer's requirement
5. Delivery time: within 10~15 days upon the receipt of deposit
6. Sample: our samples are free of charge, postage is collected
7. Usage: handle for broom, mop, shovel, spade, rake, hoe, pickaxe, axe, fork, brush, household cleaning tools, Garden tolls, farming tools, etc.
8. Payment: by TT,Western Union
For more details and special requirements, contact us now! We will offer you best price!
Description of Goods
Size L*Dia(cm)
Weight PC/gram
QTY pcs/bundle/woven bag
QTY I*20' GP pcs
QTY I*40' GP pcs
Natural wooden broom stick
110cm*2.2cm
220g
60pcs
55000
110400
110cm*2.5cm
250g
50pcs
50000
102000
120cm*2.2cm
250g
50pcs
45000
102000
120cm*2.5cm
330g
50pcs
45000
90000
130cm*2.5cm
350g
30pcs
40000
80000
150cm*2.5cm
450g
30pcs
30000
55000
Varnished wooden broom stick
110cm*2.2cm
220g
60pcs
55000
109500
110cm*2.5cm
250g
50pcs
50000
102000
120cm*2.2cm
250g
50pcs
45000
100000
120cm*2.5cm
330g
50pcs
45000
80000
130cm*2.5cm
350g
30pcs
40000
75000
150cm*2.5cm
450g
30pcs
30000
50000
PVC Coated wooden broom stick PVC
110cm*2.2cm
220g
60pcs
55000
109500
110cm*2.5cm
250g
50pcs
50000
102000
120cm*2.2cm
250g
50pcs
45000
102000
120cm*2.5cm
330g
50pcs
45000
90000