Product Name: Deluxe grip with movable hanger cap fit 25.4mm pole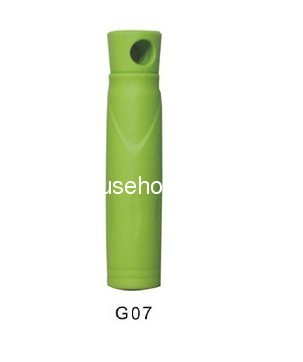 Q:What is
Deluxe grip with movable hanger cap fit 25.4mm pole
?
A: Threaded tube with its own thread, no need extra plastic screw.
Thread is made on tube directly.
The Best Mops for Vinyl or Tile Floors
Vinyl flooring is one of the most commonly used types of flooring in kitchens and bathrooms. Tile flooring is also common because of its water resistance. The easy cleaning and maintenance of these types of flooring help make them popular choices. Learn the best mop for cleaning these floors and maintain your floors with consistent cleaning standards so they last for several years.
Good Vinyl Floor Mops
Several mops work well over the flat surface of vinyl flooring. The best options include cloth, string and sponge mops, which provide a strong texture to remove spots but will not damage the floor.
Vinyl Floor Mops to Avoid
Avoid mops that have scouring pads, which will scratch the vinyl. Avoid overly large mops, as they will retain too much water and may saturate the vinyl surface
Maintaining Vinyl Floors
Wring your mop out twice before beginning your cleaning regimen. Clean with natural solutions such as a vinegar and water solution. After you mop the entire floor with the solution, mop it again with only warm water. No-wax floors require you to use specific cleaners, while older vinyl flooring can be mopped with water and dish detergent. Always follow any type of chemical mopping with a clean mopping of warm water for vinyl floors.
Good Mops for Tile Floors
Certain mops work better for tile floor, cleaning surfaces, shining the floors and preventing debris from getting into the grout. Good options include cotton or string mops or mops with cloth strips.
Tile Floor Mops to Avoid
Avoid mops that have scrub pads, which can scratch the tile. The grout line in tile floors is a big consideration, so avoid sponge mops or mops with disposable pads that will simply push debris into the grout lines.
Maintaining Tile Floors
Maintain tile floors between routine moppings by adding a small amount of warm water to your mop and spot-cleaning any dirty areas. When mopping the entire surface, use warm water on its own or with a small amount of dish detergent or baking soda. Avoid cleaners with harsh chemicals that will ultimately lead to soap scum, discoloration and dulling of your floors. Your mop should be damp, not drenched. Clean up any major spills immediately to avoid staining or saturation. Use a grout brush with a mixture of alcohol and water to clean the grout line between tiles. A grout sealer will help your grout stay cleaner longer.