The Grip chain is designed for vertical conveyors where the items are conveyed between two uni Grip links. The uni Grip is a 1873 chain supplied with moulded rubber inserts.
The main application for Grip 1873-G4 is vertical conveying of cans or bottles.
The flights for the 1873-G4 chain are the Snap-On type. The Grip chains have a 0.75 in. pitch side flexing roller base chain.
The recommended temperature area for the Grip chain is -40 to +80°C (-40 to +176°F).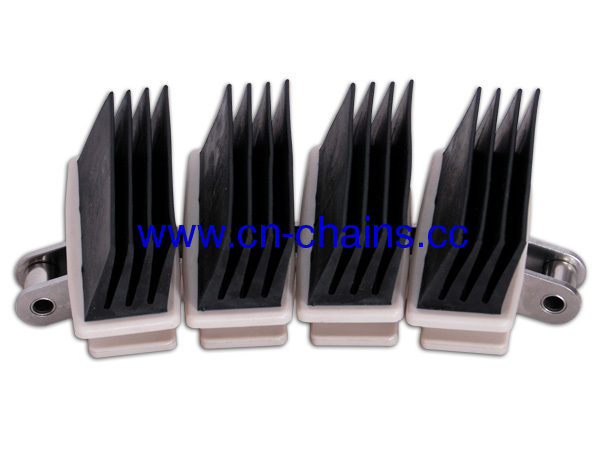 Snap -on plate top spiral chains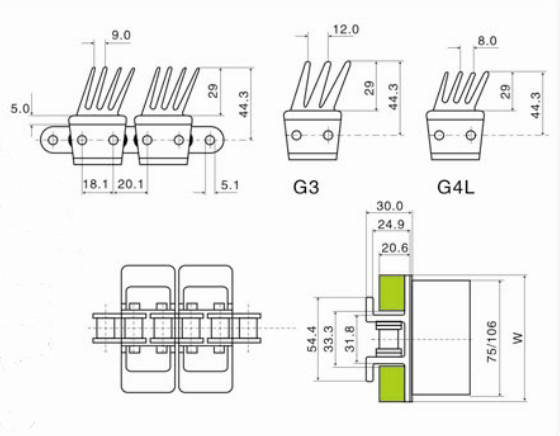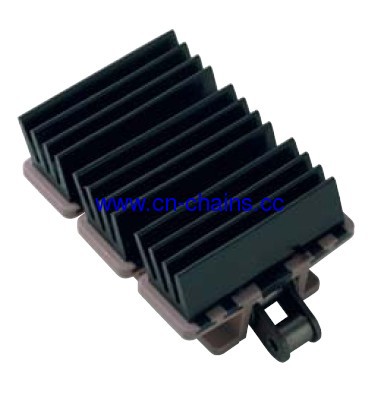 Side flexing :intergrated gripper plastic TAB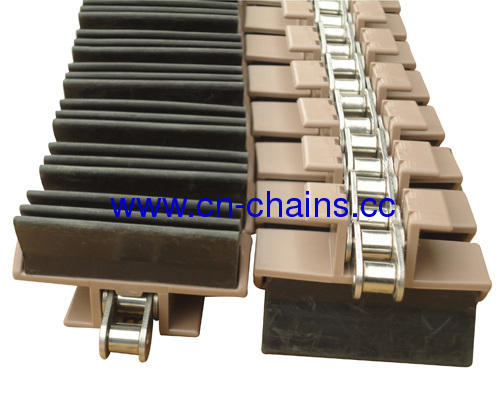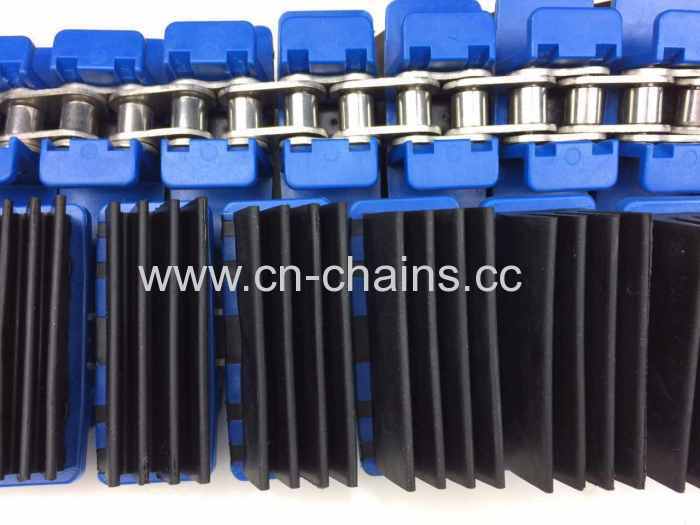 Radius modular conveyor chains


Item NO.

Plate Width

Belt Weight

Sideflex Radius(min.)

Backflex Radius(min.)

Working Load(max.)

mm

inch

Kg/m

lbs/ft

mm

inch

mm

inch

N(21℃)

lbf(21℃)

RW1873G3-K325

82.6

3.25

3.00

2.15

356

14

305

24

3400

765

RW1873G4-K325

82.6

3.25

3.00

2.15

RW1873G4-K450

114.3

4.50

3.40

2.28
Payment & Shipping Terms

Supply Capacity

Unit Price:

50.0~80.0

USD

Production Capacity:

10000meter/month

Payment Term:

T/T ,Western Union

Packing:

Carton

MOQ:

50Meter

Delivery Date:

16-22days

Means of Transport:

Ocean, Air





Rellwin has a wide variety of Plate Top and Gripper chains.The roller chain based Plate Top is developed for greater loading capacity and permits even higher speeds and longer runs than tabletop chains. The roller chain based Gripper is perfect for product elevating,
lowering,rinsing, sterilizing and inverting,by means of soft rubber gripper elements. The base chain is made of stainless steel.
843-,963-,1873-series,with"snap-on"plastic top plates combine the benefits of a plastic conveying surface with those of a precision roller base chain:
less slip- stick,high working load and accurate positioning.
Main applications of Gripper chains can be found in glass works.However,they can be used in various other situations, such as crate handing and can
manufacturing.The grippers are provided in 3-or 4-finger grippers for smaller products and in D-type Grippers for other applications.
POM: That generic polyethylene oxide (abbreviated POM), also known as Race Steel, Special Steel. It is Based on such as formaldehyde as raw material
to aggregate income,POM-H (polyoxymethylene homopolymer), POM-K (polyoxymethylene copolymer) is a thermoplastic plastic high
density, high crystallinity. Has good physical, mechanical and chemical properties, especially those with excellent abrasion performance.
Feature:
1,POM has a very low coefficient of friction and good geometric stability, particularly suitable for the production of gears and bearings
2.High temperature properties,and therefore is also used pipe device (pipe valves,pump housing), lawn equipment, etc
3,Is a tough elastic material, even at low temperatures are still very good creep properties, geometric stability and impact resistance
4,High crystallinity of POM cause it has a high shrinkage rate, reaching a high of 2% to 3.5%. For a variety of enhanced materials have different shrinkage
5.POM is a crystalline plastic, melting point clear, once they reach the melting point, melt viscosity decreased rapidly.
Specific gravity 1.43, melting point
175 ° C, tensile strength (yield) 70MPa, elongation (yield) 15%, (break) of 15%, the impact strength (notched) 108KJ/m2, (band gap) 7.6KJ/m2
Company Name: Rellwin Industry Co., Limited
Or name:Ningbo Rellwin industry Co., Limited.
Located in the Port city ------ NINGBO
Business range ----- a variety of plastic chains/modular plastic belts /conveyer accessories and so on
(Our factory)Histry in domestic market: Around 20 years
History in foreign trade: More than 3years
Rellwin industry Co., Ltd is specialized in developing and manufacturing a variety of plastic chains, modular plastic belts and conveyor accessories.
Through the ongoing R&D, we have own design team ,professional machine and processing equipment and so on.. OEM&ODM service is our feature ,
High quality and short delivery time is the customers of our evaluation.
We provide worldwide customers with a full line of reliable products:
1, Automatic Vertical Packing Machine
Suitable for measuring and packing anomalous lumpish and granule materials, such as candy, popped food, biscuit, roasted seeds and nuts, granulated
sugar, deep-frozen food, milk powder, milk tea, amylum, sauce and so on.
2, Automatic label sleeving machine
Such as Shrink Film Labeling Machine, Adhesive-tape labeling machine
And Hot Melt Adhesive Labeling machine
3, Conveyor
Such as top chains type conveyor, functional mould net chains type conveyor, screwy type conveyor. Bucket lifter, clamping lifter, belt and roller conveyors.
Ourproducts are widely used in such machinery industries as alcoholic and beverage, food & cold food, tobacco, (pillow-type) packaging, chemicals, pharmacy,
cosmetic, bottle-making, jar-making, post & telecommunication, and painting engineering
4, Conveyor chains & components
Such as steel chains, plastic top chains, functional mould netting chains, conveyor components, sprockets, corner tracks, roller, screw track, star wheels and wearstrips.
Our services


1. Warranty time: 1 year. The conveyor belt / chains / sprockets which supplied by our company could be exchanged when it have quality problems,such as it was broken in installing , the pin run out from chains or the chains parted . But if the user use it in a wrong way, we can not provide any goods for free .
2. Payment: T/T , L/C , Western Union or Paypal .
3. Lead time: 5~15 working days, subject to the order quantity.
4. Shipment: by sea, by air,door to door service for samples transportation.
5. OEM service : we have our own R.D team . If you want to purchase the belt which we have not or you have your own design , we would like to make mold for you for free , only have the condition of requiring continuous orders ,and first order must be more than 60 square meters .

Company and Productsinformationrelated:
Ningbo Rellwin IndustryCo.,ltd.