Access Fittings - Charging Valve with Nut

Size of Access Valve & Charging Valve:
Part No.

Outside (inch)

Thickness(mm)

Copper Length(mm)

NV-AV02

1/8"

0.50

30 – 160 mm

NV-AV03

3/16"

0.50

NV-AV04

1/4"

0.55

NV-AV05

5/16"

0.60

NV-AV06

3/8"

0.60

- The above drawing and data of sheet for the reference only.

- Welcome any OEM and drawings requirements.

Special Features of Access Valve & Charging Valve:
One irrefutable fact about refrigeration systems is that sooner or later, they all need at least one access port. Testing, evacuating, charging – they all require access to the refrigerant circuit. That is where the lowly access/charging valve comes in.
Access valves may be installed in ay position on either high or low side for quick testing, pressure checking, purging or charging.
Generous counterbore allows removal of core if flare becomes damaged.
All pipe connections have internal brass cups for dip tube applications.
Made of high quality copper and in advanced technology.
All valves equipped with cap and one valve core.
The drawing & photograph for the reference: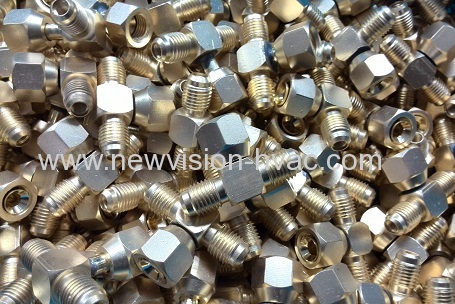 In case of more details about
access valve
&
charging valve
, welcome let us know any time.