660 Series Features and Specifications:
0-100 Digital Adjustable KV
Fully Adjustable Amperage
Pulse Power Technology for beating Faraday Cage Effect.
Able to cut Pulse Power on and off
With three setting program,for flat shape workpiece,complicated shape workpiece,recoating,easy for operation.
Fully Adjustable Air for Pump on Pressure, Dosage and Nozzle Rinsing Air.
Comes with Full Array of Nozzle Assortment.
Field Tested and Proven to operate in the toughest environments.
Comes with different array of delivery systems:
Hope Feed - 45L (samll hopper also could availbale)
Because this system was designed with the Pulse Power Built in its
Electronics it is specially balanced for the maximum spray capability with
the Smoothest Finish Possible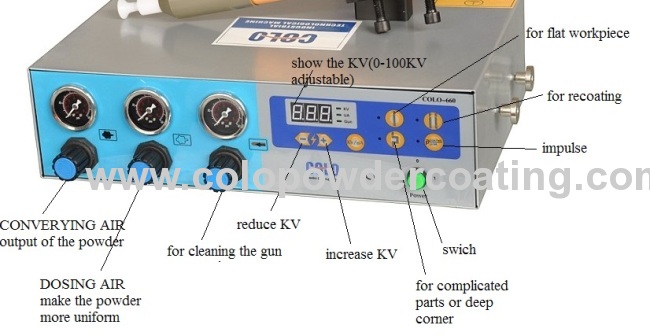 Manual Cup-Feed Powder Coating Unit
Cup type powder hopper is connected directly to rear of manual gun COLO-660T-C Operates
with portable control console to give you maximum flexibility
| Specifications | colo-610T-C | COLO-660T-C |
| --- | --- | --- |
| Applicable Spray Gun | COLO-03C | COLO-03C |
| High Voltage Source | Pulse Power (100KV maximum) | Pulse Power (100KV maximum) |
| Power Cable Length | 16 ft. (7 m) | 5 m (16 ft.) |
| Powder Hose | no | |
| Powder Hopper | Cup-120gram | Cup-120gram |
| Powder Feed Rate (Max.) | 250 g/min. | 250 g/min. |
| control unit | pulse coating | pulse coating plus intelligent function |
| Power Consumption | 90VA (120V. 50/60Hz) | 90VA (120V. 50/60Hz) |
| Compressed Air Con. | 6.3 (180 L/min.) 80 psi | 6.3 (180 L/min.) 80 psi |
powder source110V or 220V both are avaiable!
Manual Cup Unit
is ideal for powder manufacturers or sample testing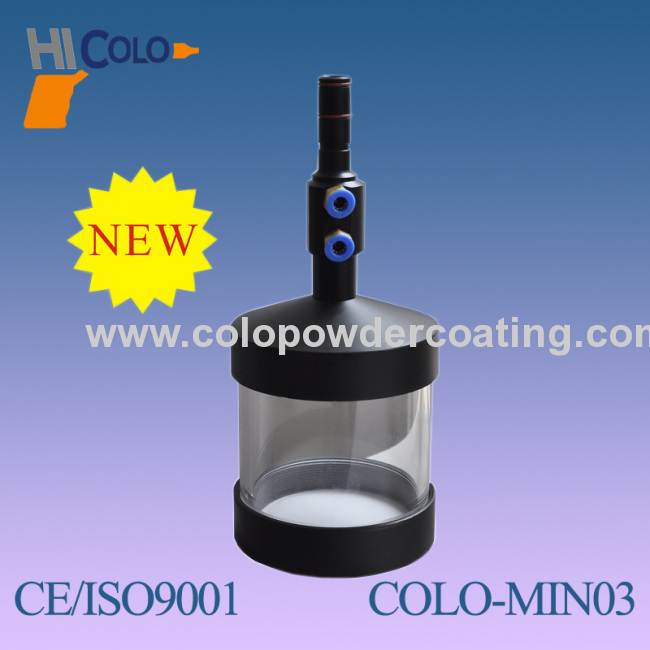 Manual coating equipment Function description
the powder gun through the powder hose . The powder is electrostatically
charged at the nozzle of the gun. In addition, an electrostatic field is
created between the gun nozzle and the grounded object. The charged
powder spray remains adhered to the surface of the object.
The powder is fluidized by air forced through a porous plastic plate from
below. The powder acquires, thereby, fluid-like characteristics.
The conveying air, supplementary air, and rinsing air are set on the control
Unit
Include
A control unit power supply cable
- A air filter
- A air pressure regulator
- A fluidized powder hopper
- A plug-in injector
- An manual powder gun with gun cable, powder
hose, rinsing air hose and standard nozzle set.
- Pneumatic hoses for conveying air (red), supplementary
air (black) and fluidizing air (black)
powder hose
Ground wire