| | | | | | | | |
| --- | --- | --- | --- | --- | --- | --- | --- |
| Belt Type | Material | N/M(21℃) | IB/FT(21℃) | Weight | Dry | Wet | Backflex Radius(min) |
| FG900-1 | POM | 21600 | 1400 | 5.62kg/m² | +4 to +80℃ | +4 to 65℃ | 50mm |
plastic durability conveyor belt
heat resistant modular conveyor belt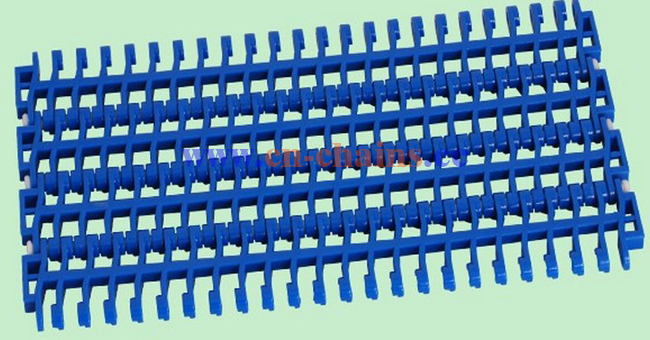 Modular plastic conveyor belts for industry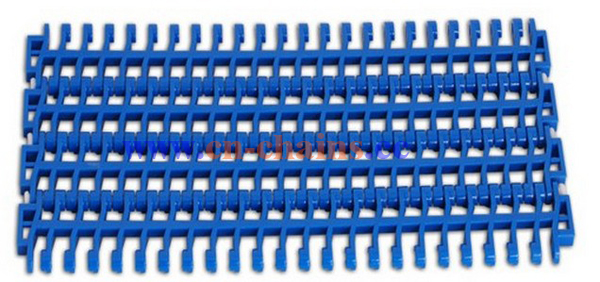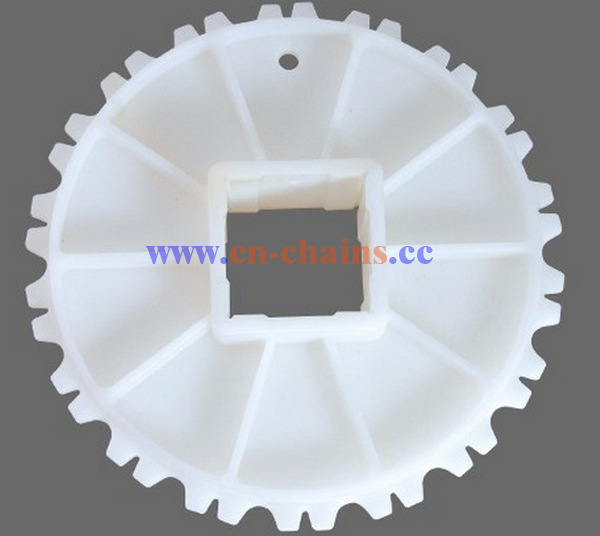 Sprockets for 900 series

| | | | |
| --- | --- | --- | --- |
| teeth | diameter(mm) | central hole (mm) | thinkness(mm) |
| 6 | 56 | 25 | - |
| 9 | 81 | 40 | - |
| 12 | 109 | 40 | - |
| 18 | 160 | 40/60 | - |
| 20 | - | 40/60 | - |
One of the dairy processes more mechanized lately is the cheese manufacturing on a large scale.
At the beginning stainless steel metallic belts were used, but they became deformed due to the weight of the heaviest cheeses, and they had problems with
regard to the maintenance. Moreover there were problems concerning the final quality of the product, because the friction of the metallic belts on the
sliding surface, even when it was plastic, formed a kind of black paste, due to the existing animal oil, that stained the products causing their rejection by the quality control.
Our 900 FLUSH GRID belt has proved in many installations that nothing of this happens when using our plastic modular belts.
They are placed in brine pools, presses, mould elevating conveyors, and in every conveyor required in the production line, achieving an unrivalled performance.
900 plastic mesh belt chain overcomes the belt conveyor maintenance difficulties, scallops easily torn, punctured, corrosion of the shortcomings, to provide
a safe, fast and simple maintenance transmission mode. Features: high strength, acid and alkali resistance, corrosion resistance, oxidation
resistance and wear resistance, low noise, light weight, nonmagnetic, antistatic, adapt to the wide temperature range, good stickiness, can add baffles,
ascending Angle is big, easy to clean, maintenance is simple, high temperature resistant, pull big, long service life, etc.; Material: pom, PP, PE, ACETAL,
NYLON,,,,, etc.; Used in industrial automation production line and transport food and beverage industry, all kinds of packing line, chemicals, aquatic products
processing production line, battery manufacturing, beverage processing and manufacturing, guangdong industrial, quick-frozen food production line
viviparous, agricultural processing, electronics, rubber tire industry, general conveying operation environment used for a variety of operations, such as methods
of modular plastic conveyor belt transmission due to the driver, it is not easy for conveyor belt
There are many kind of plastic modular conveyor belt in 900series,such as ,Flat top 900 .Open grid 900, Raised Rib 900,and so on.

We are China modular belt manufacturer offer best modular belt OEM, ODM,service.

Modular belts are constructed with modules molded from thermoplastic materials connected with soild plastic rods. Except for narrow belts (one complete module or less in width),all are built with the joints between modules staggered with those of adjacent rows in a "bricklayed" fashion. This structure can enhance transverse strength and it is easy for maintain.
The total plastic and cleanable design can solve the steel belts easily polluted.Now the cleanable design makes the belts very suitable for food industry area as well.Also there are be widely used in many other industries,such as container making,pharmaceutical and automotive,lines of battery and so on.
Rellwin company has a widely range of different material and structure belts. The range of Rellwin's modular belts varies from 3/8 inch small pitch straight running belts to 2inch pitch sideflexing belts,The most commonly used belt styles inclued:
Flat Top:suitable for a wide range of products,when a fully closed belt surface is preferred.
Flush Grid:commonly used in applications where drainage or airflow is desired.
Raised Rib:recommended in applications where product stability over transfers is a concern.
Friction Top:commonly employed on incline conveyors, where the elevation of product changes.Friction Top modular belts can be used up to an angle of 20 degrees,depending on the pack style and material.
Roller Top:used in a variety of low-pressure accumulation applications.
Perforated Flat Top:used when air flow and water flow are critical but the percentage of belt open area must remain low.
Other,less frequently used belt styles may better fit your special requirements:Open Grid,Nub Top(anti-stick),Cone Top(extra grip).

Why choose the modualr belts?
Modular conveyor belt in an interlocking manner or bricklaying way intertwined by the total length of the pin assembly together, this design improves the strength of
the belt fundamentally. (Rellwin) has extensive experience in the design and application of modular belt fields.
Introduce the specific advantages modular conveyor belt has,compared to other ,in brief sentence.
Rellwin modular conveyor belt bring more valuable solutions than ordinary belts
What are the benefits can the modular bring you?
·By extending the life of the conveyor belt (from a few weeks or a few months to several years extended), significantly reducing the cost of replacement of the belt
·Save maintenance time and costs: modular design lets you do not need to remove the entire belt to replace the damaged section
·Eliminate deviation and associated costs: drive sprocket tooth forced deviation phenomenon does not occur
·The risk associated with the bond reduced 80% cut-off
·Eliminate all costs associated with the conveyor belt vulcanization, stitching, bonding and surface inspection-related
·Reduce the slope of the yield loss transfer applications: Intralox belt so you can build conveyor Z-shaped configuration, thus eliminating the
delivery point will cause product damage, while saving space and reducing the number of drive motors required
·Reduce the risk of contamination due to damage caused by the belt
Our services

1. Warranty time: 1 year. The conveyor belt / chains / sprockets which supplied by our company could be exchanged when it have quality problems,such as it was broken in installing , the pin run out from chains or the chains parted . But if the user use it in a wrong way, we can not provide any goods for free .
2. Payment: T/T , L/C , Western Union or Paypal .
3. Lead time: 5~15 working days, subject to the order quantity.
4. Shipment: by sea, by air,door to door service for samples transportation.
5. OEM service : we have our own R.D team . If you want to purchase the belt which we have not or you have your own design , we would like to make mold for you for free , only have the condition of requiring continuous orders ,and first order must be more than 60 square meters .

Company and Productsinformationrelated:
Ningbo Rellwin IndustryCo.,ltd.