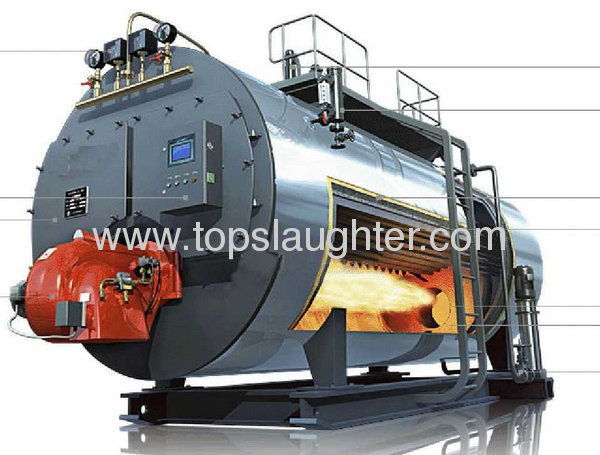 Burner is the most important equipment in the boiler. We recommend you Italian famous brand BALTUR, which enjoys a good reputation and occupies a large market share.

Product Features
Automatic Control:
a. When the pressure is too high, the water level is too low, the burner stops burning;
b. The burner itself has automatic ignition, blowing burning and other process control system. When one process failed to meet its normal condition, burner will automatically interrupt work;
c. When the temperature sensor detects a temperature above (below) the set value, the burner will stop (start) combustion;
d. With electric eye sensor security system.

The heating system with a very high thermal efficiency, fewer start up time, low energy consumption, good energy-saving effect.

Fewer startup time.

Full combustion, little environmental pollution, environmentally friendly.

Superior performance, smooth running, low noise, with a good noise elimination function.

Unique backflow device can recycle remaining oil through circulating piping or tank.

Air consumption adjusted automatically by burner nozzle, to match jet volume with boiler loading capacity (steam supply) and ensure full combustion.

Start and stop quickly, fast steam supplying.


Technical Parameters
TBL 85-105/DACA TBL 130-160-210P
1. Two-stage working (big/small fire);
2. Mechanical pressure atomization;
3. Burner emission reaching Reach EU Standards CLASSIII;
4. Double hinge connection;
5. Easily maintained and adjustable without detaching burner down;
6. Lightweight aluminum alloy die-casting electric control box, suitable for 4 and 7 hole plug connection;
7. Electric control box protection degree: IP55;
8. Equipped with two hose, one in-line filter, two nozzles, one plug of four holes and one plug of seven holes
9. Electric motor reaching EU Standards:IE2;
10. Silencer design;
11. Hydraulic regulator controlling damper to adjust airflow volume of 1 and 2 stage working; damp controlled by servo motors
12.Gear pumps with voltage regulator, pressure taps and relief valve;
13. Flame detection by photoconductive resistance;
14. Electrical connected BY printed circuit boards, including big or small button to connect power and thermostat with 7 hole plug, and two stage flame control stage of four hole thermostat.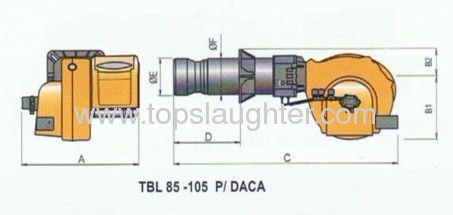 Burner


BT 75-105-120 DSPG BT180DSPG
1.Two stage flame progressive operating;
2. Equipped with cTRON 08regulator, operating by ratio control;
3. Atomizing device (electromagnetism controlling nozzle adjusting rod);
4. Servo motor adjusts damper;
5. Equipped with two hose, two in line fitter (not including nozzle, need to order separately);
6. Electric motor reaching EU Standards: IE2;
7. Mechanical pressure atomization;
8. Combustion air with flow adjustment regulator;
9. Service motor with cam to adjust supply of air and fuel;
10. Gear pump with voltage regulator;
11. Flame detection by Photoconductive resistance;
12. Standard Electrical protection grade I40 ( for other requirement can raise the protection)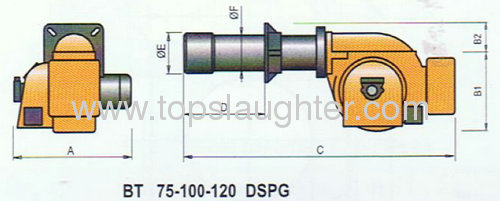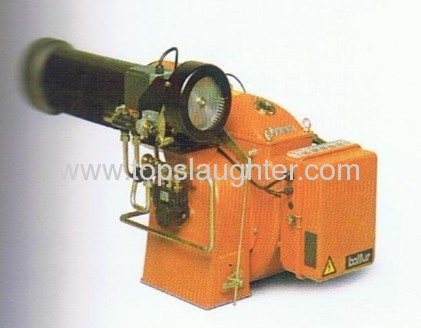 TBL 85-105/DACA BT 75-105-120 DSPG



TBl-BT burner 200~`1660KW/0.7-1.2T TBL 85-105/DACA BT 75-105-120 DSPG
Model
A(mm)
B1(mm)
B2(mm)
C(mm)
D(mm)
E(mm)
F(mm)
I(mm)
I1(mm)
L(mm)
M(mm)
N(mm)
TBL85 P
670
380
130
1245
175~400
161
159
260
260
225~300
M12
170
TBL85 P DACA
670
380
130
1245
175~400
161
159
260
260
225~300
M12
170
BT 75 DSPG
595
365
150
1215
130~450
205
160
260
260
255~300
M12
170
BT 100 DSPG
685
365
160
1415
310~490
230
195
320


276
M16
240
TBL 105 P
680
380
140
1245
175~400
180
178
280
280
250~325
M12
190
TBL 105 P DACA
680
380
140
1245
175~400
180
178
280
280
250~325
M12
190
BT 120 DSPG
770
470
160
1415
155~500
230
195
320


276
M16
240
TBL-BT Burner 200~`1660KW/0.7-1.2T TBL 85-105/DACA BT 75-105-120 DSPG
Model
No.
Power
Light oil flow
Max viscosity
Power Supply
Motor power
Size
Weight
KW
KG/H


KW
LxPxH mm
kg
TBL 85 P
35800010
200~850
16.9~71.6
1.5
3N AC 50HZ 400V
1.1
1070x800x700
79
TBL 85 P DACA
35800110
200~850
16.9~71.6
1.5
3N AC 50HZ 400V
1.1
1070x800x700
79
BT 75 DSPG
3510010
475~889
35~75
1.5
3N AC 50HZ 400V
1.1
1730x1030x880
140
BT 100 DSPG
3514010
533~1186
45~100
1.5
3N AC 50HZ 400V
1.5
1730x1030x880
150
TBL 105 P
35850010
320~1050
27~88.5
1.5
3N AC 50HZ 400V
1.5
1070x800x700
80
TBL 105 P DACA
35850110
320~1050
27~88.5
1.5
3N AC 50HZ 400V
1.5
1070x800x700
80
BT 120 DSPG
3518010
474~1660
40~140
1.5
3N AC 50HZ 400V
2.2
1730x1030x880
175



TBL 130-160-210P BT180DSPG




TBL 130-160-210P BT180DSPG 400~`2135KW/1.3-2.5T
Model
A(mm)
B1(mm)
B2(mm)
C(mm)
D(mm)
E(mm)
F(mm)
I(mm)
I1(mm)
L(mm)
M(mm)
N(mm)
TBL130 P
680
380
140
1250
175~400
180
178
280
280
250~325
M12
190
TBL130 P DACA
680
380
140
1250
175~400
180
178
280
280
250~325
M12
235
TBL 160 P
680
365
140
1300
200~450
224
219
320
320
280~370
M12
235
TBL 160 P DSPG
680
380
160
1300
200~450
224
219
320
320
280~370
M16
235
BT 180 DSPG
930
580
200
1700
210~650
260
220
320
320
280~370
M12
230
TBL 210 P
680
380
160
1300
210~450
250
219
320
320
280~370
M12
235


TBL 130-160-210P BT180DSPG 400~`2135KW/1.3-2.5T
Model
NO.
Power
Light oil flow
Max viscosity
Power Supply
Motor Power
Size
Weight
KW
KG/H


KW
LxPxH mm
kg
TBL 130 P
35900010
400~1300
33.7~109.6
1.5
3N AC 50HZ 400V
2.2
1070x800x700
85
TBL 130 P DACA
35900110
400~1300
33.7~109.6
1.5
3N AC 50HZ 400V
2.2
1070x800x700
85
TBL 160 P
35950010
500~1600
42.2~134.9
1.5
3N AC 50HZ 400V
2.2
1070x800x700
90
TBL 160 P DACA
35950110
500~1600
42.2~134.9
1.5
3N AC 50HZ 400V
2.2
1070x800x700
90
BT 180 DSPG
3522010
712~2135
60~180
1.5
3N AC 50HZ 400V
3
1730x1030x880
220
TBL 210 P
36000010
800~2100
67.5~177
1.5
3N AC 50HZ 400V
3
1070x800x700
90