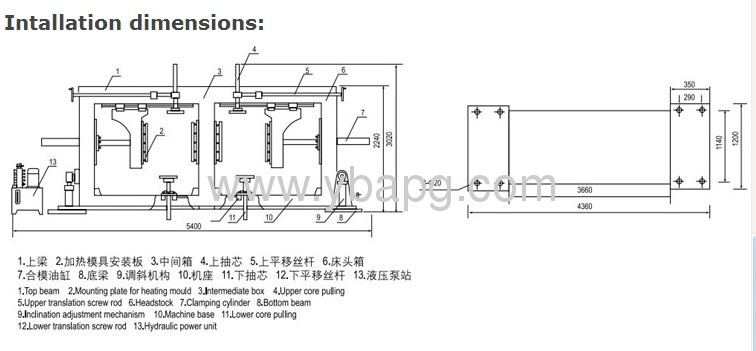 APG858
APG moulding Machine adopts structure of fixed mould plate in the middle, one set of equipment can be used as two, when one side carries out clamping and injection production, the other side can be opened to take out the product, and clean the mould, it not only cuts down the equipment cost, but also improves the production efficiency. It has upper and lower core pulling, is suitable for small-sized bushing, contact box, post insulator, sensor, various supports, transformer, etc.

Automatic pressure Gelation Process
APG process (Automatic Pressure Gelation Process referred to as the APG process) was first filed a patent on June 19, 1969 by Ciba-Geigy, Switzerland. In China, with the development of pressure gelation equipment and its continuous improvement under the Coal Research Institute, as well as the gap between local epoxy resin specialized for pressure gel and imported material increasingly narrow, pressure gelation process in the electrical insulation industry has also been expanded, and has played an irreplaceable role. Pressure gelation technology is now successfully used in the production of high quality enclosed pole, cross-fluorinated sulfur load switch housing, transformers and other products.
Pressure gel process to produce the insulators as outlined below:
1, material pretreatment
A certain percentage of epoxy resin speical for pressure gel, curing agent, fillers, colorants join the mixing tank. Stir 1 to 2 hours to mix material evenly and no bubbles in the sealed pot under a vacuum state (absolute pressure is less than 500Pa).
2, injecting, forming
Pretreated epoxy resin mixture is injected into the APG mold preheating to 140deg with the help of compressed air or pressurized pump. The mixture is released from the mold after thermal gel forming and get semi-finished products.
APG mold should be set aside suitable gap in a specific parting line surface in order to discharge the air from the mold in the process of injecting material. After the gel injecting into the mold, the epoxy resin due to rapid heating fill into the small gap, leaving the mold in a sealed state, so the material within the mold under pressure gradually gel to get a close texture product. In order to make the mold parting line surface leaving some gap not only able to exhaust but also reliable seal, which require higher accuracy of the mold, especially for some of the complex structure of the insulators, the mold is with much higher accuracy requirements. In short, Pressure gel mold is equipped with a high technical content.
3, curing
After ejection, the products are transferred to the oven, and the finished products get dense and low internal stress after slow cooling under constant temperature of 140deg 10 hours.