plastic bottle mold machine


By structure optimization and technicial innovation, Cost-effective ZQ-M series of blowing machines have been developed on the basis of ZQ-A series of blowing machines.

ZQ-M series of blowing machines can produce different shapes of 0.6L, 2.0L, 5L and 10L carbonated, mineral, pesticide, cosmetics, wide-mouth and other plastic PET/PP containers.They have all the advantages of ZQ-A series of blowing machines: Low rejection rate, high speed,stable running and easy operation.

Machine settings
a).PLC colour display: OMRON(JAPAN)
b).Pneumatic parts:AIRTAC(TAIWAN)
c).Controller of preform transfer:Servo motor DELTA(TAIWAN)
d).Other electric parts are all world-famous brand

plastic bottle mold machine

TYPE
ITEM
ZQ-M1500-1
ZQ-M1500-2
ZQ-M1500-3
CONTAINER
Number of cavity
1
2
3
Output
1000-1200 pcs/hr
1600-1800 pcs/hr
2300-2600 pcs/hr
Max.container volume
2.0L
2.0L
2.0L
Max.neck diameter
38mm
38mm
38mm
Max.container diameter
105mm
105mm
105mm
Max.container height
350mm
350mm
350mm
ELECTRICAL SYSTEM
Number of lamp
28 pcs
28pcs
40pcs
Max.heating power
22kw
42kw
60kw
Installation power
25kw
44kw
65kw
Actual power consumption
16kw
28kw
40kw
AIR SYSTEM
Operatating pressure
7kg/cm²
7kg/cm²
7kg/cm²
Low pressure consuming
900 Ltr/min
1200 Ltr/min
1600 Ltr/min
Blowing pressure
≤30kg/cm²
≤30kg/cm²
≤30kg/cm²
High pressure consuming
1200-1600Ltr/min
2000-2500Ltr/min
2800-3000Ltr/min
CHILLER WATER
Operating pressure
5-6 kg/cm²
5-6 kg/cm²
5-6 kg/cm²
Temperatuer
10°C
10°C
10°C
Consuming
3600kcal/hr
5600kcal/hr
7600kcal/hr
Flow rater
20Ltr/min
30Ltr/min
40Ltr/min
MACHINE
Machine dimension
2.9×1.7×1.85(m)
3.1×1.45×1.85(m)
4.20×1.60×1.9(m)
Machine weight
1.8T
2.0T
2.5T
Note: The specifications are subject to change without notice for the further improvement.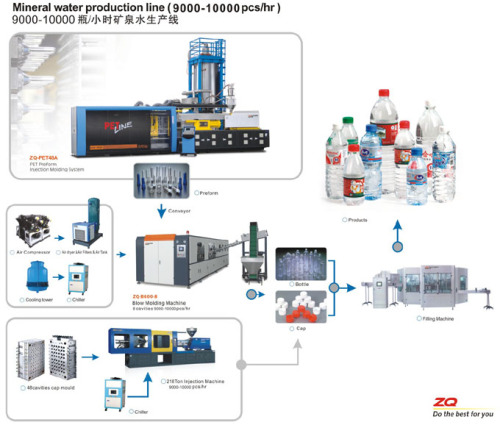 ZQ Machinery