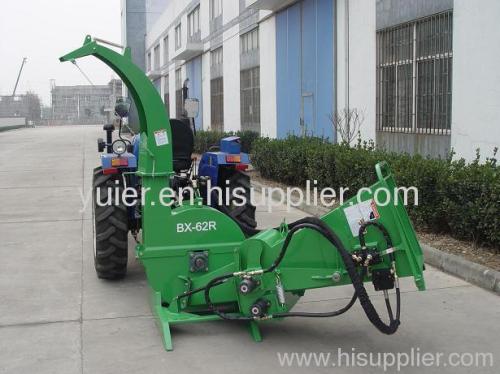 Rotor
At the heart of the Farmer Helper BX Chipper is an oversize heavy duty rotor and reversible chipping blades. The large diameter rotor has a faster tip speed for improved chipping action and the heavy gauge steel keeps your momentum to power through 6" diameter tree trunks.
Blade
The reversible blades are precision cut tool steel and hardened, keeping a sharp cutting edge and maximizing the performance of the chipper
Twig Breaker Blower Paddles
Behind the blades are blower paddles with integrated twig breakers designed for greater output force and smaller chips exiting the machine. This provides more consistent chip size and allows you to propel the chips further.
Adjustable Chute
Easily control where you want the chips with the double adjustable Exit Chute. The chute swivels 360 degrees and the top deflector adjusts the distance
Mounting Configurations

There are three different mounting configurations available for the BX Wood Chipper; A three point hitch, skidsteer mount and trailer
Hydraulic Feed Hopper

Maximize your chipping with the aggressive hydraulic feed hopper. Chipping becomes effortless when you let the rotating teeth do all the work. As the brush is fed into the chipper, you can be ready with the next piece.
| | |
| --- | --- |
| Model | BX62R |
| Max Chipping Diameter | 150mm/ 6'' |
| Chipping House Opening | 6.5''x12'' |
| No. of Blades | 4 |
| Rotor Size | 30'' |
| Feeding System Feed | Hydraulic Feed |
| Hopper Holded | 50''Lx52''Wx74''H |
| Hopper Opening | 25''x25'' |
| Mounting System | 3 Point Hitch |
| Hopper Discharge Rotation | 360 |
| Hopper Discharge Height | 74'' |
| Net Weight | 448kg |
| Gross Weight | 468kg |
| The Packing Size of BX62R Body | 108.5x95.5x96cm |
| The Packing Size of BX62R Bucket | 76x68x135cm |
| Tractor HP | 30-100hp |
YUYE MACHINERY is a professional manufacturer of agricultural machinery, forest machinery and metal forging machinery, our company established in 2012,located in Haian county, Nantong,Jiangsu,China.
Yuye Machinery had already manufactured many quality implements of different type of wood chippers, the type has BX92R, BX62R, BX62S, BX42S,WC6, WC8, we are designing of other agricultural and forest implements, such as reversible plough and corn harvesting machine. Also the metal forming machinery as hydraulic press brake, shearing machine, rolling machine, cut to length line, slitting line.
Adopt advanced science and technology, Aim at top-grade quality, Insist on clients first and take faith and credit as the base of business operation.
Our customer's success is our top priority, we respond to customers with excellent product and quick service. We are constantly improving our quality and service, all machinery CE certificated. We work with our customers to develop brand strategies. We actively pursue global competitiveness.
Our control center uses professional inspection machines strictly check the product quality before delivery.
We utilize customer information systems to ensure timely communication with customers. The key to produce top product are the advanced equipment and the strict process control.
Our marketing department focuses on the high-quality European and American agri&forest machine market, such as Canada, U.S., Australia, Germany, France, Poland, Norway, etc..
Welcome all businessmen to come for discussing business and making friend with us, and we also deal with the business of production against sample or drawings.