Block shape permanent magnets


Material Code

Br

Hcj

BH(max)

Max Working temperature

KGs

T

Koe

KA/m

MGOe

KJ/m3

(Tw)

N52

1430-1480

14.3-14.8

>=11

>=876

50-53

398-422

80℃

N50

1400-1450

14.0-14.5

>=11

>=876

48-51

398-423

80℃

N48

1380-1420

13.8-14.2

>=12

>=955

46-49

366-390

80℃

N45

1320-1380

13.2-13.8

>=12

>=955

43-46

342-366

80℃

N42

1280-1320

12.8-13.2

>=12

>=955

40-43

318-342

80℃

N40

1250-1280

12.5-12.8

>=12

>=955

38-41

302-326

80℃

N38

1220-1250

12.2-12.5

>=12

>=955

36-39

287-310

80℃

N35

1170-1220

11.7-12.2

>=12

>=955

33-36

263-287

80℃

We can produce the NdFeB rectangular magnets in different sizes, different grades (performance, strengths and temperature ratings), different coatings/finishes and with different directions of magnetisation.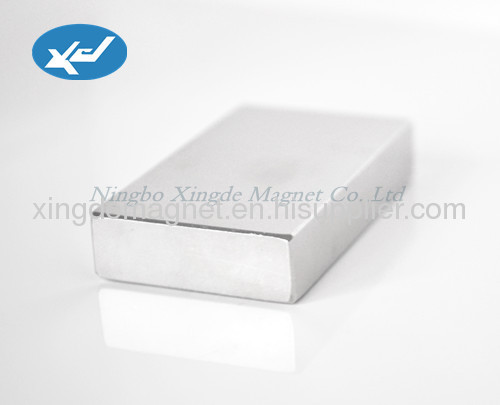 Ningbo Xingde Magnet Co.,Ltd, locates in southern surburb of Ningbo, who is specialized in production of up-to-date magnetic material - NdFeB, and technology development. Our company has advanced manufacturing process and test equipments, outstanding technologist of management and administration. Now with more than 3500 square meter workshop and nearly 200 staffs, we own the ability of annual production of over 1000 ton high performance sintered NdFeB magnets.
Our company was established in 1992, and the various products of NdFeB permanent magnets have characteristics of high-energy, high corrective force and high inducion. The company passed ISO9001:2008 quality management system certification. " Consicientiousness and responsibility makes the customers satisfactory." is the management aim of our enterprise.
Ningbo Xingde Magnet Co.,Ltd would offer various NdFeB magnetic products with high quality and competitive price sincerely for each customer.