Small Speaker Magnet


Description :
magnets are made of Strontium Ferrite Powder or Barium Ferrite Powder by ceramic processing technology. They are a low cost alternative to metallic magnets and have more resistance to corrosion than rare earth magnets.
2
Although they provide less energy than other magnets, hard ferrite magnets are frequently preferred because of their stability, resistance to demagnetization, and corrosion resistance properties. Ferrite Magnets also prove to be cost effective due to their comparatively low price per unit of magnetic output. They are widely used in electronics, mining, metallurgy and health therapy applications.
Ferrite magnet can be made into various sizes of block magnets, bar magnets, disc magnets, ring magnets etc.
Measured by weight, ferrite magnets represent more than three fourths of the world magnet consumption.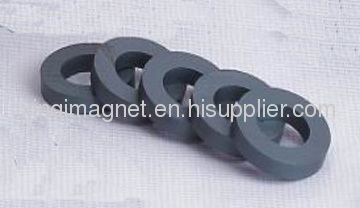 Features:
1) Widely used in speakers, earphones, sound emitters and other audio products
2) Grade: Y35
3) Size: D30*d15*5mm
4) Low cost

Inner Packing:
Double tile-edge paper boxes

Outer packing:
Wooden pallet or carton, steel pallet


Main properties of sintered permanent ferrite magnet
Grade
(Br)
(HcB)
(HcJ)
(BH)max
mT
KGauss
KA/m
KOe
KA/m
KOe
KJ/m3
MGOe
Y8T
200~235
2.0~2.35
125-160
1.57-2.01
210-280
2.64-3.51
6.5-9.5
0.8-1.2
Y22H
310~360
3.10~3.60
220-250
2.76-3.14
280-320
3.51-4.02
20.0-24.0
2.5-3.0
Y25
360~400
3.60~4.00
135-170
1.70-2.14
140-200
1.76-2.51
22.5-28.0
2.8-3.5
Y26H-1
360~390
3.60~3.90
200-250
2.51-3.14
225-255
2.83-3.20
23.0-28.0
2.9-3.5
Y26H-2
360~380
3.60~3.80
263-288
3.30-3.62
318-350
3.99-4.40
24.0-28.0
3.0-3.5
Y27H
350~380
3.50~3.80
225-240
2.83-3.01
235-260
2.95-3.27
25.0-29.0
3.1-3.6
Y28
370~400
3.70~4.00
175-210
2.20-3.64
180-220
2.26-2.76
26.0-30.0
3.3-3.8
Y28H-1
380~400
3.80~4.00
240-260
3.01-3.27
250-280
3.14-3.52
27.0-30.0
3.4-3.8
Y28H-2
360~380
3.60~3.80
271-295
3.40-3.70
382-405
4.80-5.08
26.0-30.0
3.3-3.8
Y30H-1
380~400
3.80~4.00
230-275
2.89-3.46
235-290
2.95-3.64
27.0-32.5
3.4-4.1
Y30H-2
395~415
3.95~4.15
275-300
3.45-3.77
310-335
3.89-4.20
27.0-32.0
3.4-4.0
Y32
400~420
4.00~4.20
160-190
2.01-2.39
165-195
2.07-2.45
30.0-33.5
3.8-4.2
Y32H-1
190-230
2.39-2.89
230-250
2.89-3.14
31.5-35.0
3.9-4.4
Y32H-2
400~440
4.00~4.40
224-240
2.81-3.01
2.89-3.14
31.0-34.0
3.9-4.3
Y33
410~430
4.10~4.30
220-250
2.76-3.14
225-255
2.83-3.20
31.5-35.0
3.9-4.4
Y33H
250-270
3.14-3.39
250-275
3.14-3.45
Y34
420~440
4.20~4.40
200-230
2.51-2.89
205-235
2.57-2.95
32.5-36.0
4.1-4.4
Y35
430~450
4.30~4.50
215-239
2.70-3.00
217-241
2.73-3.03
33.1-38.2
4.1-4.8
Y36
247-271
3.10-3.40
250-274
3.14-3.44
35.1-38.3
4.4-4.8
Y38
440~460
4.40~4.60
285-305
3.58-3.83
294-310
3.69-3.89
36.6-40.6
4.6-5.1
Y40
330-354
4.15-4.45
340-360
4.27-4.52
37.6-41.8
4.7-5.2
Ferrite can be used in electroacoustic, telecom, electricity meters, motors, also can make memory components, microwave components, etc. Can be used to record language, music, image information of magnetic tapes, computer storage devices, passenger bus vouchers and fare clearing of magnetic card, etc