PRODUCT NAME:100% Cotton Mop Head Organic Cotton Mop Yarn

Looped end wet mops deliver longer life with superior on-the floor performance and greater productivity.DU's quality construction ,range of yarn options and choice of value-added features means that there is a DU looped end wet mop for virtually every cleaning application.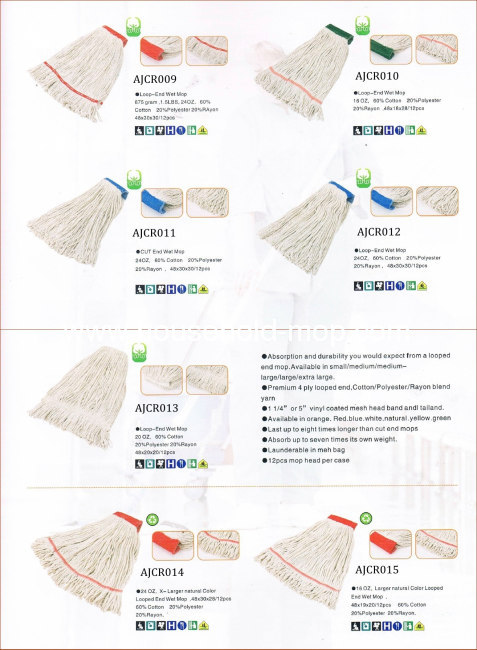 Please kindly find full product specifications of this set as follows:
1.Looped-end mop head
2.For high-volume usage
3.Blend of premium four-ply cotton/polyester/synthetic yarn covers more floor area
4.Absorbs up to seven times its own weight
5.Looped ends reduce unraveling and linting
6.Durable double-sewn tailband
7.Heavy-duty,5'' vinyl mesh headband
8.Use with clamp or gripper style mop handle (sold separately)
9.Large.This is the industry's best general purpose.
10.Faster mop drying time inhibits mold and mildew growth.
11.Engineered with permanent antimicrobial treatment to inhibit growth of bacteria ,mold,mildew and fungi on the mop head.
12.Weight:450g
13.Yarn color ,headband color and tailband color as customer's request.
14.Packing:60pcs/carton
15.100% cotton,organic cotton yarn for mops