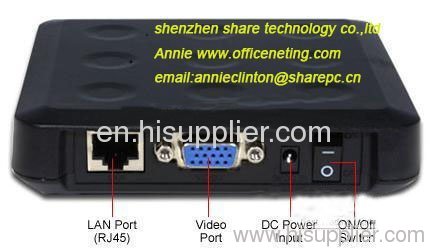 2013 new arrival !!promotional price! mini thin station ,Ncomputing device ,thin client ,PC station N130

WELCOME YOU !!
Why select the NP-130?
| | | | |
| --- | --- | --- | --- |
| Cut INCTEL costs by 70% | Easy to set up, maintain and support | Rich PC environment runs Windows and Linux | Eco-friendly running at 5 watt per added user |
The NP-N130 is ideal for:

Schools and universities

Business and office applications

Internet and email

Manufacturing

Family Features:
Ncomputing OS Thin client N-N130
Hardware

Size
Access Device: 115*115*26 mm
Shipping Size: 251*205*68 mm
Power Supply
Input: 100-250 VAC, 50-60 Hz;
Output: 5 VDC, 2 A
Nominal consumption: 5 Watts
Front LED
Indicators
Power: connection to power supply
LAN: connection to network
Ready: connection to host PC
Rear Ports
01 - Speaker Output
02 - Keyboard Port
03 - Mouse Port
04 - LAN port (RJ45)
05 - Video port
06 - DC Power Input
07 - On/Off Power Switch
Connection to Host PC
Via 100 Mb/s switched Ethernet connection
Video Resolution
640x480, 800x600, 1024x768 (at 60 or 75 Hz refresh rate), 1280x1024 (~63 Hz). All feature up to 16-bit color support.
Audio
Stereo output via speaker port
Data Security
No USB ports on terminal ensure absolute data security
Internal HW
All solid-state design, no moving parts, no fans, no local user storage
SPEED System-on-Chip with SDRAM and flash Embedded SPEED operating firmware (no local user OS)
Reliability (MTBF)
>>100,000 hours (calculated using Bellcore Issue 6 TR-332, Case 2, Part I at 40°C)
HW Security
No local user storage

Software

Max Users Per PC
30 users* when using a server host OS (i.e. Windows Server 2003)
10 users when using a desktop OS (i.e. Windows 2008/7)
User Software
Terminal services software
OS supported
Microsoft: Windows XP Professional and Media Center Edition 2005
Windows Server 2003, Small Business Server 2003
Linux: several variants (refer to support section of Website for latest supported revisions of Linux)

Key Benefits:
1. Saving Cost:

It can save 80% hardware cost equivalent to buy Pentium 4 or the same performance, it can expand your original host computer for home, office users more easily, Eco-friendly running at 5 watt per added user.
2. No Maintenance:
Just only need to maintain and update the host. No need hardware maintenance, but need update the service software of the host.
3. Simultaneously Operating with Windows:
Host and NP-N130 can simultaneously and independently operate the same programme, but need net license.
4. Compatibility:
NP-N130 can operate the programme of the host: browse the web, mail, office software, most of the games (except for the 3D games and older programme).