Product Specription:

Basic Information
Product
KSR-2018 Rotary Scale Amp Clamp Meter
Model
KSR-2018
Product Features
1. Safety design throughout, shielded banana plugs and recessed input terminals.
2. Pointer lock device to freeze readings
3. Big jaws can measure conductor which diameter up to approx.33m max.
4. Overload protection.
Technical Parameters
1. AC Current: 6/15/60/150/300A ± 5% f.s
2. AC Voltage: 150/300/600v ± 5% f.s
3. DC Voltage: 60v ± 5% f.s
4. Resistance: x1/x100Ω ± 5% f.s
5 Temperature: -20°C~+150°C
6. Diamension: 210(L) * 86(W)*37(H) mm
7. Weight: Approx. 270g (including battery)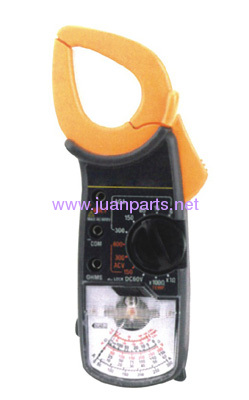 We also supply KSR-2028,KSR-3010,KSR-266 and so on,pls inform item you prefer for a quotation.