roof sheet roll forming machine W11-16X1500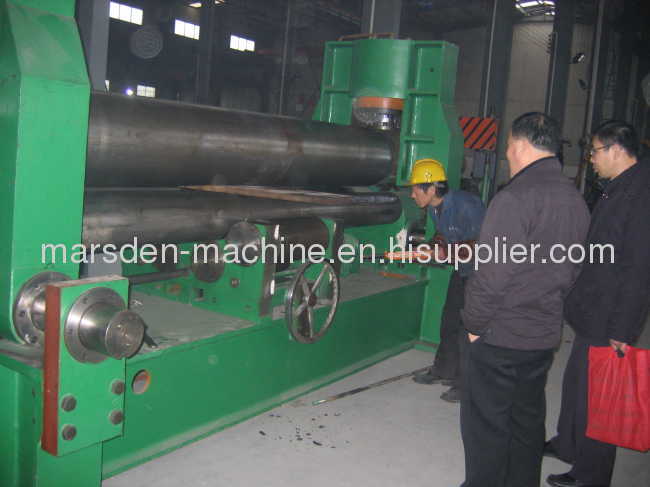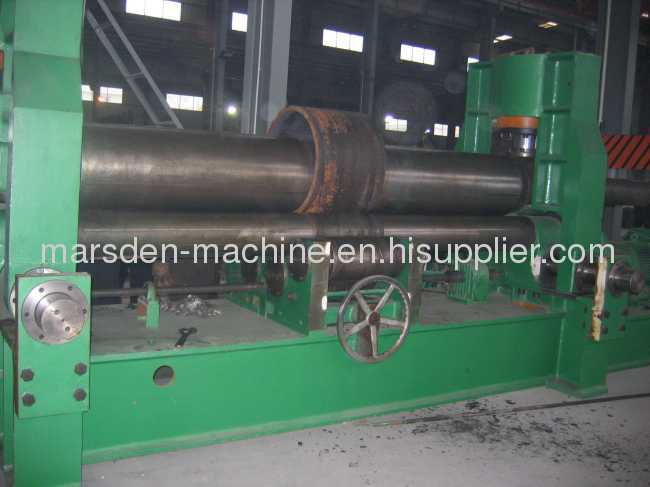 1) The upper roller
upper rolls device composed of main cylinder, upper bearing pedestal, upper rolls, double self-aligning bearing .two cylinders provide the pressure for upper roll bending , main cylinder working pressure is 20 Mpa ,max pressure of upper roll multiply 0.8 times to compensate for pre-bending. Upper roll two ends fit with double self-aligning bearing to reduce the friction and motor power. The material of upper roll is 42CrMo , heat treatment is HB220-280. HRC 45-55
2) Down roll and level motion device.
The material of down roll is 42CrMo , heat treatment is HB220-280.. it composed of down of roll, down roll bearing pedestal, down roll input gear, down roll, glide bearing. Down bearing adopt SF-2 oil glide bearing.
Level motion motor supply the power, through the strap drive to CWU worm wheel and pole speed reducer. Upper roll level motion drove by worm wheel and pole to finish bending in dissymmetry form.
3) Support device
Composed of sloping block device, support device, support rolls bearing pedestal, support lifting device, support rolls can adjust up and down. The adjustment depend on plate speciation. The material of support is 45# , heat treatment is HB220-280, it made up in helix sharp to protect the surface.
4) Main drive device
It composed of motor, hard gear speed reducer, output gear, main motor can tuning in two direction and provide bending pitch of strand.
5)Overturn device
Composed of ram, bearing, tuning cylinder
6) Balance device
Composed of balance compact, screw