Sphere Magnet gold color.
Material:
NdFeB
2. Size:D5mm D6mm,D7mm D10mm or as per your requirement
3.Coating: silver, gold, black, nickle-cu-nickle, blacknickel,zinc, copper and so on
4. Grades: fromN35 grade to N38EH grade
5. The highest worktemp: from 80c° to 200c°
6.Applications: magnetic bracelet, toy and soon.
7. ISO:9001:2008
8. 216 pcs/set
9.It is round steel box for packing.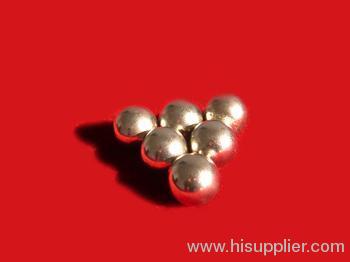 Magnetic properties of Neodymiummagnets
Grade
Br
Hcb
Hcj
(BH)max
Density
Curie Temp
Working Temp
mT
kGs
kA/m
kOe
kA/m
kOe
kJ/m3
MGOe
g/cm3
℃
℃
N35
1180-1230
11800-12300

≥868

≥10900
≥955
≥12000
263-287
33-36
7.45
310
≤80
N38
1220-1280
12200-12800
≥899
≥11300
≥955
≥12000
287-310
36-39
N40
1250-1310
12600-13100
≥923
≥11600
≥955
≥12000
302-326
38-41
N42
1280-1340
12800-13400
≥923
≥11600
≥955
≥12000
318-342
40-43
N45
1320-1370
13200-13700
≥876
≥11000
≥955
≥12000
342-366
43-46
N48
1380-1420
13600-14200
≥836
≥10500
≥876
≥11000
358-390
45-48
N50
1400-1450
13900-14500
≥836
≥10500
≥876
≥11000
374-406
47-51
N52
1430-1480
14200-14800
≥796
≥10000
≥876
≥11000
390-422
49-53
N35M
1180-1230
11800-12300
≥868
≥10900
≥1114
≥14000
263-287
33-36
≤100
N38M
1220-1280
12200-12800
≥899
≥11300
≥1114
≥14000
287-310
36-39
N40M
1260-1310
12600-13100
≥923
≥11600
≥1114
≥14000
302-326
38-41
N42M
1280-1340
12800-13400
≥923
≥11600
≥1114
≥14000
318-342
40-43
N45M
1340-1390
13400-13900
≥876
≥11000
≥1114
≥14000
342-366
43-46
N48M
1360-1420
13600-14200
≥876
≥11000
≥1114
≥14000
366-390
46-49
N35H
1180-1230
11800-12300
≥868
≥10900
≥1353
≥17000
263-287
33-36
≤120
N38H
1220-1280
12200-12800
≥899
≥11300
≥1353
≥17000
287-310
36-39
N40H
1260-1310
12600-13100
≥923
≥11600
≥1353
≥17000
302-326
38-41
N42H
1280-1340
12800-13400
≥923
≥11600
≥1353
≥17000
318-342
40-43
N45H
1330-1390
13300-13900
≥923
≥11600
≥1353
≥17000
342-366
43-46
N48H
1360-1420
13600-14200
≥923
≥11600
≥1274
≥16000
366-390
46-49
N33SH
1140-1190
11400-11900
≥836
≥10500
≥1592
≥20000
247-270
31-34
≤150
N35SH
1180-1230
11800-12300
≥868
≥10900
≥1592
≥20000
263-287
33-36
N38SH
1220-1280
12200-12800
≥899
≥11300
≥1592
≥20000
287-310
36-39
N40SH
1260-1310
12600-13100
≥923
≥11600
≥1592
≥20000
302-326
38-41
N42SH
1280-1340
12800-13400
≥923
≥11600
≥1592
≥20000
318-342
40-43
N45SH
1330-1390
13300-13900
≥923
≥11600
≥1592
≥20000
342-366
43-46
N28UH
1030-1090
10300-10900
≥780
≥9800
≥1990
≥25000
207-231
26-29
≤180
N30UH
1090-1140
10900-11400
≥812
≥10200
≥1990
≥25000
223-247
28-31
N33UH
1130-1170
11300-11700
≥852
≥10700
≥1990
≥25000
247-263
31-33
N35UH
1180-1220
11800-12200
≥868
≥10900
≥1990
≥25000
263-287
33-36
N38UH
1220-1270
12200-12700
≥899
≥11300
≥1990
≥25000
287-310
36-39
N28EH
1030-1090
10300-10900
≥780
≥9800
≥2388
≥30000
207-231
26-29
≤200
N30EH
1080-1130
10800-11300
≥812
≥10200
≥2388
≥30000
223-247
28-31
N33EH
1130-1170
11300-11700
≥852
≥10700
≥2388
≥30000
247-263
31-33
N35EH
1180-1220
11800-12200
≥868
≥10900
≥2388
≥30000
263-287
33-36