two screens that work at the same time/no need to stop the working machine/replacement without machine halt is ensured and no interrupt of material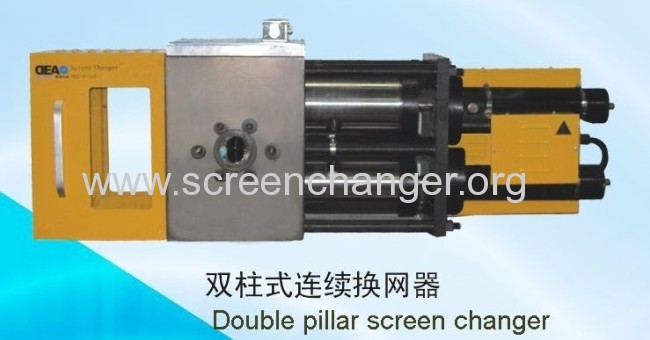 Deao Science Technology Co., Ltd. is a manufacturer of screen changers and melt pumps for plastic processors enterprises. It is founded by a college professor who has more than 20 years experience in the industry of polymer application:
Blown & cast film; Sheet; Compounding; Pipe; Tubing; Profile; Multi-layer extrusion.
Deao has achieved many international patents in the field of designing and manufacturing screen changers. Our main products items include
AUOTSCREEN CHANGER, CONTINUOUS SCREEN CHANGER, DISCONTINIOUS SCREEN CHANGER, BACKFLUSH SCREEN CHANGER, MELT PUMP, HYDRAULIC CONTROL SYSTEM FOR CHANGING DIFFERENT KINDS OF SCREENS.
Customer-oriented screen changers are also available if you supply details of your design and requirement. Deao is always dedicated to provide good quality machines with very competitive price.
Guarantee
: Every Screen changer from Deao factory has a 6 Month cost free guarantee as long as the our screen changer is not damaged.
AUOTSCREEN CHANGER, CONTINUOUS SCREEN CHANGER, DISCONTINIOUS SCREEN CHANGER, BACKFLUSH SCREEN CHANGER, MELT PUMP, HYDRAULIC CONTROL SYSTEM FOR SCREEN CHANGERS. SCREEN CHANGERS FOR
Bag making and sealing
Bending, folding and trimming
Blending, kneading and mixing equipment
Blow molding-extrusion
Cast film lines
Coating and finishing
Co-extrusion molding
Compression molding presses
Downstream extrusion equipment
Extruders and cutting machines
Extrusion-blow film
Extrusion-cables
Extrusion-cast film