Products name:
1/4" size FESTO size OR air regulator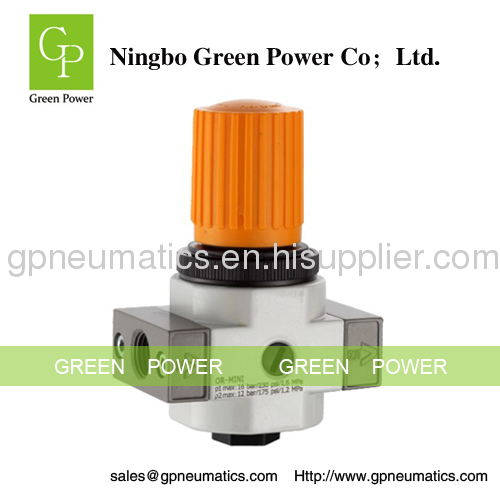 The OU consisted of OFR and OL,each unit can be ordered separately.
The OF with water separator cleans the compressed air offluid oil,condensation and dirt particles.For special application,the standard 40μm filter element may easily be replaced by a 5μm filter element.
The OR maintain imputting constant operating pressuredespite fluctuation in line pressure and the amount of air consumed.

The proportional lubricator adds a regulated quantity ofoil to the filtered air.The oil-mist content proportional to the flow and oilcan be added during operation.The oil drip rate is controlled by the adjustablebolt.Normally,1to 12 drops /1000L of the air is sufficient.
FRL- Air Treatment Unit -OU(filter+regulator+lubricator)
Feature:
Dimension and size are the same with FESTO. Can beequivalent to FESTO.
With lower price and goodquality.
Full sizes. Speedy delivery. Can make according tocustomers' requirements


Package:
1)GP logo on regulator body and inner packages and outsidepackage
2)Customers designed logo
3)OEMaccepted
1/4" size FESTO size OR regulator specification:

Size
MINI
MIDI
MAXI
Medium
Filtered,compressed air (lubricated or unlubricated)
Features of structure
MINI/MIDI:Diaphragm type regulator; MAXI:Pistonregulator
Mounting type
Pipe / Foot / Plate mounting
Assembly position
Any
Connection
G1/8
G1/4
G3/8
G3/8
G1/2
G3/4
G3/4
G1
Standard nominal flow rate
OR-...
800
1500
1700
3200
3500
3500
11000
11500
OR-...-7-
1000
1600
1800
3300
4000
4500
12000
12500
Primary pressure
1~16bar
Working pressure
0.5~12bar / 0.5~7bar
Temperature range
0~60°C
Materials information
Housing:Zinc die-casting;Sealing:NBR;Adjustingknob:POM
Shipping:

You can choose by sea or by air or just choose deliver by express, we can choose the most competitive price and best service forwarder for you based on your requirement.
All package will be inspected before shipping.
Protective packing material will be added in your package to avoide products been damaged easily in transit.
Please allow 1-2 working days handling time for payment processing and shipping.
Deliver information will be informed in 24 hours except weekends and holidays.
Buyers will be informed in 24 hours if there are any problems with their order.
For faster service, please update your correct shipping address before sending payment.
Please contact us if you have any questions on shipping.
OR air regulator order code