auto painting equipment
1.CE certification
2,size is customize
3, reliable and stable for usage
4, fast delivery
auto painting equipment
Weprovide professional service of designing, manufacturing, assembling,commissioning and training in the coating industry. We have built upmany projects in china and abroad. We are able to "right-sizing" yourpowder coating system.
Power and free conveyor Powder coating Plant
Powerand free conveyor powder coating line is special for painting aluminiumprofiles, compact space required, high output and highht automaticallevel.
Powder coating line include in Pretreatment, Electrostatic spraying, High temperature curing, Decoration processing


1. Pretreatment

Objective:To get rid of the work-piece surface oil, dirt, rust and in thework-piece surface generating a layer of corrosion resistance and canincrease the spraying coating adhesion "phosphating layer".

Maintechnological steps: In addition to oil, rust removal, phosphating andpassivation. The workpiece surface after treatment before not only nooil, rust, dust and the original silver luster surface generating alayer of uniform and the rough is not easy to rust grey phosphating filmand can increase the coating layer adhesion.

2. Electrostatic spraying
Objective:Powder coating evenly spray to the surface of the workpiece. Thespecial work (including easy to produce electrostatic shieldingposition) should be using the high performance electrostatic spraymolding machine to complete the painting.

Process steps:
Usingelectrostatic adsorption principle in the surface of the workpieceevenly spray on a layer of powder coating. Falling powder through therecovery system recovery and sieve used again.

3. High temperature curing

Objective:The workpiece surface of powder coating heating to the specifiedtemperature and heat preservation corresponding time, melting, flowflat, curing.

Processsteps: Spraying good workpiece push curing oven, heating to thepredetermined temperature (usually 185 degrees) and heat preservationcorresponding time (15 minutes). Blow on take out cooling namely getfinished.

4. Decoration processing

Objective:Make after electrostatic spraying after the workpiece to achieve a kindof special appearance (all kinds of wood grain, decorative pattern,such as honor).

Process steps: Finish, transfer and treatment process.
Weprovide professional service of designing, manufacturing, assembling,commissioning and training in the coating industry. We have built uphundreds of turn-key projects in China and abroad.
Technicalinnovation never ends. We has developed the energy-saving heatingsystem, multi-track one oven curing system, high-efficiency powderrecycle system, simple and practical pretreatment system, compact powdercoating system, power and free conveyor system, which makes our companyto the advanced position of coating industry.
Batchoperation, or automatic conveyorized operation, every powder coatingsystem is custom designed to meet specific quality, performance, partsize and production requirements. With over ten years of experience, weare able to "Right-sizing" your powder coating system.
Details:
1) Pretreatment: Dipping pretreatment with overhead crane, or fully automatic spraying pretreatment
2) Conveying system: Closed-circuit conveyor, power and free conveyor, multi-track conveyor, and so on
3) Oven: Batch oven, combination oven, bridge oven, tunnel oven
4) Powder coating booth: Stainless steel booth or coated steel booth
5) Powder recycling facility: Cyclone system or cartridge filter system
6) Control system: PLC control, with or without touch screen
7) Spray gun and reciprocator: colo brand, or other brand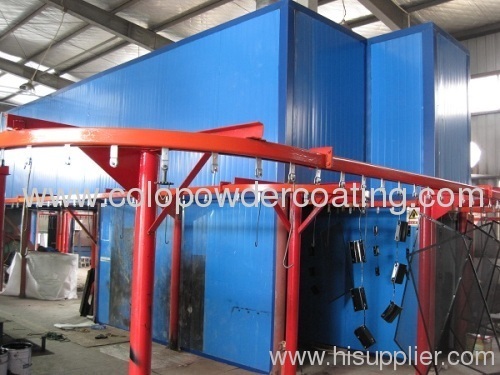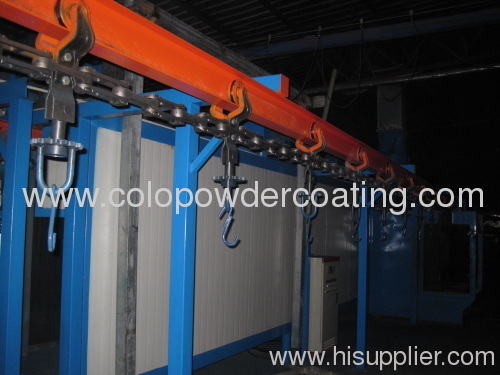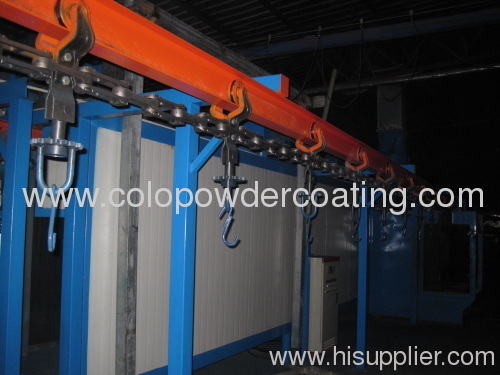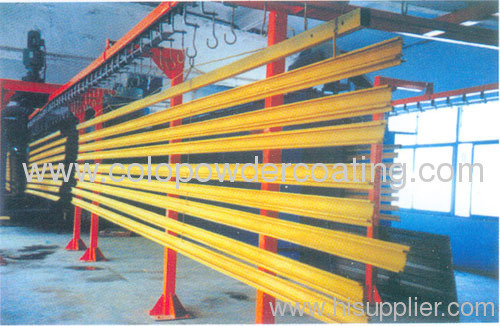 Company information:
HangzhouColor Powder Coating Equipment Co., Ltd. is located in theelectrostatic generator production base- Hangzhou Gongshu Economic Park,and from it to Hangzhou electronic market less than 10 minutes, it isConvenient for us to control the latest technology developments so thatour products have been in the forefront of the market. "Quality first,innovative, valuable services" is our endless purpose." With the effortsof all staff, we have developed into a manufacturing company thatProfessional in research and development, production, sales and servicein the line of the electrostatic powder coating equipment. Our mainproducts are: Electrostatic generators, electrostatic spray gun, highpressure module, circuit board, powder hopper, automatic reciprocatingmachines, we will make use of advanced technology, strict qualitymanagement system and improve the sense of responsibility, to make ourproducts COLO become the top one in the powder coating industry.
Ourmachines can spray well in a variety of work-piece shapes, itefficiently solve the penetration problems on the corners and recesses.At the same time, with the intelligent method design, it is easy foroperation. We will make unremitting efforts to promote the electrostaticpowder coating industry as our responsibility. With advanced productionand testing equipment, in the high-quality technology and excellent anddesign of the joint efforts of staff, the annual production ofelectrostatic generators more than 5, 000 sets of, circuit boards,modules, more than 30, 000 sets of the spray gun. COLO Coating Equipmenthas opened up not only the China local market and has been successfullyexported to Mexico, Colombia, Peru, Canada, the United States, Brazil,Russia, Poland, France, Germany, Italy, Egypt, Vietnam, India, SaudiArabia, South Africa and other countries, and get the Satisfaction withdifferent clients.