Specifications
frame powder coating gun
1. CE certification
2.touch intelligent operation button
3. low energy consumption
frame powder coating gun
1. CE approved---all of our electrostatic powder coating machine are certificated
2.one-touch intelligent operation button---Colo-800 is with intelligentfunction, there are three one-touch intelligent operation buttons on itscontrol unit, separately standing for flat parts, complicated parts andrecoating parts.
3. Work on different shapes coating--- it isconvenient and swift to change the shape coating, just press theone-touch intelligent button, the machine switches automatically. It isvery easy to use.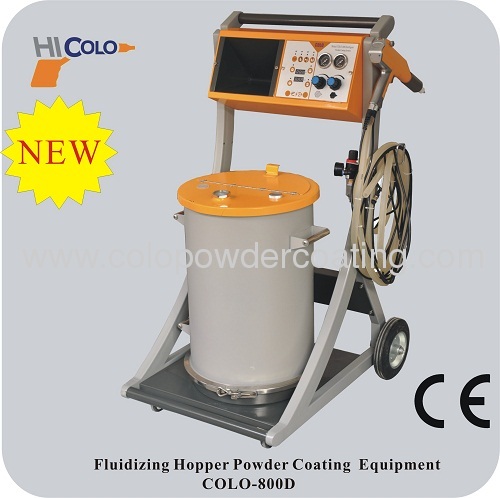 Quick Details:
| | |
| --- | --- |
| Place of Origin | Zhejiang, China (Mainland) |
| Brand Name | COLO |
| Model Number | COLO-800D |
| Coating | Powder Coating |
| Substrate | Iron |
| powder coating paint | electrostatic |
| Type | Coating Production Line |
| size: | 120x79x73cm |
| G.W | 55kg |
Itis the best choice for production line. For corners and recessed Partscan well be sprayed. Outstanding spraying effect, Can be obtained forrecoating We promise to supply you with high quality powder coatingequipment! Of course , if you have some good ideas that you want us todevelop or reproduced, please feel free to send us your product image ordesign artwork, we are also pleased to become your Original EquipmentManufacture.We promise you that the quality of faucet is first-class andselection is wide. Faucets for home and lab are all available. Ourgoods are both excellent in quality and reasonable in price.We aresincerely looking for your cooperation!
Technical data
Electrical data
Powder range 220v/110v
Frequency 50HZ/60HZ
Temperature rage in use -10~50°C
Powder gun
Gun weight 500kg
Input voltage 24VDC
Maximum output current 180ua(max)
Maximum output voltage 0-100kw (adjustable)
Maximum powder injection 600g/min
Polarity negative(-)
Including following parts
control unit
control unit power supply cable
air filter
air pressure regulator
fluidized powder hopper (55L)
A plug-in injector
manual powder gun with gun cable,
Powder hose
rinsing air hose and standard nozzle set.
Pneumatic hoses for conveying air (red),
Supplementary air (black)
fluidizing air (black)
powder hose
Ground wire
Company information: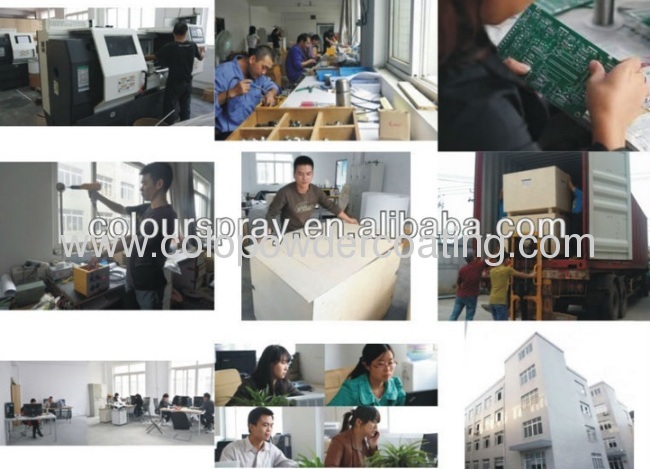 HangzhouColor Powder Coating Equipment Co., Ltd. is located in theelectrostatic generator production base- Hangzhou Gongshu Economic Park,and from it to Hangzhou electronic market less than 10 minutes, it isConvenient for us to control the latest technology developments so thatour products have been in the forefront of the market. "Quality first,innovative, valuable services" is our endless purpose." With the effortsof all staff, we have developed into a manufacturing company thatProfessional in research and development, production, sales and servicein the line of the electrostatic powder coating equipment. Our mainproducts are: Electrostatic generators, electrostatic spray gun, highpressure module, circuit board, powder hopper, automatic reciprocatingmachines, we will make use of advanced technology, strict qualitymanagement system and improve the sense of responsibility, to make ourproducts COLO become the top one in the powder coating industry.
Ourmachines can spray well in a variety of work-piece shapes, itefficiently solve the penetration problems on the corners and recesses.At the same time, with the intelligent method design, it is easy foroperation. We will make unremitting efforts to promote the electrostaticpowder coating industry as our responsibility. With advanced productionand testing equipment, in the high-quality technology and excellent anddesign of the joint efforts of staff, the annual production ofelectrostatic generators more than 5, 000 sets of, circuit boards,modules, more than 30, 000 sets of the spray gun. COLO Coating Equipmenthas opened up not only the China local market and has been successfullyexported to Mexico, Colombia, Peru, Canada, the United States, Brazil,Russia, Poland, France, Germany, Italy, Egypt, Vietnam, India, SaudiArabia, South Africa and other countries, and get the Satisfaction withdifferent clients.