Extensible plastic spray flat mop with Aluminum Pole
Specifications:


Eco-Friendly

plastic spray flat mop

plastic frame




1.Is made of Alu,PP and ABS etc
2.Microfiber has strong absorbency and good cleaning ability.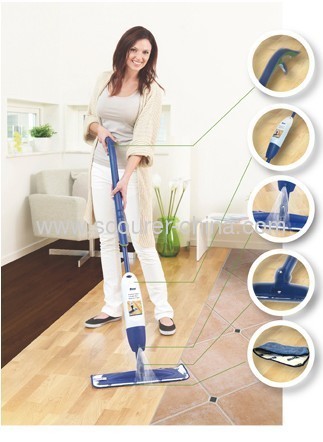 Plastic + microfiber

plastic spray flat mop

blue+yellow





1. Is made of Aluminum,PP and ABS etc.

2. Microfiber has strong absorbency and good cleaning ability.
3. Widely used in indoor cleaning.

4. Telescopic aluminum handle can lower shipping cost.

5. Easy cleaning for spray mop.
6. Replace the refill easily.
7. Two inserts can use old towel and others.
8. Is good helper for your beautiful life.
9. Color box packing.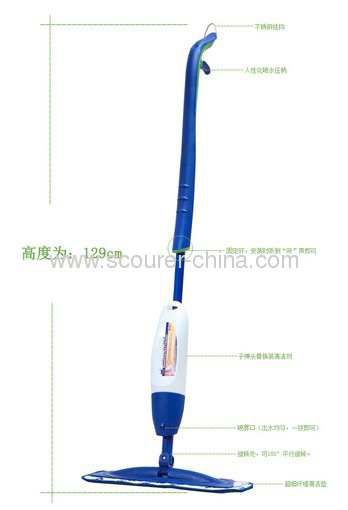 | | |
| --- | --- |
| Item No | MC10-1278-14 |
| size | 40*10cm |
| material | PP |
| Hanlde | Telescopic alu handle |
| Length | 880-1230mm |
| Volume | 600ML |
| Pad | Material |
| Packaging | color box ;12pcs/ctn |
| Cubage | 0.162m3 |
| 20ft | 2040pcs |
| 40ft | 4080pcs |
| 40HQ | 4824pcs |
How to Mop a Floor
Hi, I'm Santos Wang from china-scourers.com. I'm going to show you how to mop a floor.

These are the supplies you are going to need:
a vacuum cleaner
a broom
a mop
a bucket
hot water
either detergent, ammonia, or floor cleaner
protective gloves
Prep the Floor for Mopping
Before mopping prepare the area you are about to mop by removing any tables, chairs, rugs, or anything that may get in the way. Then sweep and/or vacuum the floor. If you find any sticky places while sweeping try washing them off with a wet towel before mopping.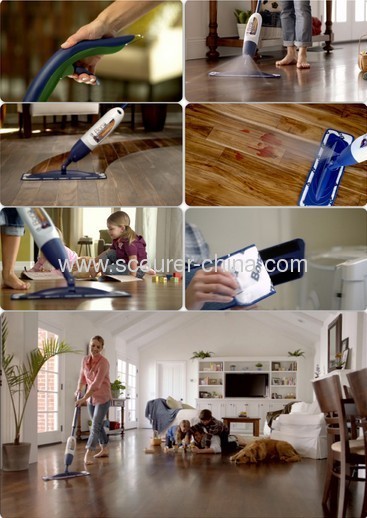 Mix the Floor Cleaner
Mix either detergent, ammonia, or floor cleaner with hot water into a bucket. Follow the instructions on the bottle of your cleaner to find the appropriate amount. Make sure the water level is high enough to cover the entire mop head but also not too high that the wringer by the mop head gets wet.
Wring the Mop
Dip the mop into the hot bucket of water. Next you will need to wring out the mop so that it is damp and not sopping. Use the lever near your mop head. If your mop does not have a wringer you will have to use your hands. First put on your protective gloves to protect yourself from hot water and chemicals. Then twist your mop until all the excess water is wrung out.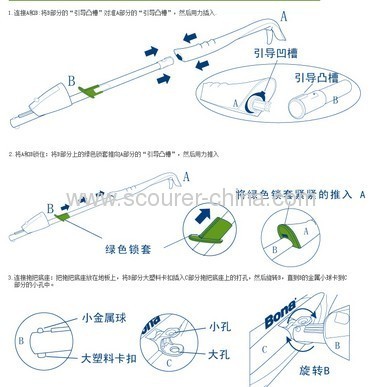 Mop the Floor
Begin mopping by starting in one corner. Slide your mop over the area you want to clean. Move the mop in straight lines if you are using a sponge mop or if you are using a rag mop move it in figure-eight patterns. After you have done a small section rinse and wring out your mop in the bucket of water. Then continue to mop making sure to frequently rinse and wring out your mop to keep it clean. While mopping, try not to step in areas you have already mopped. If you do, mop the area again. Also for especially dirty areas you should mop them twice.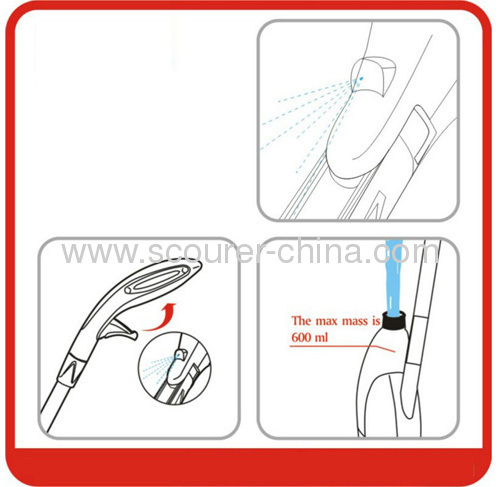 Dry the Floor and Supplies
Allow the mopped area to air dry thoroughly before walking on it. Open windows and doors to increase air circulation and help the drying process. If you notice streaky areas you will want to dry them with a towel. When the area is completely dry replace any items that you had removed from the area. Dump your dirty mop water down the toilet so you do not dirty any sinks.