Products name
:150*150*72 Soaking Acrylic Bathtub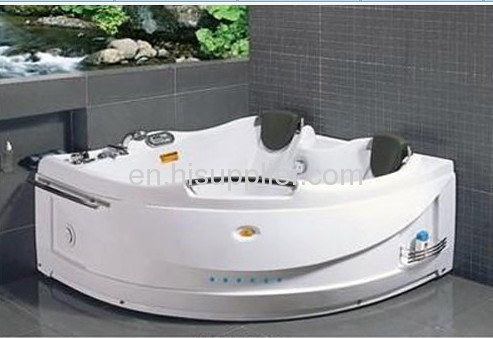 Description:
Size 150*150*72
Jacuzzi bathtub made of ABS+ACRYLIC board with 4 big jets;
8 small jets;
One color light;
FM radio;
One set of faucet;
One towel rack;
Control panel;
Two pillow;
1.5HP.
Bath Tubs are no longer a luxury item. It has become a modern life. It's a perfect way to start your day and what could be more relaxing than to soak in the sea of freshness which will calm and sooth your senses after a long days work.
We bring you an excitingly wide range of ergonomically designed bathtubs and whirlpool tubs to cater your needs with the motive to provide maximum comfort and pamper your mood.


Packaging Details:
Hangzhou Crystal Bathroom Co.,Ltd. has been produced shower rooms, shower enclosures, shower panels, bathtubs, glass basins and bathroom cabinets since 1996.Although we keep low profit which base on the best service in your whole order process from produce to shipping till after-sales support. So our products are popular worldwide with an annual output of US$5,000,000, which are delivered to Europe, North and South America, Australia, the Middle-East and South-East Asia around 50 countries. All our customers are satisfied with our products quality, price and service.With 3 workroom each covering 30,000 square meters, experienced engineering team, R&D experts and advanced mold and parts manufacturing center, strict testing and control quality(ISO9001 and CE standards) teams, we can produce as per customer's innovative designs and specifications with superior quality.Our products are characteristic with good quality but very cheap price, because we only keep 1-5% profit, we only want to get a much larger market share rather than high profit. For some very large orders, we even can keep 0.5% profit just only to increase our exporting sales volume. We want to keep lowest profit but large quantity orders monthly to capture the market. In our factory, we use automatic production lines for mass production, so we can produce each model with large quantities, the production cost has been decreased gradually.If you have any question, please feel free to contact us by e-mail, fax or telephone.Further more, Please visit our website to get more details.Once you choose us, you will enjoy our excellent quality with good price and outstanding service. We will endeavor to work on "ALL WIN" idea. Let's make our business more and more better hand in hand!