1. Specification of ITF certified artificial tennis turf
(We can produce andsupply various types artificial turf according to your design and specs.)
| | |
| --- | --- |
| TYPE | FTA21590 |
| YARN | THIOLON® PP/ 6600dtex |
| PILE HEIGHT | 15mm |
| GAUGE | 5/16 inch |
| PRIMARY BACKING | Fleeced backing with PET yarn reinforced + PP Anti-UV backing |
| SECONDARY BACKING | CSBR LATEX |

Application: artificial turf for Tennis court.
According to different matches at different levels, Suntex can provide not only low speed ground for beginners, but also high speed ground for high level players. Referring to the color of ground, Suntex turf can give you the best choices such as green, red, and combinations.



Characteristic:
1. Evenness, ageing resistance, weather ability, fungus resistance, environmental protection and chalking resistance.
2. Excellent abrasion strength and long service life.
3. Excellent impact absorption which can avoid players being injured.
4. Controllable drainage system guaranteeing the high hydraulic permeability of turf.
5. Non directionality which can keep ball's direction.
6. Whole splicing surface making the turf unmovable.
7: Passed ISO 9001 and ISO 14001



2.Product details
of ITF certified artificial tennis turf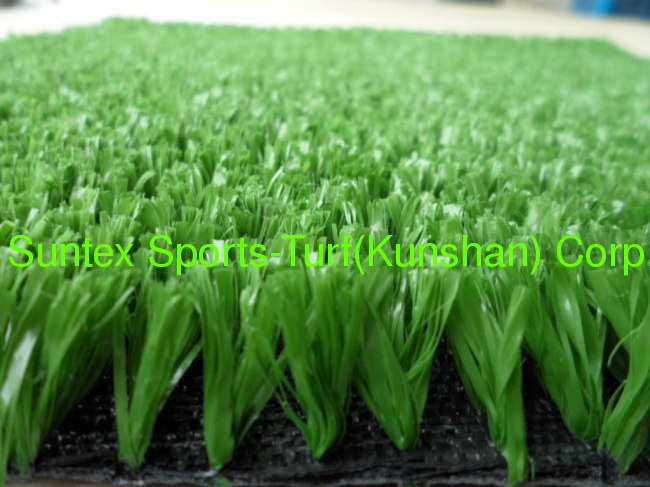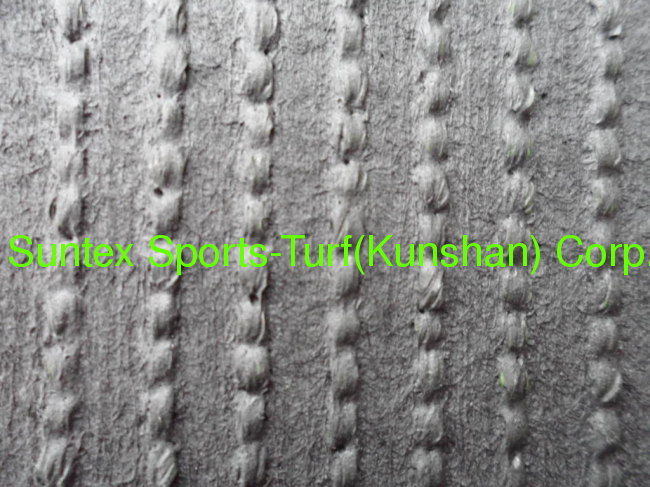 3.Consumption of infill materials for installationof tennis artificial grass/tennis surface/tennis grass/tennis court/artificial grass for tennis surface/artificial grass
1.18kgs/m2 quartz sand or silicate sand to stablize the whole system
2.0.6m/m2 Joint seaming tape for joining two rolls
3.0.1kg/m2 Adhensive glue for joining the rolls and seaming tape


4. Project templates of tennis artificial grass/tennis surface/tennis grass/tennis court/artificial grass for tennis surface/artificial grass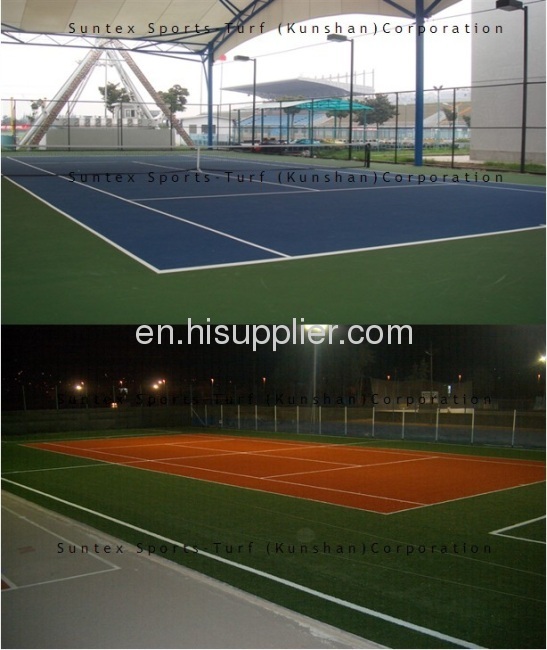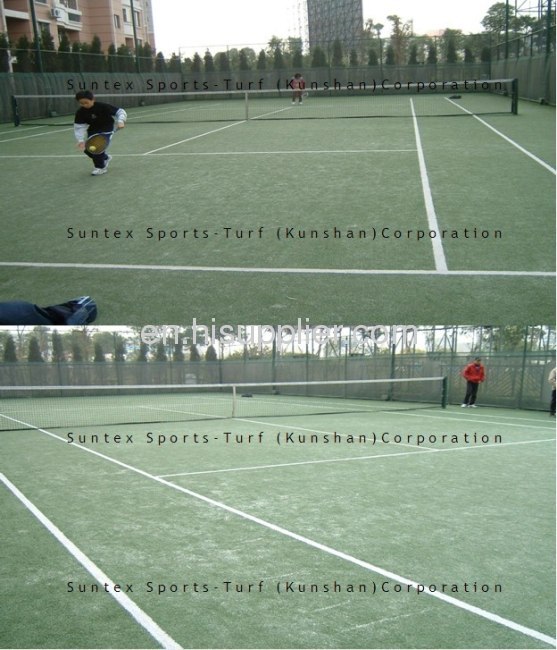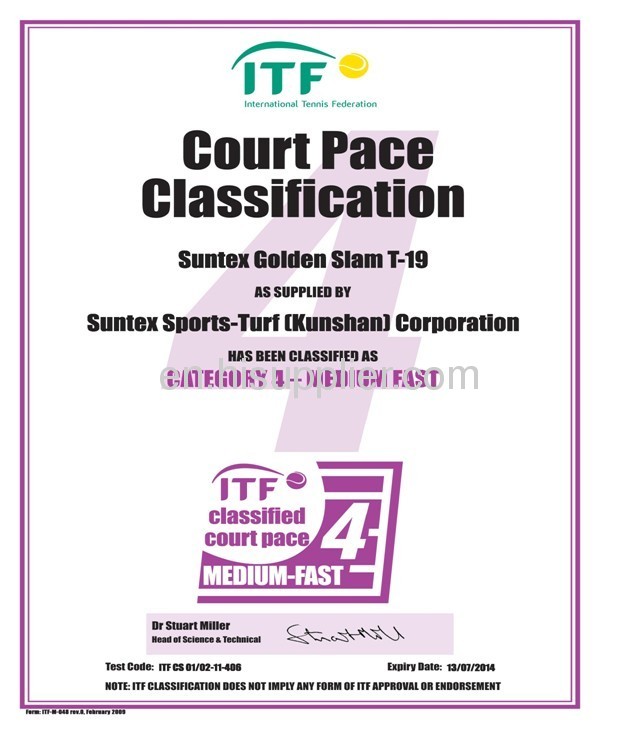 5.Advantages of our tennis artificial grass/tennis surface/tennis grass/tennis court/artificial grass for tennis surface/artificial grass

6. Maintenance for tennis artificial grass/tennis surface/tennis grass/tennis court/artificial grass for tennis surface/artificial grass
1)Weekly or before playing :
The surface should be cleared of all dirt or leaves using an iron mat. Chewing gum should be removed immediately with spray ice (in dry conditions we advise to water surface before playing).
2)Annually :
The surface may be cleaned with a brush and an iron mat.
If any loss of sand, it requires to reinfill proper amount of sand immediately otherwise it might cause pile laying down and not proper ball bounce and pace.

7.About Suntex