Series of Grades

N35-N52, 35M-50M, 33H-50H, 30SH-45SH, 28UH-42UH,28EH-38EH and 30VH-33VH.
Coating
Zn, Ni, NiCuNi, Sliver, Epoxy, etc.

Performance Range ofMagnets
Br:from 11.400 Gauss to 14.700 Gauss
Hcj: from11.000Oe to 30.000Oe
BH (max): from 30GOe to 52MGOe

Applications

Sensors, Motors,Rotors, Wind turbines/generators, Loudspeakers, Magnetic hooks & holder,Filters, Automobiles, Magnetic separators etc.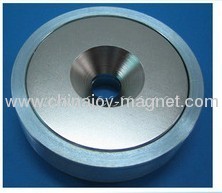 NdFeB Magnet
of Magnetic grade :
Grade

BrmT(kGs)

HcbkA/m(kOe)

Hcj kA/m (kOe)

(BH)max kJ/m3
(MGOe)

Supreme work

temperature(Tw)

N33

1130-1170(11.3-11.7)

≥ 836 ( ≥ 10.5)

≥ 955( ≥ 12)

247-271(31-34)

80 ℃

N35

1170-1220(11.7-12.2)

≥ 868( ≥ 10.9)

≥ 955( ≥ 12)

263-287(33-36)

80 ℃

N38

1220-1250(12.2-12.5)

≥ 899( ≥ 11.3)

≥ 955( ≥ 12)

287-310(36-39)

80 ℃

N40

1250-1280(12.5-12.8)

≥ 907( ≥ 11.4)

≥ 955 ( ≥ 12)

302-326(38-41)

80 ℃

N42

1280-1320(12.8-13.2)

≥ 915( ≥ 11.5)

≥ 955( ≥ 12)

318-342(40-43)

80 ℃

N45

1320-1380(13.2-13.8)

≥ 923( ≥ 11.6)

≥ 955 ( ≥ 12)

342-366(43-46)

80 ℃

N48

1380-1420(13.8-14.2)

≥ 923( ≥ 11.6)

≥ 876( ≥ 12)

366-390(46-49)

80 ℃

N50

1400-1450(14.0-14.5)

≥ 796( ≥ 10.0)

≥ 876( ≥ 11)

382-406(48-51)

60 ℃

N52

1430-1480(14.3-14.8)

≥ 796( ≥ 10.0)

≥ 876( ≥ 11)

398-422(50-53)

60 ℃

30M

1080-1130(10.8-11.3)

≥ 796( ≥ 10.0)

≥ 1114 ( ≥ 14)

223-247(28-31)

100 ℃

33M

1130-1170(11.3-11.7)

≥ 836( ≥ 10.5)

≥ 1114( ≥ 14)

247-263(31-33)

100 ℃

35M

1170-1220(11.7-12.2)

≥ 868( ≥ 10.9)

≥ 1114( ≥ 14)

263-287(33-36)

100 ℃

38M

1220-1250(12.2-12.5)

≥ 899( ≥ 11.3)

≥ 1114( ≥ 14)

287-310(36-39)

100 ℃

40M

1250-1280(12.5-12.8)

≥ 923( ≥ 11.6)

≥ 1114( ≥ 14)

302-326(38-41)

100 ℃

42M

1280-1320(12.8-13.2)

≥ 955( ≥ 12.0)

≥ 1114( ≥ 14)

318-342(40-43)

100 ℃

45M

1320-1380(13.2-13.8)

≥ 995( ≥ 12.5)

≥ 1114 ( ≥ 14)

342-366 (43-46)

100 ℃

48M

1360-1430(13.6-14.3)

≥ 1027( ≥ 12.9)

≥ 1114( ≥ 14)

366-390(46-49)

100 ℃

50M

1400-1450(14.0-14.5)

≥ 1033 ( ≥ 13.0)

≥ 1114( ≥ 14)

382-406(48-51)

100 ℃

30H

1080-1130(10.8-11.3)

≥ 796 ( ≥ 10.0)

≥ 1353( ≥ 17)

223-247(28-31)

120 ℃

33H

1130-1170(11.3-11.7)

≥ 836 ( ≥ 10.5)

≥ 1353( ≥ 17)

247-271(31-34)

120 ℃

35H

1170-1220(11.7-12.2)

≥ 868 ( ≥ 10.9)

≥ 1353( ≥ 17)

263-287(33-36)

120 ℃

38H

1220-1250(12.2-12.5)

≥ 899 ( ≥ 11.3)

≥ 1353 ( ≥ 17)

287-310(36-39)

120 ℃

40H

1250-1280(12.5-12.8)

≥ 923( ≥ 11.6)

≥ 1353( ≥ 17)

302-326(38-41)

120 ℃

42H

1280-1320(12.8-13.2)

≥ 955 ( ≥ 12.0)

≥ 1353( ≥ 17)

318-342(40-43)

120 ℃

45H

1300-1360(13-13.6)

≥ 963( ≥ 12.1)

≥ 1353 ( ≥ 17)

326-358(43-46)

120 ℃

48H

1370-1430(13.7-14.3)

≥ 995( ≥ 12.5)

≥ 1353( ≥ 17)

366-390(46-49)

120 ℃

30SH

1080-1130(10.8-11.3)

≥ 804( ≥ 10.1)

≥ 1592( ≥ 20)

223-247(28-31)

150 ℃

33SH

1130-1170(11.3-11.7)

≥ 844( ≥ 10.6)

≥ 1592( ≥ 20)

247-271(31-34)

150 ℃

35SH

1170-1220(11.7-12.2)

≥ 876 ( ≥ 11.0)

≥ 1592( ≥ 20)

263-287(33-36)

150 ℃

38SH

1220-1250(12.2-12.5)

≥ 907( ≥ 11.4)

≥ 1592( ≥ 20)

287-310(36-39)

150 ℃

40SH

1240-1280(12.5-12.8)

≥ 939( ≥ 11.8)

≥ 1592( ≥ 20)

302-326(38-41)

150 ℃

42SH

1280-1320(12.8-13.2)

≥ 987 ( ≥ 12.4)

≥ 1592 ( ≥ 20)

318-342(40-43)

150 ℃

45SH

1320-1380(13.2-13.8)

≥ 1003 ( ≥ 12.6)

≥ 1592( ≥ 20)

342-366 (43-46)

150 ℃

28UH

1020-1080 (10.2-10.8)

≥ 764 ( ≥ 9.6)

≥ 1990 ( ≥ 25)

207-231(26-29)

180 ℃

30UH

1080-1130 (10.8-11.3)

≥ 812( ≥ 10.2)

≥ 1990( ≥ 25)

223-247(28-31)

180 ℃

33UH

1130-1170(11.3-11.7)

≥ 852( ≥ 10.7)

≥ 1990 ( ≥ 25)

247-271(31-34)

180 ℃

35UH

1180-1220 (11.8-12.2)

≥ 860 ( ≥ 10.8)

≥ 1990( ≥ 25)

263-287(33-36)

180 ℃

38UH

1220-1250(12.2-12.5)

≥ 876 ( ≥ 11.0)

≥ 1990( ≥ 25)

287-310(36-39)

180 ℃