Any time, we provide power service, then power tools.

Product Specifications
| | |
| --- | --- |
| Voltage/Frequency | 230V-50Hz/120V-60Hz |
| Input power | 550W |
| No-load speed | 2650/min |
| Drum capacity | 140L |

Product Description
This general duty cement mixer handles stucco, mortar and concrete. Also great for inoculating seeds and mixing feeds. All-steel unit is rugged enough for construction and farm use. Large wheels for easy maneuverability. Double insulated.
THIS CEMENT MIXER HANDLES TWO 90LB BAGS OF DRY CEMENT OR MORTAR MIX!
THIS IS A 5 CUBIC FOOT OVERALL CAPACITY---3 1/2 CUBIC FOOT MIXING CAPACITY CEMENT MIXER!


550W NEW ElECTRIC CEMENT CONCRETE MIXER MACHINE -CM140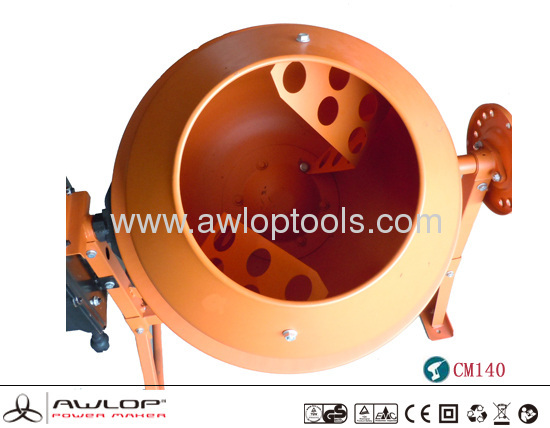 Instructions
Put on your safety goggles and make sure that the concrete mixer is on a flat, level surface.
Plug in the cement mixer power cord and turn the concrete mixer.
Sponsored Links
Add the concrete mix a half bag at a time, making sure that you are allowing the concrete mixer to saturate. You also need to add the mix slowly so that it doesn't fly back out at you.
Run the mixer for approximately three to five minutes to allow the contents to mix together thoroughly.
Lower the mixing drum (most models tilt via a handle on the side of the mixer tub) into one of your empty buckets and allow the concrete mix to pour into the bucket. Now you are ready to repeat the process for another batch or carry the bucket of concrete to where you will pour it out.

Want To Know More?
You can send us an email or dial +86-574-87105171 for help or get advice.
Any question, pls contact us with no hesitation.