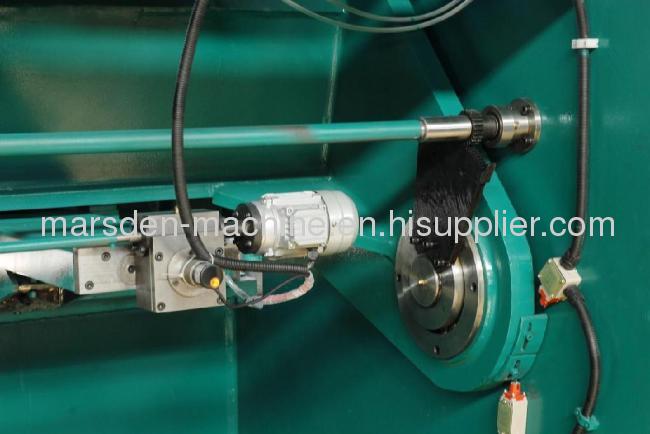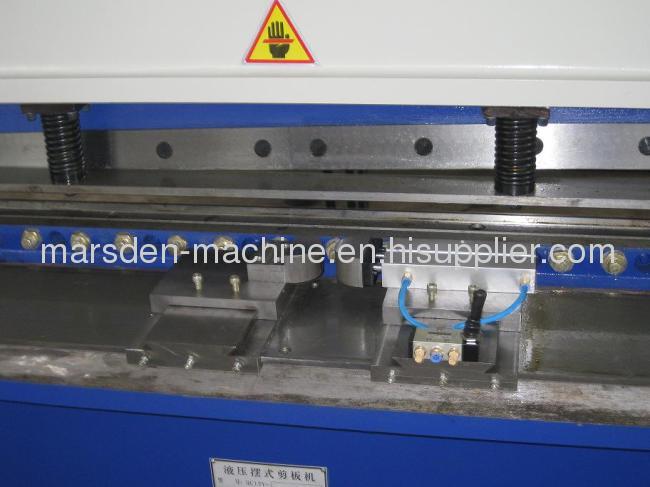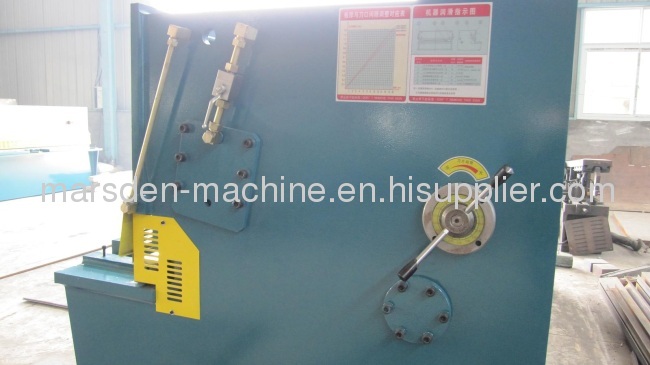 Standard configuration
Whole-welded structure, vibration to eliminate stress, good rigidity and stability.
Advance hydraulic system(American OMG valves), its operation is stable and reliable;
Sealings are from Japan NOK with good sealing.
Seamless compression fittings to avoid oil leakage.
It possess two working ways: Semi-automatic and automatic.
Adjusting the blade clearance by dial, it is rapid, accurate and convenient.
The top blade takes the eccentric bush as fulcrum, it accomplish cutting function through reciprocating motion driven by left and right oil cylinder.
Main electrical elements are Siemens.
Buttons are Schneider.
It has material holding and receiving device on pneumatic section, which makes it easy for sheet plate processing.
Digital display: E10 digital display which special for shearing machine is from Nanjing Estun.
Model

Cutting Thickness

(mm)

Cutting Width

(mm)

Cutting Angle

(°)

Throat Depth

(mm)

Number of Stroke

(min-1)

Back Gauge Range

(mm)

Main Motor Power

(Kw)

QC12Y-4×2000

4

2000

1°30′

100

20

20-600

4

QC12Y-4×2500

4

2500

1°30′

100

18

20-600

4

QC12Y-4×3200

4

3200

1°30′

150

14

20-600

4

QC12Y-4×4000

4

4000

1°30′

150

10

20-600

5.5

QC12Y-4×4500

4

4500

1°30′

150

8

20-600

5.5

QC12Y-6×1500

6

1500

1°30′

150

20

20-600

7.5

QC12Y-6×2500

6

2500

1°30′

150

17

20-600

7.5

QC12Y-6×3200

6

3200

1°30′

150

14

20-600

7.5

QC12Y-6×4000

6

4000

1°30′

150

10

20-600

7.5

QC12Y-6*5000

6

5000

1°30′

150

7

20-600

7.5

QC12Y-6×6000

6

6000

1°30′

150

6

20-600

11

QC12Y-8×2500

8

2500

1°30′

150

14

20-600

11

QC12Y-8×3200

8

3200

1°30′

150

10

20-600

11

QC12Y-8×4000

8

4000

1°30′

150

8

20-600

11

QC12Y-8×6000

8

6000

1°30′

150

6

20-600

11

QC12Y-10×2500

10

2500

1°30′

150

10

20-600

11

QC12Y-10×3200

10

3200

1°30′

150

10

20-600

11

QC12Y-10×4000

10

4000

1°30′

150

12

20-600

11

QC12Y-12×1500

12

1500

2°9′

150

14

20-600

15

QC12Y-12×2500

12

2500

1°50′

150

10

20-800

15

QC12Y-12×3200

12

3200

1°45′

150

10

20-800

22

QC12Y-12×4000

12

4000

2°

150

7

20-800

22

QC12Y-12×6000

12

6000

2°

150

5

20-800

22

QC12Y-16×1500

16

1500

2°30′

150

10

20-600

15

QC12Y-16×2500

16

2500

2°9′

150

8

20-800

22

QC12Y-16×3200

16

3200

2°9′

150

7

20-800

22

QC12Y-16×4000

16

4000

2°9′

150

6

20-800

22

QC12Y-20×2500

20

2500

2°30′

150

6

20-800

30

QC12Y-20×3200

20

3200

2°30′

150

5

20-800

30

QC12Y-20×4000

20

4000

2°20′

150

5

20-800

30

QC12Y-25×2500

25

2500

3°7′

150

5

20-800

37

QC12Y-25×3200

25

3200

3°7′

150

5

20-800

37

QC12Y-30×2500

30

2500

3°12′

200

4

20-1000

45

QC12Y-30×3200

30

3200

3°12′

200

4

20-1000

45