Product name:Clean Spinner Microfibre Mop and Bucket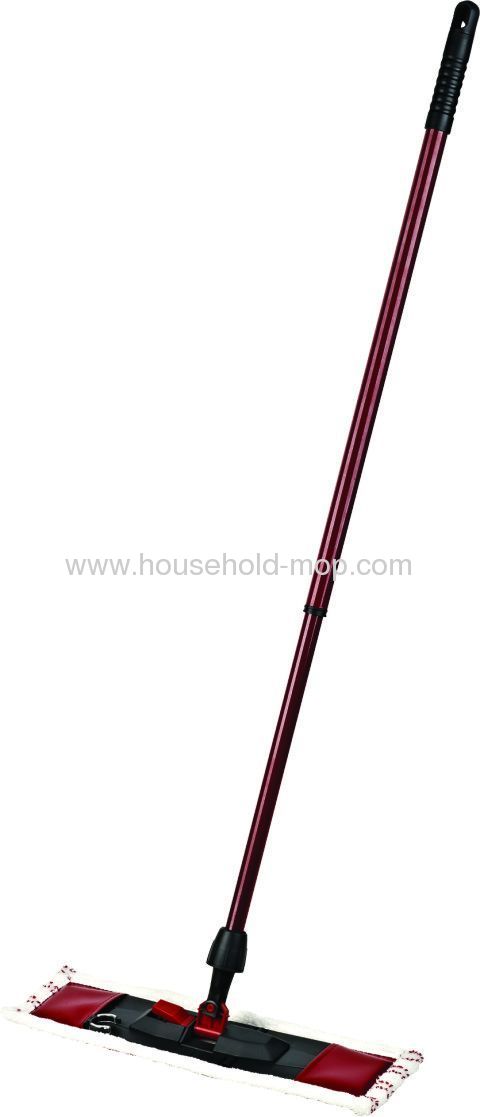 Item
Color
Name
item
AJ026B
Grey
Hard Surface Flooring Microfiber Spray Mop Kit
Product Detail
Mop Pole
Pole Material
Telescopic steel pole with plastic coating
Pole handle Material
PP
Pole Length(Max,Min)
130cm;70cm
Mop Head
Mop head base material
ABS
Mop head base size
40cm*10cm
Mop Head Cloth
ClothMaterial
Cotton
Cloth Size
45cm*15cm
Joint(Pole with head)
Joint Style
Inner retracting button
Rotating
360°
Joint Material
PP
MOQ
3000
Packing Detail
Packing Method
1 PC product include
1 mop pole+1mop head+1 mop cloth
Export Brown Ctn
75*43*23
PCS/CTN
20
Loading Weight
N.W/CTN
14.48kg
G.W/CTN
16.68kg
Loading Quantity
20'FT
7010
40'FT
15099
40'HQ
17796
26 Home-Cleaning Products
Cleaning products today are made for the modern, multi-tasking wife/mother and husband/father who often both work outside the home. People want to get their cleaning chores done and have time left over for their children, themselves, and each other.
New products are specially formulated for newer fabrics and materials, and they are made to do a specific job thoroughly.
Let's go room by room through the house with cleaners that work quickly and efficiently. These products must be kept out of the reach of children and pets.
I'll begin with cleaning rags, and end with vacuums. In-between are products for the kitchen and bath, laundry, carpets, odors, wood, windows, cars, and silk plants.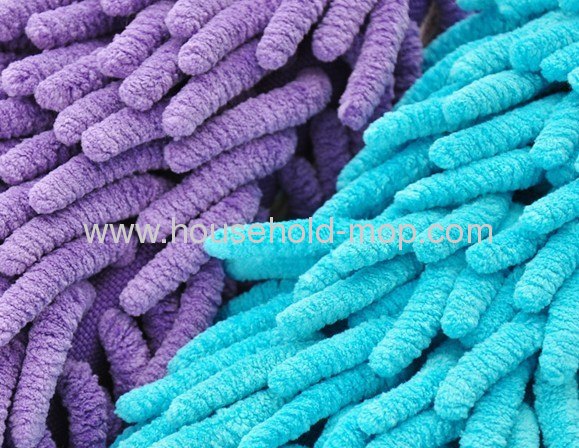 Rags, cloths, and toweling
:
1) Cleaning rags or paper towels. I am all for saving on paper towels, when possible, and highly recommend micro-fiber cloths for dusting and cleaning.
You can wet them with water or a cleaner, but separate the ones used for oily or greasy jobs when you wash them, or you will taint the whole batch with residual oil and they will never clean windows again.
You can use one cloth repeatedly for cleaning glass, mirrors and computer screens until you think it's not cleaning properly. Then throw it in the wash.
Use another cloth with an all-purpose cleaner for cleaning counter-tops, stove-tops, surfaces of refrigerators, microwaves and toaster ovens. You can rinse and re-use, but at some point, it, too, goes in the wash.
I also love cotton toweling and old diapers for many cleaning tasks. In the winter my hands are so dry, the micro-fiber cloths actually snag on my dry fingertips and cotton cloths don't. I cut up older, thin towels (or washcloths) and perform a one-time dirty job and throw them away unless they can be easily cleaned in the washer with the other, non-oily rags.
For some really messy, single-use jobs, use a paper towel and dispose of it. When I clean sloppy sinks, I prefer paper towels, not cloths or sponges. I want to throw the dirt away when I'm done.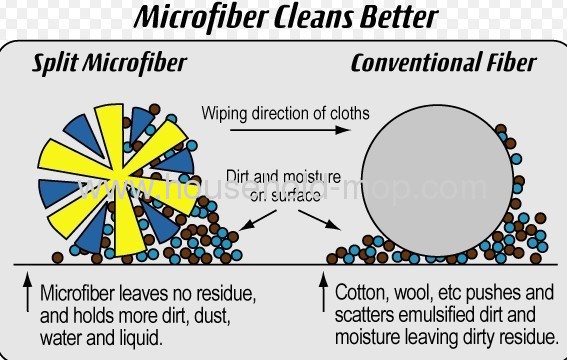 Kitchen
:
2) Let's start with the kitchen, which we use every day. This is where I want a cleaner that disinfects like "Lysol disinfecting spray with anti-bacterial action." It kills viruses, bacteria, mold and mildew; eliminates odors, and comes in different scents. I spray the counter-tops, cutting board, and food surfaces with this.
3) For general cleaning, I use "Lysol Disinfectant All Purpose Cleaner." This is a 3-in-1 cleaner that can be diluted. It "kills germs, cuts grease, and deodorizes." It smells good and I trust the Lysol brand to kill germs as it promises.
4) Dishes need to be cleaned! Dawn seems great for regular dish washing. (Rated in the top 5 in CR, January 2008). It seems gentle (I am allergic to many products and I can use this one). It cuts grease, it seems to clean well, and it smells good.
Also, you can dilute some Dawn in water and use an old toothbrush to scrub your fine gold and silver jewelry.
5) For the dishwasher, I am a big believer in using products recommended by Consumer's Reports. I don't want to check out 20 products personally if someone can tell me what works best for the best price. Consumer's (March 2005) highly rates Wal-Mart's "Great Value Automatic Dish-washing Detergent" (powder, not gel) which contains enzymes and phosphates. It works great, and it only costs about 5 cents per load.
All of the enzyme cleaners rated better than those without. "Greener choices," without chlorine or phosphates, are Ecover tablets, Method Dish Cubes and Trader Joe's powder. They have enzymes and clean very well. They cost 17 cents, 25 cents, and 11 cents, respectively, per load. Go with your conscience on this one.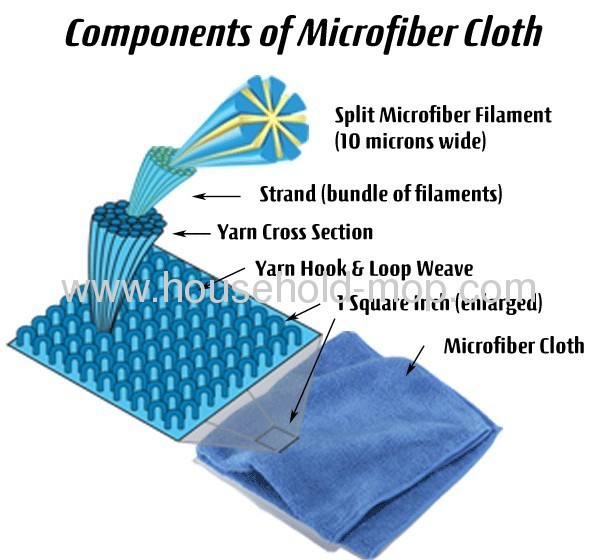 Bathroom
:
6) "CLR Self-Cleaning Bathroom and Kitchen Cleaner/Deodorizer" is a non-abrasive, foam spray that "instantly removes calcium, lime and hard water deposits, discoloration, soap scum and dirt." I use this on the metal kitchen spigot and stainless steel sink. I also use this in the bath for the metal faucets and shower heads.
7) I also like "The Works Tub and Shower Cleaner" which removes rust, lime scale, and hard water stains on contact. It's a spray and I sometimes prefer that over the foam, depending on ventilation. I like this for shower heads and faucets.
8) Bathroom toilets. I have used many toilet bowl cleaners and can't tell much difference. But I love "Clorox automatic toilet bowl cleaner tablets." Simply drop one in the back of the tank and it works for months. It has a fresh Clorox scent with every flush, which I like.
There are other products like this and there are different scents. They do work! But the plumber had to come replace the flappers in the tank a couple times. I asked why we seemed to have this problem more than other people. He said the chlorine bleach caused the rubber flappers to disintegrate more quickly, but, he agreed, they do work. So we learned how to replace the flappers ourselves. We keep a few on hand for replacements because I'm not giving up my self-cleaning Clorox tablets.
9) "Scrub Free with Oxy" foaming action Bathroom Cleaner removes soap scum. This really does foam so I prefer it for larger cleaning areas. Use ventilation. If you allow this product to work for an hour, it removes soap scum by itself. It seems to dissolve the soap. It creates a slippery surface like ice so rinse and thoroughly dry the shower or tub with toweling before someone steps in it. I almost fell in the shower because I forgot to do this. And I hadn't warned other family members, so it could have caused an accident.

Carpets
:
10) Carpet Cleaners. We have had several dogs. We learned from our vets to use a product with enzyme cleaners. Our vets sell some of the products. The enzymes "digest" urine, vomit, feces and other organic matter. Isn't that great? Enzymes "digest" odors and stains. I use AirX66, which can be diluted. I had a professional carpet cleaning service, and the man suggested it might be a bit too strong and could affect the color of some carpets. He recommended his own locally-made product and gave me a free bottle. His works OK for regular spots, but it does not contain enzymes so I still prefer the AirX66 for organic clean ups.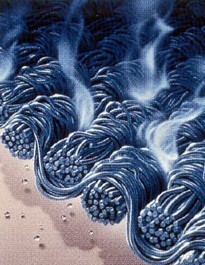 Windows
:
11) Window cleaners. I love "Glass Plus" without ammonia. I don't like the smell of ammonia. I was told ammonia can cloud some of the newer, state-mandated replacement glass windows that are used around children. We had some of those windows installed years ago and that was the only product I used. My children are grown now. I buy a large refill bottle, and fill several small spray bottles at the same time. I put them in every bathroom, plus the garage and basement. Part of regular housecleaning is quick accessibility to cleaning products.

Odors
:
12) For carpet odors, I like "Arm and Hammer carpet and room odor eliminator." The rooms do smell fresher. But our vacuum repair man warned us that using such products plugs up the vacuum filter very quickly and makes it less efficient. So, when you are ready to change your vacuum filter bag, for a last use, sprinkle the carpet odor eliminator powder around the floors and vacuum. Then throw that bag away.
13) For household odors, I use Arm and Hammer baking soda. It absorbs odors. We had our old oil tank removed recently so we could get a new furnace installed. The oil smell was annoyingly strong from the basement.
The furnace man suggested using baking soda in open containers placed around the area. It worked within hours. We had a lot of clothing in storage and nothing picked up the oil smell.
Of course, baking soda is great added to the laundry and to absorb odors in the refrigerator, around diaper pails and kitty litter boxes. You can buy little boxes which have a "fabric" like vented opening so they can be stuck about anywhere out of sight.
14) For freshening up clothing odors, nothing beats "Febreze." This has a wonderful fresh smell to it. It is safe for almost all fabrics like clothing, bedding, carpeting, draperies, sofas, and dog beds. My daughter works in a live performance dinner theater, and they frequently spray this on their costumes that get worn several times between washings.
Wood:
15) For cleaning wood products, I feel good about using Murphy's oil soap. We have a lot of wooden cabinets and hundreds of square feet of wood paneled walls. But this does create a soap build up and eventually I end up using a wood cleaner like -
16) "Orange Glo for Wood" which smells nice and seems to make the wood shine. This has a petroleum distillate in it so it is a serious cleaning product. I have seen and used other wood cleaners and many now offer the orange scent which I find pleasant.
Laundry:
17) Laundry must be done, too. I have a high efficiency washer and Consumer's recommends Gain HE detergent among its top 5. (Tide 2X Ultra for conventional machines and Tide 2X Ultra for HE machines are also highly recommended.) Gain's finest feature, to me, is that it doesn't allow the transfer of colors. I had used other good products, but realized some items were bleeding colors onto each other. Also, Gain doesn't allow soil to re-deposit on the clothing while washing.
18) For spot cleaning clothing, I use "Shout," a triple acting spray that goes directly on clothing just a minute before throwing it in the washer. I also have a "stubborn stain remover" stick made by Cadie. I think sticks are nice for certain annoying spots.
19) I always keep liquid Woolite on hand for gentle care fabrics that don't like regular detergent.
20) Laundry bleach: Of course, regular Clorox bleach for white socks and towels is a necessity. I have also used full-strength Clorox to remove stains on white clothing. I wet the area thoroughly with cool water and dab on pure Clorox with a Q-tip, (another great cleaning tool). The stain disappears before my eyes and I immediately rinse the fabric to stop the bleaching action.
We've also had plumbing problems so I pour a half gallon of Clorox down the shower drains every other month, and we've avoided a plumbing bill for about 3 years now.
I use "Clorox for colors" for every 4th or 5th load of dark colored items. It comes in a Mountain fresh scent now so our clothing doesn't smell too Clorox-y.
21) Laundry spot cleaner: For extra tough stains like blood, rust, and grass stains, my husband swears by "Didi Seven Universal Cleaner" in a tube. He says he often uses it on hunting clothing and heavy car fabrics and carpeting. (This is advertised on TV a lot.)
General:
22) "Simple Green" is an absolutely necessary home cleaning product, according to my husband. He does the really dirty work so he can suggest this. He says that's what he uses for the gas grill, the car tires, and the really dirty outdoor furniture. I saw a lot of Simple Green in the garage, but I never realized what he used to keep things looking so nice.
Silk plants:
23) Silk plant cleaner. Since I am allergic to so many things, like real flowers, I have loads of artificial plants. This cleaner works for all of them, not just silk. Put your dirty-looking baskets of flowers in the bath tub, spray, and walk away for a half hour. They will look like new when you come back. Plain water does not do this. I have used different store brands, and they all seem to work well and do not cost much.
Sticky stuff:
24) I know it smells bad so do it outside, but nothing makes life easier than "Goo Gone" for those residual sticky tags, gummed up items, and things attacked by grease, tar or crayons. Goo Gone now comes with a citrus smell so it's a bit better than the old product. Use it outside, in the garage, or by an open window, but if you can't get the sticky stuff off, this product works!
Vacuums:
25) I think a good vacuum cleaner is a necessity in today's home. I have two Hoovers, both highly rated by Consumer's. They are both Wind Tunnels: one is self-propelled for easier use, although the regular one is lighter. We keep one upstairs and one down for easy access and quick use.
Although upright vacuums rate better at cleaning carpets, the canisters do better on bare floors, stairs, drapes and upholstery. The attachments aren't as flexible with the uprights as they are with the canisters so I have an Electrolux for doing those chores. (Consumer Reports "Vacuums," March, 2007)
I think a wet-dry vacuum is a household necessity, too. The Sear's Craftsman rate consistently high (for large, medium and small vacuums) and can do some serious cleaning for heavy dirt, broken glass, plaster, wet spills, and really tough messes.
Duct tape:
26) Duct Tape: Of course, this can be used to repair many things and every household needs to have a roll on hand. But rather than use the more expensive lint rollers, this strong tape can be used to remove dirt and lint from many items a roller might not reach. Rather than pulling out the vacuum for a really simple job, use a strip of duct tape to remove dog or cat hair from fabric or lint from a bath mat or sweater!
Sources: