NdFeB
, the third generation of rare-earth permanent magnet, has high remanence, high coercive force, high-energy product and high performance/cost ratio.
Neodymium Magnets are easily formed into various sizes and widely used in many fields such as magnets for aviation, electronics, instruments, meters, machine and medical instruments. Neodymium metal is used extensively to produce Nd-Fe-B magnets, which have energy densities as high as 27 to 35 million gauss oersteds.
They are the most
compact magnets
commercially available. It is especially suitable for the development of magnets for high-performance, compact and light products.
Specification:
1. Meterial: Neodymium, NdFeB
2. Magnetic properties:High coercive force, the max operation temp is up to 200 degree centigrade or 380 curie temperature;
3. Grades: N33-N52, 33M-48M, 33H-48H, 30SH-45SH, 30UH-38UH and 30EH-35EH;
4. Shapes and sizes:Various kinds or according to customers' request .
5. Coatings: Ni, Zn, Phosphating, epoxy and so on;
6. Motor magnet Applications:Widely used in different applications, such as sensors, motors, rotors, wind turbines/wind generators, loudspeakers, magnetic hooks, magnetic holder, filters automobiles and so on.
7. Quality Control : Our QC team consistsof more than 12 professional people to ensure 100% products high quality .
8. Extremer Power Warming : These magnets are dangerous !If your fingers are trapped between two they will cut your skin. Please be note they shouldonly be handled with great care .
9. Transportation :All available shipping ways could be applied ,by courier ,by air or by sea . Appinted shipping company or our own forwarders all could be used in shipment .Full-way tracking the cargos for you before th good arrival .
Our factory can also manufacture various sizes of other NdFeB magnets, according to the customer's specification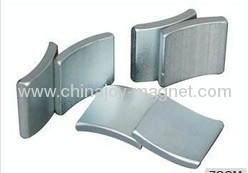 Product Name: Motor Magnet, Segment, Arc ndfeb magnet, Arc Magnets.Tile NdFeB Magnet
It is one special shape of Rare earth magnets and permanent magnets. It is always manufactured via Wire Cutting and grinding etc. Regular Arc magnets or Segment magnets have the following important factors such as, Outer Diameter or Outer Radius, Inner Diameter or Inner Radius, Degree of Angle, Thickness, Length, Round Edge etc.
Applications:
Motors, eg. voice coil motor (VCM),step motor, geared down motor, etc.