stainless steel standard test sieve
Company profile
Xinxiang Dayong Vibration Equipment Co. , Ltd. is an experienced professional vibrating
screen, conveying equipment and crusher equipment manufacturer and supplier for 15 years. The
distinctive features of our product is customizing suitable machine for customers' specific production
line.
Features

1. using advanced power generator,is featured with high analytical efficiency and wide range,which
can separate 8 groups of samples for one time.
2. its used together with electronic timer and the same analytical time for the same material is set,the
minimum inspecting error can be ensured and products quality on line can be correctly judged.
3. low noise and small bulk.its particle sampling scope ranges from 0.038mm~2.5mm,it is applied to
the standard mesh with more sizes.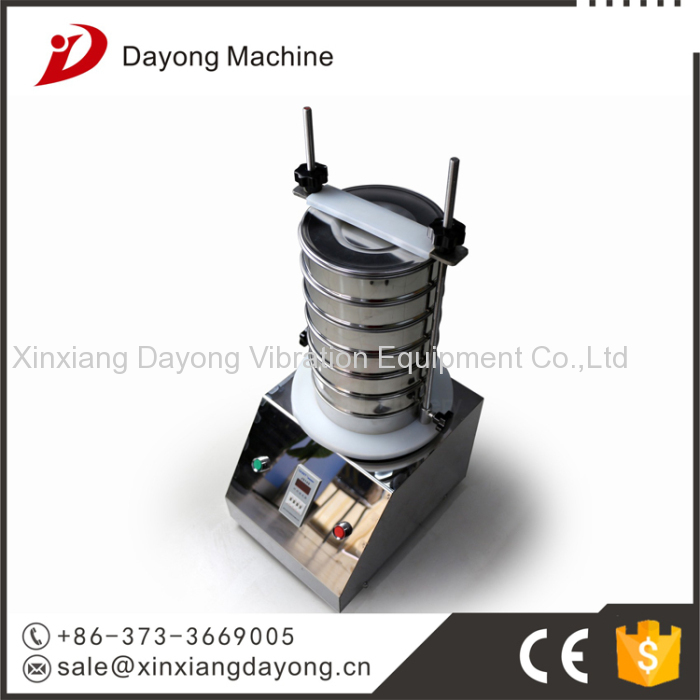 Advantages
1. Multi-layer design, convenient dismounting device.
2. Timer design, set testing time as you need.
3. Silica gel cushion, reduce noise, much stable.
4. High quality stainless steel sieve frame, much durable.
5. Sieve frame coupled with each other, no material leakage.
product parameters
stainless steel standard test sieve

Items

Name

Unit

Data

One

Layers

Layer

1~8

Two

Diameter

Mm

Φ200Φ100Φ75

Three

Granularity

Mm

0.038-3

Four

Noise

DB

≤50

Five

Feeding capacity (once)

G

≤200

Six

Amplitude

Mm

≤5

Seven

Voltage

V

220

Eight

Speed

R/min

1420

Nine

Power

Kw

0.125

Ten

Overall dimension

Mm

360×300×736

Eleven

Weight

Kg

25