Neodymium Cup magnets
are made from neodymium magnets, the world's strongest magnets. Neodymium cup magnets provide much stronger holding power than ceramic cup magnets.
This handy and useful strong neodymium cup magnet has a strong magnet embedded inside a Nickel coated steel cup to offer the maximum gripping power. The steel cup offers protection for the magnet and concentrates the magnetic force on the magnet surface.The cup magnet has a countersunk center hole that is perfect for mounting with a flat head screw or bolt.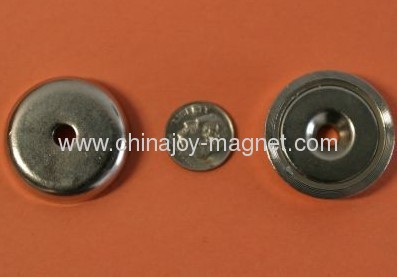 Diameter: From 16 to 100mm
Material:Steel+strong ndfeb magnet
Grade: From N35 to N50 and other grades are available
Coating: Ni,Zn,NiCuNi
Series of Grades

N35-N52, 35M-50M, 33H-50H, 30SH-45SH, 28UH-42UH,28EH-38EH and 30VH-33VH.
Coating
Zn, Ni, NiCuNi, Sliver, Epoxy, etc.

Performance Range ofMagnets
Br:from 11.400 Gauss to 14.700 Gauss
Hcj: from11.000Oe to 30.000Oe
BH (max): from 30GOe to 52MGOe

Applications
Sensors, Motors,Rotors, Wind turbines/generators, Loudspeakers, Magnetic hooks & holder,Filters, Automobiles, Magnetic separators etc.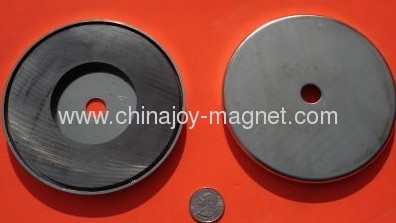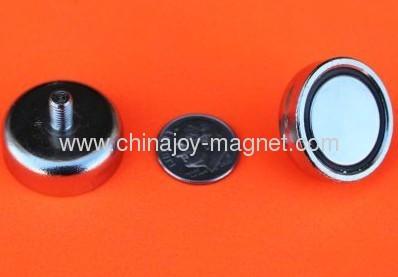 NdFeB Magnet
of Magnetic grade :
Grade

BrmT(kGs)

HcbkA/m(kOe)

Hcj kA/m (kOe)

(BH)max kJ/m3
(MGOe)

Supreme work

temperature(Tw)

N33

1130-1170(11.3-11.7)

≥ 836 ( ≥ 10.5)

≥ 955( ≥ 12)

247-271(31-34)

80 ℃

N35

1170-1220(11.7-12.2)

≥ 868( ≥ 10.9)

≥ 955( ≥ 12)

263-287(33-36)

80 ℃

N38

1220-1250(12.2-12.5)

≥ 899( ≥ 11.3)

≥ 955( ≥ 12)

287-310(36-39)

80 ℃

N40

1250-1280(12.5-12.8)

≥ 907( ≥ 11.4)

≥ 955 ( ≥ 12)

302-326(38-41)

80 ℃

N42

1280-1320(12.8-13.2)

≥ 915( ≥ 11.5)

≥ 955( ≥ 12)

318-342(40-43)

80 ℃

N45

1320-1380(13.2-13.8)

≥ 923( ≥ 11.6)

≥ 955 ( ≥ 12)

342-366(43-46)

80 ℃

N48

1380-1420(13.8-14.2)

≥ 923( ≥ 11.6)

≥ 876( ≥ 12)

366-390(46-49)

80 ℃

N50

1400-1450(14.0-14.5)

≥ 796( ≥ 10.0)

≥ 876( ≥ 11)

382-406(48-51)

60 ℃

N52

1430-1480(14.3-14.8)

≥ 796( ≥ 10.0)

≥ 876( ≥ 11)

398-422(50-53)

60 ℃

30M

1080-1130(10.8-11.3)

≥ 796( ≥ 10.0)

≥ 1114 ( ≥ 14)

223-247(28-31)

100 ℃

33M

1130-1170(11.3-11.7)

≥ 836( ≥ 10.5)

≥ 1114( ≥ 14)

247-263(31-33)

100 ℃

35M

1170-1220(11.7-12.2)

≥ 868( ≥ 10.9)

≥ 1114( ≥ 14)

263-287(33-36)

100 ℃

38M

1220-1250(12.2-12.5)

≥ 899( ≥ 11.3)

≥ 1114( ≥ 14)

287-310(36-39)

100 ℃

40M

1250-1280(12.5-12.8)

≥ 923( ≥ 11.6)

≥ 1114( ≥ 14)

302-326(38-41)

100 ℃

42M

1280-1320(12.8-13.2)

≥ 955( ≥ 12.0)

≥ 1114( ≥ 14)

318-342(40-43)

100 ℃

45M

1320-1380(13.2-13.8)

≥ 995( ≥ 12.5)

≥ 1114 ( ≥ 14)

342-366 (43-46)

100 ℃

48M

1360-1430(13.6-14.3)

≥ 1027( ≥ 12.9)

≥ 1114( ≥ 14)

366-390(46-49)

100 ℃

50M

1400-1450(14.0-14.5)

≥ 1033 ( ≥ 13.0)

≥ 1114( ≥ 14)

382-406(48-51)

100 ℃

30H

1080-1130(10.8-11.3)

≥ 796 ( ≥ 10.0)

≥ 1353( ≥ 17)

223-247(28-31)

120 ℃

33H

1130-1170(11.3-11.7)

≥ 836 ( ≥ 10.5)

≥ 1353( ≥ 17)

247-271(31-34)

120 ℃

35H

1170-1220(11.7-12.2)

≥ 868 ( ≥ 10.9)

≥ 1353( ≥ 17)

263-287(33-36)

120 ℃

38H

1220-1250(12.2-12.5)

≥ 899 ( ≥ 11.3)

≥ 1353 ( ≥ 17)

287-310(36-39)

120 ℃

40H

1250-1280(12.5-12.8)

≥ 923( ≥ 11.6)

≥ 1353( ≥ 17)

302-326(38-41)

120 ℃

42H

1280-1320(12.8-13.2)

≥ 955 ( ≥ 12.0)

≥ 1353( ≥ 17)

318-342(40-43)

120 ℃

45H

1300-1360(13-13.6)

≥ 963( ≥ 12.1)

≥ 1353 ( ≥ 17)

326-358(43-46)

120 ℃

48H

1370-1430(13.7-14.3)

≥ 995( ≥ 12.5)

≥ 1353( ≥ 17)

366-390(46-49)

120 ℃

30SH

1080-1130(10.8-11.3)

≥ 804( ≥ 10.1)

≥ 1592( ≥ 20)

223-247(28-31)

150 ℃

33SH

1130-1170(11.3-11.7)

≥ 844( ≥ 10.6)

≥ 1592( ≥ 20)

247-271(31-34)

150 ℃

35SH

1170-1220(11.7-12.2)

≥ 876 ( ≥ 11.0)

≥ 1592( ≥ 20)

263-287(33-36)

150 ℃

38SH

1220-1250(12.2-12.5)

≥ 907( ≥ 11.4)

≥ 1592( ≥ 20)

287-310(36-39)

150 ℃

40SH

1240-1280(12.5-12.8)

≥ 939( ≥ 11.8)

≥ 1592( ≥ 20)

302-326(38-41)

150 ℃

42SH

1280-1320(12.8-13.2)

≥ 987 ( ≥ 12.4)

≥ 1592 ( ≥ 20)

318-342(40-43)

150 ℃

45SH

1320-1380(13.2-13.8)

≥ 1003 ( ≥ 12.6)

≥ 1592( ≥ 20)

342-366 (43-46)

150 ℃

28UH

1020-1080 (10.2-10.8)

≥ 764 ( ≥ 9.6)

≥ 1990 ( ≥ 25)

207-231(26-29)

180 ℃

30UH

1080-1130 (10.8-11.3)

≥ 812( ≥ 10.2)

≥ 1990( ≥ 25)

223-247(28-31)

180 ℃

33UH

1130-1170(11.3-11.7)

≥ 852( ≥ 10.7)

≥ 1990 ( ≥ 25)

247-271(31-34)

180 ℃

35UH

1180-1220 (11.8-12.2)

≥ 860 ( ≥ 10.8)

≥ 1990( ≥ 25)

263-287(33-36)

180 ℃

38UH

1220-1250(12.2-12.5)

≥ 876 ( ≥ 11.0)

≥ 1990( ≥ 25)

287-310(36-39)

180 ℃