Feature:

Telescopes to 26 inches
Strong Neodymium rare earth magnet Grade N42
Lifting capacity up to 2 lbs.
Sturdy body with pocket clip
Nickel-Copper-Nickel triple-layer magnet coating offer the maximum protection against corrosion.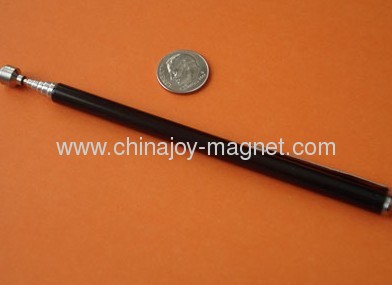 Applications:
Widely used for picking up ferrous metal objects, such as bolts, nuts, clips, nail or other iron tools etc.


Product Information:
Material:

Stainless Steel, magnets, rubber, Plastic

Model No.

Pulling Force

Length

Description

mod-27

25 Lbs

27 Inch

Diameter 3-3/8 inch, Release the attracted objects by pulling the end trigger

mod-24

4 Lbs

24 Inch

Flexible body with magnets and claw at the head, to pick up the objects where hands can't reach.

mod-23.5

23.5 Inch

Flexible body with claw at the head, to pick up the objects where hands can't reach

mod-30

16 Lbs

7-3/8 to 30 Inch

Telescopic magnetic pick up tool, stainless telescope from 7-3/8 to 30 inch,

mod-27

4 Lbs

9-1/2 to 27 Inch

With pair of pick up tools and mirrors

Brass tube from 9-1/2 to 27 inch,

Mirrors diameter 2 inch, the heads of the tools are flexible
use-method: